The baby's parents said she woke up crying.
Her father, Frankey Tigue, said when he tried to feed 4-month-old Francesca, she choked. So, he told police later, he soothed her and placed her in the bassinet.
Just after 6 a.m. that day, Nov. 7, 2017, the Pike County sheriff's office got a report that an infant in the house couldn't breathe. When officers arrived, they found Francesca dead.
An examination showed "multiple injuries to her body," including fractured ribs and blood pooling on her brain, the injuries in various stages of healing, according to court documents.
Tigue, then 33, later confessed to shaking the baby. He pleaded guilty to second-degree murder and is serving 30 years in an Arkansas prison. Francesca's mother, Rebecca Tigue, pleaded no contest to permitting the abuse of a minor and hindering apprehension or prosecution, and was sentenced to 20 years in prison with six years suspended.
Before Francesca died, she and her parents had been visited by state caseworkers — in September 2017 and again four days before her death, records show.
"There are no children likely to be in immediate danger of serious harm," the caseworker's report from that last visit reads.
Francesca was one of more than 100 children who died between 2012 and 2017 whose families had come under scrutiny by child welfare workers or state police before their deaths, according to an analysis of state data by the Arkansas Democrat-Gazette.
In at least 65 cases examined by the newspaper, children had a rotating cast of family service workers assigned to their cases before their deaths. Just over half of those — 33 — had more than two workers. Ten had five or more.
A Jefferson County boy had the most — 12 caseworkers before his death by suicide at 17, according to the newspaper's analysis of public records.
High turnover among caseworkers likely accounts for the lack of continuity, experts and officials said.
For a child in a stressful home situation, getting a new caseworker can be further traumatizing.
"When we see caseworker turnaround, that's another adult that the child was relying on that's gone," said Dr. Sufna John, a child psychologist at the University of Arkansas for Medical Sciences.
Arkansas' rate of child deaths from assault-related causes, which includes abuse and neglect, ranks it fifth among the states — an average 2.9 children per 100,000 from 2012-17, according to federal mortality data. By comparison, Louisiana had the highest rate, 4.7. Arkansas also has a high rate of non-fatal child abuse.
Arkansas' rates of child maltreatment likely stem from several factors, researchers say: high rates of domestic violence, lack of access to mental health care for parents, high rates of substance abuse, and more children who live far from hospitals.
Experts fear the problem is worsening as a result of the emotional and economic stress of covid-19.
This story is one in an occasional series about child deaths in Arkansas based on the Democrat-Gazette's analysis of state and federal data for the years 2012-17, updated where possible for 2018-19. Federal data for 2020 wasn't available.
Past articles examined suicide and gun violence — two common, unnatural and often preventable causes of child fatalities.
A separate article today looks at the effects of covid-19 on child abuse trends in the state.
The newspaper's analysis of more than 1,500 child death records found that in almost 200 cases, the children and their families had contact with officials at least once before their deaths — either with the Division of Children and Family Services, Arkansas State Police, local law enforcement or other states' child welfare agencies.
The newspaper's analysis also found that:
More than half of the children who died of abuse or neglect were under age 5.
Boys died of abuse-related injuries more frequently than girls.
Deaths by abuse or neglect occurred in almost every county in the state.
The newspaper's analysis of county-level data may have missed some deaths because not every official complied with public records requests.
A lack of uniform case tracking across departments also made comparing state-level data difficult. Legislators receive quarterly reports from the various agencies involved in maltreatment investigations.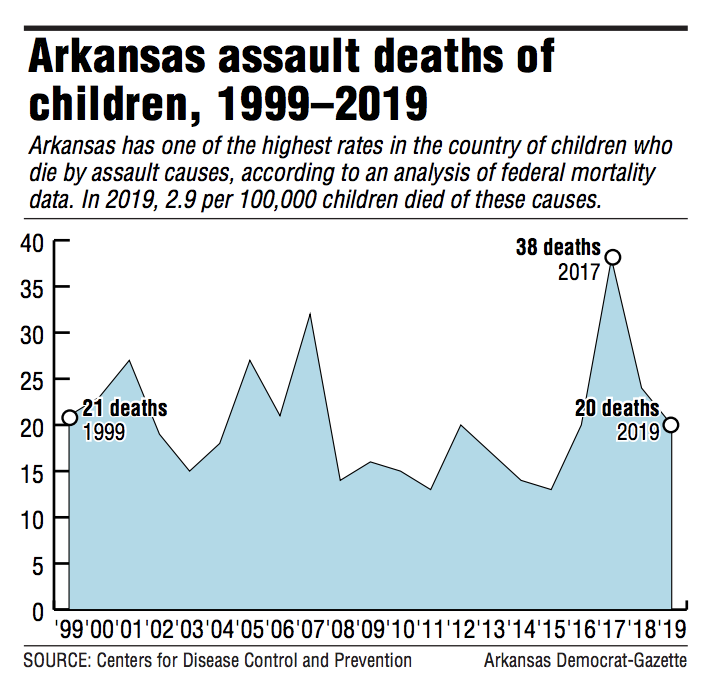 The Department of Human Services conducts internal reviews of child fatalities and near-fatalities to produce an annual public report. The department also maintains a public child fatality and near-fatality log on investigations that can be disclosed to the public, which can take months or years to update if criminal charges are filed.
Data shows that from 2012-17 about 39% of children who died of alleged abuse and neglect — 107 of them — had at least one contact with Arkansas family service workers or state police.
Nationally, the rates of severe child abuse have decreased over the past couple of decades, while neglect cases remained steady, according to a report from the National Center for Biotechnology Information.
Recent changes in Arkansas make it difficult to discern whether that pattern has been repeated here. The addition of more resources, better training and more stringent reporting requirements may account for higher numbers of deaths attributed to maltreatment, officials said.
A 2015 law requires that all unattended, unexpected deaths of children be reported to the child abuse hot line for investigation. The statute, combined with an independent review system, gives the state a "robust" response to child fatalities, said Dr. Karen Farst, a specialist in child maltreatment cases and medical director of the Rebecca and Robert Rice Medical Clinic in the Clark Center for Safe & Healthy Children at Arkansas Children's Hospital.
"I think some of our numbers are related to that we do have a good assessment and death response," Farst said. "But … we as a state have an inordinate amount of domestic violence and substance abuse and substance abuse" that may mask untreated or undiagnosed mental health issues in parents.