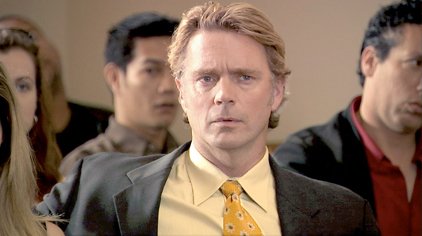 John Schneider in Hidden Secrets.
LITTLE ROCK — Better realized and more cognizant of what Matthew Arnold called "the world of practice" than most movies aimed at the Christian demographic, Hidden Secrets is a pleasant surprise, an entertaining and genuinely thoughtful examination of issues facing nine friends - all but one Christians of various degrees of commitment - who gather together after the unexpected suicide of an old buddy.
But don't dismiss Hidden Secrets as The Big Chill rewritten from a Christian perspective. It has the nerve to make one of its most appealing characters, a stem-cell researcher played by John Schneider, an atheist and the least appealing a scripture-spouting hypocrite. While its proscriptive tendencies might not sit well with some moviegoers, it does strive to distinguish between sinner and sin. Even the death merchant and the homosexual - played by Arkansan Corin Nemec - are worthy of love and respect; it's their actions thatGod despises.
The film's larger point seems to be that we all have our weaknesses and could stand a dose of grace now and then. While it might, in some quarters, be taken as a somewhat narrow-minded movie, it can't be taken as a hatefulone. All the characters have problems and none of them can quite make it alone.
Its strongest suit is the uniformly competent acting - none of the various characters ever quite descends into caricature despite limited time on screen and the need to propel a homily. Schneider especially seems to be having wicked fun as a skeptic whose fascination with Christianity doesn't necessarily lead him to embrace it.
On the other hand, the problem thatafflicts Hidden Secrets is the unavoidable sense of preaching to the choir that attaches to these projects. By announcing itself as a "Christian" movie it necessarily aligns itself with a certain world view and engenders certain expectations. It's like putting a governor on a sports car, no matter how stylish it looks, how well-tuned it is, it can only attain a certain speed.
And all allusions to the real and sinful world - intimations of unmarried sex, for instance - come across as either forced and titter-inducing or, to some of the true believers who seek family entertainment, offensive.
So a movie like Hidden Secrets can't really win, whatever its virtues. If it makes an effort to show the world and its denizens as they really are, it runs the risk of being deemed unfit for the eyes of a Christian audience. If it strictly adheres to the values it embraces, it becomes dull as milk. Making a good Christian movie is as tricky as making a good Marxist movie - it might be better to forgo the proselytizing and make a movie about how people use religion.
It's only fair to judge Hidden Secrets the way we judge every movie, by how well it achieves what we perceive to be its goal. It succeeds to the extent that it is entertaining and intelligently deals with some controversial ideas. But if it's meant as an evangelical tool, it's difficult to imagine that anyone who's not already disposed to receiving the good news will be stumbling into the theater.
MovieStyle, Pages 41, 46 on 04/27/2007
Sponsor Content