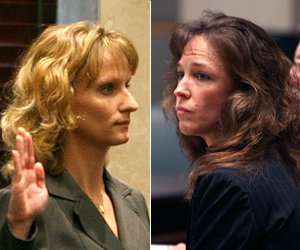 Former astronaut Lisa Nowak was face-to-face with Colleen Shipman in court on Friday. Nowak is accused of attacking Shipman, the purported romantic rival for another astronaut's affections.
ORLANDO, Fla. — Astronaut Lisa Nowak and her suspected romantic rival, Colleen Shipman, faced each other Friday in court for a pretrial hearing, the first time since Nowak reportedly stalked Shipman at Orlando International Airport last February and attacked her with pepper spray.
Nowak was asking Circuit Judge Marc L. Lubet for permission to remove the GPS ankle bracelet that tracks her movements as she awaits trial on charges of attempted kidnapping, battery and burglary with assault.
Nowak, a 44-year-old mother of three who has been dismissed by NASA, is free on $25,500 bail and the tracking bracelet is a condition of her release. But the Navy captain and pilot says it's bulky, uncomfortable and expensive. Lubet did not rule Friday, saying another hearing will be necessary on the bracelet and other issues, including whether her statement to the police should be thrown out.

Ex-astronaut appears in court
Watch Video
Speaking firmly and tersely, Shipman told Lubet that she is still afraid of Nowak and felt better having her tracked. Shipman had wanted her lawyer to make a statement in her place, but Nowak's attorneys asked to hear her testimony and Lubet put her on the stand.
"When I'm home alone and there's nobody there with me, (the bracelet) is a comfort," Shipman said.
But under questioning from Nowak attorney Donald Lykkebak, Shipman acknowledged that she had visited her boyfriend in Nowak's hometown of Houston several times since the reported attack. She didn't say whether that boyfriend was Bill Oefelein, the man in the purported love triangle.
Outside the courtroom, Nowak read a three-minute public statement - her first since the arrest. She thanked family and friends who stood by her and apologized to Shipman and Oefelein.
"The past six months have been very difficult for me, my family and others close to me," Nowak said. "I know that it must have also been very hard for Colleen Shipman, and I would like her to know how very sorry I am about having frightened her in any way and about the subsequent public harassment that has besieged all of us."
Nowak also said she was "shocked and overwhelmed at the media coverage," which she likened to tabloid journalism. She criticized reporters for staking out her neighborhood and "assaulting my neighbors with interview attempts and trashing their lawns."
"I've also received many media requests presented as offers to help me and tell my side of the story. And while it may be that some of these are sincere, I do not see any possible way that additional exposure can help anyone involved," Nowak said.
"Therefore, at this time I have no plans to further discuss this unfortunate episode in a public forum."
Nowak testified at greater length than Shipman, mostly in brief response to questions from the prosecution and defense. Besides the bracelet request, Nowak's defense on Friday asked Lubet to throw out evidence in the case, including a lengthy interview Nowak gave police and items found in a search of her car. Police say they found a duffel bag with a steel mallet, 4-inch knife and a BB gun.
Nowak was quiet and reserved on the stand. Wearing a black pantsuit, she talked more than a half-hour in three settings.
She called the bracelet bulky and painful, and said and prevented her from exercising as she's required as a military officer. She said it costs her $105 a week to rent - $3,000 so far - and is a financial hardship. She said it needs new batteries twice a day and it can't get wet in a bath tub or swimming pool.
"I can do weights. I don't have other suitable aerobic exercises," said Nowak, who has pleaded not guilty. "There's no specific exercise required, but staying in shape is a requirement of the military."
Nowak promised to abide by all court orders if the device is removed, including not having contact with Shipman.
Assistant state attorney Pamela Davis suggested Nowak could do certain exercises, and has been able to function despite the inconvenience. She also dismissed the cost as an issue.
"You're paying a media consultant - fire the consultant," she told Nowak.
Testimony also addressed whether Nowak wore diapers to avoid stopping on her 1,000-mile drive from Houston to Orlando. Astronauts use them on shuttle missions, and that detail has made Nowak a punchline on comedy shows and around the world.
In June, Lykkebak called it "the biggest lie in this preposterous tale," and criticized the media for circulating the story.
Lykkebak never mentioned it Friday, but Orlando police detective William Becton reiterated that he found three dirty diapers rolled up in a garbage bag inside the former astronaut's BMW. He said Nowak told him she urinated in them on the long drive from Houston to Orlando to limit stops, though Becton initially feared they were from an unattended child.
Lykkebak said the diapers were left in the car after a long-ago hurricane evacuation. Becton acknowledged they looked as if they would fit a baby.
Lykkebak said police searched Nowak's car without her permission or a warrant. He said in additional court filings that she gave a 72-page interview with Becton under duress - after being held for three hours, deprived of sleep and a phone call and unadvised of her constitutional rights. The interview persisted, Lykkebak said, despite Nowak saying "Should I have a lawyer?" at least three times.
Lykkebak said Nowak didn't sign written forms authorizing a search and waiving her Miranda rights. Becton, the detective, said he was relying on the tape recording of their conversation as proof.
Becton portrayed Nowak as a crafty, calculating interview subject, comparing their lengthy talk to a "chess game" in which the two sparred for details.
"I realized I was dealing with somebody who was more intelligent than I was, more educated," Becton said. "I was having a very difficult time gaining any information from her."
Becton said Nowak seemed most interested in asking what Shipman knew of the case.
Nowak told detectives that she and Shipman were vying for the affection of the same space shuttle pilot and that she confronted Shipman in the airport parking lot because she wanted to know "where she stands."
Fellow astronaut Piers Sellers, who served on a July 2006 shuttle mission with Nowak, testified Friday that she seemed changed in late last year. Sellers said she must have lost at least 15 pounds.
"In December through January I noticed her looking a lot thinner and not terribly well off," Sellers said. "I asked if she was OK and she would always say something like, 'Yeah, I'm OK.' ... It meant 'let's change the subject.' So I dropped it."
Sponsor Content