BENTONVILLE — Former Arkansas State Police trooper Larry Norman was sentenced Thursday to 90 days in the Benton County jail and fined $1,000 by Circuit Judge Tom Keith in the March 2006 fatal shooting of a disabled Springdale man.
Norman, 41, pleaded guilty to misdemeanor negligent homicide in the death of Joseph Erin Hamley, 21, of Springdale.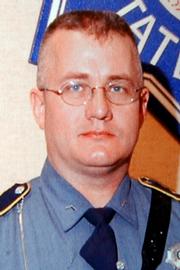 Keith also sentence Norman to 12 months probation and 30 days community service at the Benton County Sunshine School in Little Flock and the Adult Development Center of Benton County. His jail term begins immediately.
The 18-year police veteran from West Fork shot Hamley on March 7, 2006, along U.S. 412 in Benton County, believing he was a fugitive reaching for a gun.
A grand jury's report states all Hamley had in his pockets were toy balls. He had cerebral palsy and was mentally disabled.
The officers thought Hamley was Adam Lee Leadford, 18, who had escaped from a Michigan prison boot camp and had been spotted in Northwest Arkansas. Leadford was arrested later that day in Springdale.
State police also released its investigation file on the shooting - a thick stack of interview transcripts, reports and Norman's personnel file.
Hamley's mother said after the sentencing that the family was satisfied with the sentence.
"We feel that justice was served and that the Constitution was upheld," Mary Hamley said. "I feel that justice was done for Erin."
Some of Norman's family and supporters cried during the sentencing hearing.
The agency granted Norman medical retirement last year due to what his attorney called an "enormous psychological overlay" from the shooting.
Norman faced up to a year in jail. Benton County Circuit Judge Tom Keith heard testimony Thursday from the former trooper and from Hamley's family members and said he considered Norman's years of police service before imposing the jail term.
The judge said Norman would be released from jail for 10 days beginning Friday, to put his private affairs in order.
Read tomorrow's Arkansas Democrat-Gazette for full details.
Thank you for coming to the Web site of the Arkansas Democrat-Gazette. We're working to keep you informed with the latest breaking news.
Information for this article was contributed by The Associated Press.