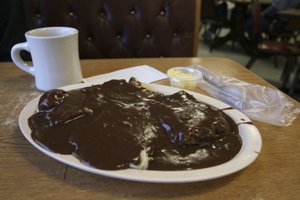 Photo by Shannon Sturgis
Tastes better than it looks - Chocolate gravy over two biscuits at the Wagon Wheel in Greenbrier.
LITTLE ROCK — Chocolate gravy. Just a mere mention can garner reactions from disgust to delight - from folks who say it sounds gross to the oh-my-goodness-we-used-to-have-that-every-Saturday-morning people whose eyes light up describing the tradition.
You can read a good deal from them just by doing a few Internet searches for "chocolate gravy." Toss in "Arkansas" and you'll see an endless stream of comments on message boards and food forums all over cyberspace with fond recollections of breakfast "just like grandma used to make." Some claim they can date this food being served up here as early as 1900.
Put me in the passingly familiar category. Upon being asked to hunt down bowls of this Southern breakfast of champions in the metro, I was already aware that it's a traditional breakfast concoction, usually involving milk, flour, cocoa and sugar and served over biscuits, ideally made from scratch and piping hot.
I seem to recall having had chocolate gravy for breakfast after overnighting with the grandparents on a few occasions as a kid, but it wasn't a staple in our family.
My search began on those same Internet message boards hoping to find mention of some place locally that serves up the dish. To my disappointment, most only mentioned family recipes and whipping it up at home for the kids (yeah, right). But with a little determination I found four prospects among local eateries specializing in home-cooked breakfast.
Deciding to work my way out from the capital city, I first set out for my Little Rock prospect, Ozark Family Restaurant, early on a Thursday only to find you apparently can't believe everything you read on the Internet. Good breakfast they had, but chocolate gravy was not among the offerings. Later in the day, things went from bad to worse when I was told my planned Benton destination, Brown's Country Restaurant, reportedly home of a 100-year-old family recipe, no longer served breakfast. Meanwhile, I started making phone calls to local places known for their early morning offerings: Kierre's Kountry Kitchen near Maumelle, Ed and Kay's in Benton, and Homer's, Delicious Temptations and Frontier Diner, among others, in Little Rock. One by one, they each told me they didn't serve the dish I was after. I passed Friday and the weekend in a hungry huff.
When Monday rolled around, again I was out early, this time off to England to the Sunrise Cafe. Railroad tracks on my left, river on my right, the miles melted away as my hunger and anticipation grew. Having read a blurb ostensibly written by the cafe owners, I was confident in the offerings this time. But apparently I should have called ahead; when I arrived at 9:30 the place was already shut up tight.
With a resigned sigh, I set off to the last place on my list, a little place called the Wagon Wheel on U.S. 65 up Greenbrier way. I only hoped I could make it by 11 when they stopped serving breakfast, which I did (even stopping for gas along the way). Order placed, I waited expectantly - but it wasn't a minute before I saw the waitress coming back to my table, and the look on her face wasn't good. Please don't let it be ...
"We're out of the chocolate," she tells me, explaining that it's served everyday but is quite popular and as lunch approaches "when they pull it they pull it," so getting in early is advisable.
Less than 24 hours and 80 more miles on my odometer later, I'm back at the Wagon Wheel, this time assured the chocolate supply is still ample. And when the full order of two biscuits smothered in milk chocolate goodness comes out, I swear I hear angels singing.
Rich, yes, but still pleasingly sweet and silky smooth, the gravy is at first unlike anything my taste buds can recall, highlighted and enhanced by the buttery taste of the biscuit underneath. After a while, it finally hit me: the taste is just like chocolate cake. In consistency, it's surprisingly like a traditional not-quite-liquid-or-solid white gravy. I'd half expected something runny, like melted chocolate, or thick like Hershey's syrup. This was almost exactly in between.
Bonnie Nelson, owner of the Wagon Wheel, said she put the gravy on the menu when the family bought the place in 1991.
"I just always fixed it for my kids and their friends when they were in school," so much so that it became a drawing point for overnight stays at their house, she said.
Though Nelson said she recalls her mother making the dish, she didn't ever have her recipe to go by. So the Wagon Wheel offering is her own creation, modified for large-scale production. And that's necessary, because "it's gone over really well. We serve it everyday - and we usually run out," she said.
Although I was plenty full after the first biscuit, I couldn't help eating every bite of the second as well. It's a sacrifice I had to make in the name of research, especially after an exhausting search.
Somehow, though, the drive back to town didn't seem nearly as far.
After to my Greenbrier trips, I've discovered more locations for this delicious treat. Stroud's Country Diner in Mayflower, just on the west side of Interstate 40, and Bob's Grill and Cafeteria, 1112 Oak St. in Conway, both serve it, but only on Saturdays. Just Like Mom's, 3140 E. Kiehl Ave. in Sherwood, also serves chocolate gravy, but only on the first Saturday of every month.