Little Rock police say a man forced his way into a woman's home and shot her to death while she was in the shower.
Police say 32-year-old Sonya Ratliff was fatally shot at about 9:40 p.m. Wednesday. Three children were home at the time, but were not injured. Police are searching for 33-year-old John Wesley Jackson, Jr. in connection with the shooting.
A witness told police that Jackson was Ratliff's former boyfriend and that he told her, "I told you I'd kill you," after he found her in the shower.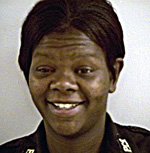 Jackson is described as standing 6 foot, 1 inches tall and weighing 170 pounds. His last known address was on East 20th Street in Little Rock.