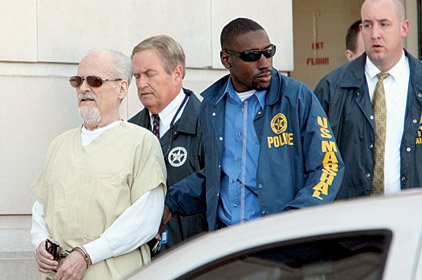 Tony Alamo (left) leaves the federal courthouse in Texarkana after the jury recessed for the day in this 2009 file photo. ( Stephen B. Thornton)
Jurors on Friday found evangelist Tony Alamo guilty on all 10 counts of transporting five young girls across state lines for sex.
The jury of nine men and three women found Alamo guilty of transporting girls as young as 9, in violation of a nearly century-old federal law. He was accused in a 10-count indictment. Each count carries a maximum sentence of 10 years in prison and a $250,000 fine.
"I'm just another one of the prophets that went to jail for the Gospel," Alamo called to reporters as U.S. marshals escorted him back to jail. Shouts of "Bye, bye, Bernie" - Alamo was born Bernie Lazar Hoffman - came from a crowd gathered to watch.
The jury returned a verdict shortly after entering its second day of deliberations. The seven-day trial included testimony from Alamo's accusers for the prosecution, and his common-law wife and a mother of an accuser for the defense.
The charges stemmed from accusations that the pastor took girls across state lines for sex from March 1994 through October 2005. Alamo, the leader of a multistate ministry with headquarters in Fouke, claims the trips were for church business, not for sex.
State and federal agents raided Alamo's compound last Sept. 20 after repeated reports of abuse.
Assistant U.S. Attorney Kyra Jenner described Alamo, 74, as a manipulator who dictated everything from what his followers believed to what they could eat.
Defense lawyer Phillip Kuhn accused prosecutors of trying to turn the jury into a "moral mob" by including information unrelated to the charges.
Defense lawyers say prosecutors targeted him because the government is anti-Christian. Alamo has also said the Vatican is behind his troubles.
Federal agents seized a large portion of his assets in the 1990s to settle tax claims after courts declared his operations a business, not a church. Among items offered for auction were the plans for the studded jacket Michael Jackson wore on his "Bad" album.
While at one point Alamo predicted he would be vindicated, he became less optimistic.
"In this unjust court how are you going to win?" he said Wednesday.
Stay with ArkansasOnline for more reaction and photos from Texarkana.
Read tomorrow's Arkansas Democrat-Gazette for full details.
Thank you for coming to the Web site of the Arkansas Democrat-Gazette. We're working to keep you informed with the latest breaking news.
Information for this article was contributed by The Associated Press and Andy Davis of the Arkansas Democrat-Gazette.
Sponsor Content