LITTLE ROCK — That's the ticket
The Electrify Your Strings! concert is at 7:30 p.m. Thursday at Robinson Center Music Hall, West Markham Street and Broadway, Little Rock.
Tickets are $25 and can be bought at the auditorium box office, Izzy's Restaurant, 5601 Ranch Drive, Little Rock, or Celebrity Attractions, 300 S. Spring St., Little Rock.
Oh, but to be rock star Mark Wood! To have your long locks coifed by a professional stylist and backlit by klieg lights. To have composed for Trans-Siberian Orchestra. To be up there when the Piano Man closed out a Shea Stadium farewell concert before 55,000. To play a "Viper" seven-string electric fiddle that you developed and looks not unlike a modern crossbow — in an arrangement of "The Devil Went Down to Georgia" produced by Kanye West.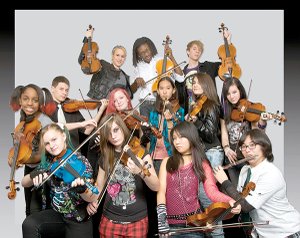 Photo by JAMISON MOSLEY / Special to the Democrat-Gazette
Electrify Your Strings! musicians are shown in rock-star mode in this publicity still. They are (front row from left) Serra Alland, Alexa Gates, Melinda Lue, Victoria Provencio, (second row from left) Alexandria Adams, Caleb Allen, Lisa Kent, Jeannie Kuang-Nguyen, Haley Gonzalez, Abby Beard, (top row from left) Megan O'Connell, Tazonio Anderson and Connor Douglas.
Littlest Rockers, this is your future!
Well, one possible future.
Now, go master your Sousa songbook.
For the third year now local high school-age classical musicians are coming together for one night — one night! — to don their most outlandish threads, bare an unnatural snarl and rock out with bona fide rockers. The Youth Rock Orchestra is set for 7:30 Thursday at Robinson Center Music Hall in Little Rock.
For those band kids about to rock, we salute you!
"Band kids" — a bunch so far removed from rock stardom in pop culture they are often pictured stealing away to dark corners to ply their talents. Their super dexterity, their honed hearing is perfect rearing for a run at rock 'n' roll, and yet, it is accompanied by deep awkwardness, at least in our fiction.
Where the football quarterback is the obvious choice for the high school cheerleader, Hollywood suggests, a bassoonist's best hope for romance is the president of the sudoku club, or perhaps a homeschooled boy.
Marquis Hunt, 41, one of the professional musicians who will play alongside the high school kids in the rock orchestra, was an all-state musician at Dumas High School in the '80s before he became a professional studio and performing saxophonist. And did he get his props?
"Oh, no, no, no. High school musicians don't get such esteem. We don't get our esteem until you're out of high school and maybe in college, perhaps. We're pretty much geeks and nerds ,which goes to some of the motivation of what [Youth Rock Orchestra creator Heather] Isbell is offering. I think this gives high school kids a way to acquire cool points while they're still in school."
ELECTRIFY YOUR STRINGS
Isbell, a concert electric cellist and member of the Mark Wood Band Experience, looking not a little like Kim Basinger, probably didn't suffer from lack of romantic attention as an adolescent strings player. Of course, as a kid she watched Fleetwood Mac record Rumours in her father's music studio. That man, Ed Cobb, wrote "Tainted Love," which made the band Soft Cell one of the '80s great one-hit wonders.
Isbell may have grown up with a bow in her hand, but she was so close to rock 'n' roll she could touch it.
This goes a long way to explain why Isbell doesn't see the disconnect between precocious fingering on the viola and rock 'n' roll regard. Or perhaps she does and won't abide it.
"These kids used to hide in the back, [and] stay out of the way in school," she says. "Now, they're moving to the front of the class.
"To experience being onstage and to have the audience screaming and yelling for them. If you can get kids to experience greatness even one time, it translates to everything else that they do."
For the third year Isbell has coordinated a Little Rock tour stop for Electrify Your Strings! — a traveling, teaching orchestral rock concert that features a core group of professional musicians and young area talent.
The Mark Wood Experience, Wood's band, provides the core. Dozens of students from Mills High School and Conway High School and points in between make up the supporting orchestra.
Anyone under the impression that this is a glorified high school symphony concert is mistaken.
The first thing you'll notice is the space is vertical, with suspended speakers, stage scaffolding and a light show, and new this year, two "jumbotrons" and a few cameramen running around getting close-ups.
The second thing you'll see is the high-foreheaded, upturned-nosed conductor has been replaced by a Nancy Wilson look-alike crowing Ah-ah, child, way you shake that thing, gon' make you burn, gon' make you sting. That's Laura Kaye, Wood's wife.
Check out YouTube videos (search "Electrify Your Strings Concert, Little Rock") of last year's concert.
AT A RECENT REHEARSAL
The kids inside the small practice room at Mills, their bows rattling like noise sticks at a basketball game and their skinny fingers flicking the air, are a diverse lot. They're white and black and Asian. There's an 11-year-old girl wearing a dress shirt decorated with skulls, a black tie and matching fedora. A boy named Tazonio has thin shoulder-length dreads, and he's sitting close to a girl with pink highlights in her hair and playground dirt on one knee. Both wear glasses.
A lot of them wear glasses.
And more than swagger, what they really need are new sneakers.
"What you have is, all the kids in here do their own thing, whatever that is," says Jamie Lowdermilk, whose daughter Jalin Parry is the one in the fedora. "Whether it's the dress, the hair, the jewelry ... but they fit in because they're all comfortable expressing themselves."
Students at a recent rehearsal all said that the rock orchestra will be the biggest performance of the year for them, and one of the highlights across all events.
"This is all I ever wanted to do — perform on stage in a rock setting," says principal drummer Regie Longoria, 17, of Sherwood, who's wearing a Tool T-shirt and quietly drums on his legs when instruction interrupts the music.
Unfortunately, just the prospect of stardom has already gone to the kids' heads, says Chuck Gatlin, promotions director for the presenting sponsor, KKPT-FM, 94.1.
"They've been incredibly hard to [work with]," and have contractually demanded bottomless coolers of Red Bull and serving bowls of green-only M&Ms.
OK, that's a bit of industry humor. The kids have been pretty "phenomenal" from the start, he says, and the start was a publicity photo shoot at 8 a.m. over their Christmas break.
Sponsoring the Youth Rock Orchestra is a smart event for the classic rock station. Imagine, a bunch of teens and 'tweens born after "Smells Like Teen Spirit" who might otherwise be drowning their ears in "Tik Tok" by Ke$ha playing sheet music for "Bohemian Rhapsody" and "Kashmir."
It gives The Boss a New Jersey fighting chance.
'PLAY LOUDER, PLAY HARDER'
The pubescent players themselves are less sure of the rock act than the music itself.
Jalin, a seventh-grader at The Anthony School, says she has The Eagles and the Rolling Stones in her iPod. She's familiar with "the" classics. Headbanging with her violin's chin rest pinched against her jaw? Uhh ....
"People listen with their eyes, so if we're just standing there, not really doing anything, it won't be as cool as like what Mark [Wood] does. He runs around on stage and flips his hair and stuff like that. I don't know [if I can do that]."
Rock orchestra veteran Lisa Kent, a Mills senior, says part of her job is helping "the other kids play louder, play harder. [Isbell] is really adamant about moving around."
In fact, the woman who shows up at practice with purple highlights on one side of her hair and jeans so ripped they defy the school's dress code will hold body movement practices — designated instruction on writhing like Mick Jagger, headbanging to White Zombie, bouncing like the Red Hot Chili Peppers.
It's all part of Isbell's larger vision, closing the gap between "Flight of the Bumblebee" and the four-beat classic rock song. This explains why for years, outside of The Mark Wood Experience, she has been arranging pop music for high school orchestra — "Poker Face" by Lady Gaga, "Chasing Cars" by Snow Patrol.
(The first proved "a great strings arrangement," the second "the most boring thing you've ever heard." So, just like the proverbial second track on all rock albums, it's hit or miss.)
For all her rock-rebel influence, no one can question her commitment to the players. A comparable substitute would have to know the music that will resonate with this offbeat crowd, would have to know how to arrange it by ear, would have to "get" the soul of rock 'n' roll and stage performing, would have to produce a concert (Isbell works with Central Arkansas Entertainment), and would have to do it all pro bono.
No, there's a teenager inside Isbell whose metabolism may explain the 44-year-old's energy, and her figure.
"It's about getting kids fired up," she says, "so they're not just reading notes off a page, but improvising and playing outside the box.
"We need to teach our instruments to be the voice we hear on the radio."