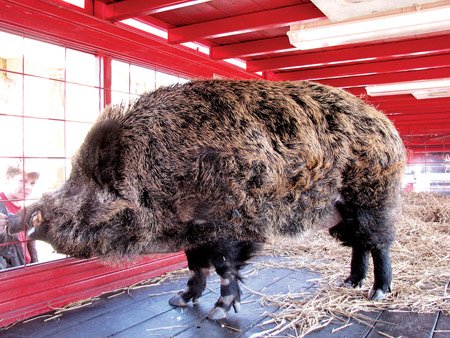 Tusk II is visited by fans outside Razorback Stadium. After his last appearance at the Liberty Bowl, the Russian boar passed away peacefully in his sleep. His duties as the official Razorback mascot will be taken over by his brother, Tusk III.
RIVER VALLEY and OZARK AREA — Keith Stokes' heart sank when he opened the door to Tusk II's barn the Monday morning after the Liberty Bowl.
The outspoken Russian boar usually met his caretaker at the door, but that morning was different, and Stokes knew right away that something was wrong.
Stokes peered cautiously around the corner and saw Tusk II lying in the hay.
"It looked like he went to sleep and never woke up," he said.
Stokes called his wife, Julie, immediately and told her to come home.
"It was so sudden to just walk in and find him that way," Stokes said. "He was a little bit more than a family pet because our lives revolved around him." Tusk II was born Aug. 12, 2002, and became the official Razorback mascot in 2005 after the passing of his father, Tusk I.
"We try to copy it kind of like the royal family has always done," Stokes said.
Tusk II will be succeeded by his brother, Tusk III, who Stokes said is a completely different hog.
"Tusk II was very interactive, and Tusk III is, too, but Tusk III would rather get you to rub his belly," Stokes said.
The Stokes family became the caretaker for the Arkansas live mascot in the early '90s when the University of Arkansas decided it wanted to jazz up the game-day atmosphere.
Stokes was involved in agricultural consulting at the time and happened to know where to get a Russian boar. Tusk I was raised on a Tyson research farm in Springdale and moved in 2005 to Dardanelle, where Stokes cared for him full time.
"Razorback fans everywhere own a piece of him. We just get to take care of him," Stokes said.
A native Arkansan, Stokes grew up cheering for the Razorbacks and serves the university proudly by caring for Tusk. He said he didn't really realize the importance of his job until the 2008 Cotton Bowl.
Members of the Stokes family were on their way to the game-day parade in their very spirited truck, pulling Tusk II's giant red trailer, when they decided to stop for gas.
Stokes was standing near the truck when a young couple asked if they could take apicture. They explained that they were moving from San Antonio to Alabama and had followed Stokes for almost 40 minutes out of their way just to stop and take a picture for their grandfather, a 1940 graduate of the University of Arkansas.
"The guy said, 'I knew you were going to Dallas. I was going to follow you all the way to the Cotton Bowl. ... I can't think of anything my grandpa would want more than this picture,'" Stokes said.
The experience reminded him to always do his best to bring honor to the Razorbacks, he said.
To ensure his role as caretaker, as well as Tusk's lineage, Stokes is breeding Tusk III with a female Russian boar and hopes Tusk IV will join the family in May. Another goal is to train the mascot to be out of his cage and on the field in some capacity.
While training is relatively simple for these intelligent animals, Stokes said, fans should remember that Tusk is 500 pounds of solid muscle.
"The safety of the animal and the safety of the fans is our priority," Stokes said. "I would never mistreat the animal or put anyone in a dangerous situation."
Most important for Stokes is making the fans proud. Next season, everyone is invited to visit Tusk III at Razorback Stadium, where he will mostlikely be nibbling grapes and posing for pictures.
"We want to make sure that we always present Tusk in the best light and make as many of Arkansas' people proud as we can," Stokes said.
- czilk@ arkansasonline.com
River Valley Ozark, Pages 61 on 02/04/2010
Print Headline: Tusk III to succeed Tusk II
Sponsor Content