Mary Brown "Brownie" Williams Ledbetter, a political activist who dedicated her life to such issues as equality in education, died Sunday. She was 77.
Ledbetter, who was known as Brownie to the world, was a fixture in Arkansas politics, serving in several activist organizations and campaigns throughout the years.
She was born April 28, 1932, and graduated from Little Rock High (now Central). She attended Agnes Scott College in Georgia before marrying Calvin Reville Ledbetter in 1953. He was stationed in Germany, where she first became interested in the Central High desegregation crisis.
Ledbetter joined the Women's Emergency Committee to Save Our Schools (WEC), which advocated the reopening of public schools in Little Rock. She then went on to work with the Panel of American Women, which then expanded to become the Arkansas Public Policy Panel.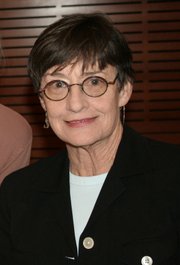 In 1983, Ledbetter founded the Arkansas Fairness Council.
More information and tributes can be found at Caring Bridge.
A public reception and celebration of Ledbetter's life is being planned for Thursday from 4-7 p.m. at the Rodgers House, 400 West 18th, Little Rock.
Funeral services will be held at 2 p.m. on Friday, March 26 at 1st Presbyterian Church, 8th and Scott.