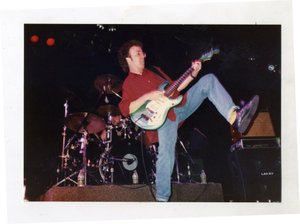 Photo by ADG Photo
The Gunbunnies were one of several central Arkansas who almost broke through to the big time.
LITTLE ROCK — Today there is a vibrant local music scene in Little Rock. For proof, just flip a few pages of the publication you hold in your hands and check out the shows going on in the city throughout the week.
But it wasn't always so. As strange as it might sound to say so, once upon a time originality was, in a word, unthinkable, because that's not what the entertainment spots of the day wanted.
Just about 30 years ago, that all started to change. People began to let it be known that they wanted something different — not the least of them being the musicians of central Arkansas. In doing so, some became sensations.
But what ever happened to the names that helped shaped the Little Rock scene? There were several of them out there, so Sync set out to catch up with a few, both to reminisce and find out where they ended up.
Unsurprisingly, many of them are still making music, whether still in Little Rock or on another stage.
The Gunbunnies
The story of the emergence of Little Rock's first major music label act is really part of the story of how a town discovered its local music scene.
In the early 1980s, Little Rock was a land of blues joints and cover bands and little else. Sure, there were the few oddballs who managed to do their own thing, but by and large it was cover or die. And regional touring acts wanted little to do with it.
That's what Chris Maxwell, who would go on to front the 'Bunnies, remembers of the landscape when he graduated high school.
"I really don't think anyone can contest this ... it was completely barren," he said via a phone interview from New York City, where he's lived since 1994. "The whole idea of playing original music just wasn't thought about because there was no club you could do it at."
But by the middle of the decade things were changing. Cover bands like Maxwell's The Patios and Jubilee Dive were waging a war of subversion — getting gigs promising Top 40 but working in other music they liked, assuaging management by packing the house with their friends who liked what they were hearing.
The shows that resulted were diverse: punk playing with rockabilly, goth rockers partying with old hippies.
"You couldn't have a niche," because the audience wasn't big enough to support it, said Maxwell of those times.
"It was a really cool movement," he continued. "I don't think anybody could imagine what that scene was like … so completely happy and thrilled to have that cross-section of music going on."
Out of it came the Gunbunnies, in the beginning a collaboration of Maxwell and guitarist David Jukes, adding former Jubilee drummer Jud Martindale and bassist Brent Smith Labeau of Yellville. They started at the late S.O.B.'s — noted for its interest in booking original acts — with some original material and Ramones covers to fill the set. Before long, their material fleshed out and things started to roll — building a following here, as well as in Atlanta, Birmingham, St. Louis, Memphis and across Texas. In 1986 CMJ voted them the "Best Undiscovered Band," and they were making waves at Austin's South by Southwest festival. By the end of the decade they were signed with Virgin in New York and produced their debut album Paw Paw Patch, a record of which Maxwell is still critical.
"Back then we weren't quite so jaded with things like a record deal," he said. "It was the golden — whatever. So we got it, and we made a crappy record.... It didn't turn out exactly as good as we wanted."
Then the Virgin office in New York closed, taking the 'Bunnies support with it, and that was really the beginning of the end. The 'Bunnies got a developmental deal with Warner Bros., but weren't signed. After years of working to that point and seeing it go away so fast the thinking, said Maxwell, was what now? Start over?
"Honestly, I think we were burned out at that point."
The last shoe to drop was Jukes leaving, and "without him it wasn't the Gunbunnies," Maxwell said.
A few years later, Maxwell moved to New York, where he met success joining the Skeleton Key and, in 1998, launching music production company Elegant Too, which he still operates today with Phil Hernandez. The rest of the band, he said, is still in the Little Rock area save eventual drummer Dana Myzer, who moved to Austin and found success with critically acclaimed Cotton Mather before moving to London in 2005.
All was not lost for the 'Bunnies, though. The result of the reset effort was a set of 1990 recordings that were not released until last year as the album Great Big Diamond on Max Recordings — to much acclaim, refueling desire to see a reunion, particularly at a venue like Riverfest.
That would be "hard to make happen for various reasons," said Maxwell.
But, he said, it's impossible not to see the time that spawned the Gunbunnies as part of an alternative awakening of sorts in Little Rock.
"I think there was a tipping point there," he said. "Looking back at it, you see all these things blossoming out of the early movement … [because bands at the time] realized if we didn't play music we liked and enjoyed, no one else was going to do it.
"We knew what we had to do, or else we were going to go f*cking crazy."
Techno-Squid Eats Parliament
For roughly three years in the early '90s, Techno-Squid Eats Parliament was the newest shining star of the Little Rock music scene.
Formed in early 1992, the quartet of Aaron Sarlo on guitar and vocals, Clay Bell on guitar and vocals, Mark J. Pearrow on bass and Shayne Gray on drums played their first gig in the semifinals of the Arkansas Musicians Showcase, then run by the now-defunct Spectrum Weekly. They made it to the finals — "Coming in a close second (behind Substance) in the finals," said Sarlo via e-mail.
They were proclaimed the "Best New Band" of 1992 by Spectrum readers, released their debut album with the then newly revived Memphis record label Ardent Records and earned a mention in a January 1993 Billboard article about the Little Rock music scene, with the article describing the band's sound as an "offbeat mix of Anglo-smart power pop with punk overtones" and noting an early XTC flavor.
Outside the written world, the band was noted for their energetic rock, crossing pop tune sensibilities and '80s alternative rock (the real thing and not today's alternative rock) with rockabilly guitar and an appreciation of progressive rock bands such as King Crimson and Pink Floyd.
They played club dates around Little Rock and toured exhaustively to support their self-titled debut.
And then? And then it all ended.
"We toughed it out until 1995 when the band split due to irreconcilable difference," Sarlo said. "Three of the four members [Bell, Sarlo and Pearrow] moved to Boston to try to continue the band after having been 'back burnered' by the then-flailing Ardent label. After a few months, the rest of the band just called it quits."
Sarlo formed the band Slept in Boston, but the band disbanded in 2000, and Sarlo returned to Arkansas where he is now married to Sarah Sarlo, or, as he calls her: "queen of all that is cool."
Gray took a leading role in the 1995 Memphis indie film, The Delta, and is now the proud father of three children: two girls and a brand new baby boy.
Pearrow remained in the Boston area and is now a researcher at the Massachusetts Institute of Technology's McGovern Institute for Brain Research, the author of several books on usability and accessibility for electronic systems, and married to his wife Melissa and the father of two children.
Following a stay in Boston, Bell moved to San Francisco, where he plays in an all-'80s cover band named Pop Rocks, has a new album on the way and a baby daughter.
In 2009, Sarlo and Gray formed the self-described "gulch rock" group Dangerous Idiots along with Paul Bowling, the original bass player for Little Rock punk pioneers Trusty. And Techno-Squid Eats Parliament? Well, they did briefly reunite in 2008 for the second Little Rock Film Festival, playing the first music video competition. Perhaps another reunion might be in the future.
Trusty
The legendary Little Rock punk rock quartet of James Brady and Bobby Matthews on guitars and vocals, Paul Bowling on bass and Bircho on drums formed in late 1988 and played their first show at what was then DMZ in March 1989. Trusty was their name.
The band was known for their buzzing but melodic sound, influenced by the greats of punk rock such as Black Flag but with an appreciation for the pop music of The Beatles.
By 1990, they were touring the nation: four members crammed in a van with, as Bowling told the Towncraft website, "a jar of peanut butter and loaf of bread, some comic books, several packs of cigarettes and a case of hot beer." In November 1990, Trusty released its debut, and opened for Washington, D.C., punk rock group Fugazi at Vino's.
Searching for a wider audience, the quartet moved to D.C. late in 1991, playing a farewell show at Vino's, and released a three-tune EP in 1992. Signed to D.C. independent record label Dischord Records, co-founded by Fugazi leader Ian MacKaye, Trusty released Goodbye Dr. Fate with new members Brad Long on bass and Jim Schaffer on drums. The band's Dischord follow-up was the 1996 release The Fourth Wise Man. But in early 1998, Trusty disbanded.
So where are they now?
Bowling is now the bass player in Dangerous Idiots, the trio of ex-Techno-Squid Eats Parliament members Aaron Sarlo and Shayne Gray known for cranking out a kind of music they call "gulch rock."
Bircho now lives in Austin, Texas, or, as he calls it on his MySpace site: "the overpriced stuffed animal that's known as Austin." He played in Little Rock bands such as Big Boss Line after departing Trusty.
Matthews moved to Memphis and played in a couple of groups before forming Dragoon with two members of legendary Memphis rock band the Grifters: Stanley Gallimore and Tripp Lamkins. Matthews sings and plays guitar, and the trio just released their debut The Offending Party on Max Recordings, a collection of tunes Max calls "guitarist from Trusty meets rhythm section from the Grifters. Chaos ensues." By day, Matthews is an art teacher for elementary students in Memphis.
Brady went on to form Cry Baby Cry with Kathy Cashel, releasing an album in 2002 titled Jesus Loves Stacey, including tracks titles such as "Last Days of Tarzan the Ape Man" and "Sad Song of Needless Complication." He still lives in D.C. where he organizes protests for Greenpeace.
And Trusty? The band got back together in December 2008 for a DMZ reunion at Vino's.