ARKADELPHIA — An Arkadelphia mother has been found guilty of harassing her son by logging onto his Facebook account and posting messages on his profile under his username.
Clark County District Court Judge Randy L. Hill sentenced Denise New to a suspended jail term of 30 days along with a year on probation for harassing 17-year-old Lane New in March on the popular social networking site. He also ordered her to take anger management and parenting classes and not to have any contact with the teen.
Hill said he found Denise New started posting on his Facebook to "save her own hide" and make it look her son was lying when he talked to police following a physical altercation between them. He called that "a serious, serious thing to do."
But a number of other postings - including one where Denise New suggested having a child was her biggest mistake and others where she used foul language - rose to the level of harassment that was "completely and totally inappropriate," Hill said.

Mom found guilty of Facebook harassment
Watch Video
"It's like your worst situation being put on national TV for everyone to see," he said of the postings. "It strikes at the base of any parent-child relationship. It erodes it."
He later singled out Denise New's comment about making a mistake by becoming a mother.
"I can't in my mind go to where you must have been to say something like that," he said.
Afterward, Denise New's attorney said they have not yet decided on an appeal. She said she was left numb by the decision.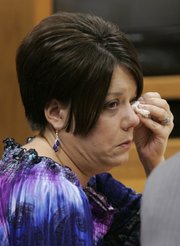 "I don't know what I can and can't say anymore," Denise New said. "It might be a form of harassment."
Lane New embraced several friends and family members after the decision and lengthy explanation by Hill, who used much of that time to admonish Denise New for her actions.
Questions posed to the teen were answered by his attorney, Travis R. Berry.
"He's just ready to start crying," Berry said. "He's so glad everybody understands what he's dealing with. He loves his mom. His relationship was bad but it wasn't his fault and he's trying. He's had a tough time and we are now glad it's over."
Lane and Denise New were the only people to take the stand during the trial.
The first message posted by Denise New on her son's Facebook occurred after she pushed the boy when he refused to return a house key. Lane New lives with his grandmother and testified that he had not lived with his mother for about six years, though he said they had been on good terms for much of that span.
In that first message, Denise New posted under her son's username as if it was him writing.
"Check this out," the message said, according to multiple accounts read in court. "I went to mom's house, deliberately started a fight and called the police on her. She almost went to jail. How cool is that?"
Denise New was able to access her son's Facebook account because it had been left logged in on the computer in her home, she said during testimony.
In voicemails left by Denise New on her son's cell phone and played during the trial, she is heard telling him she is going to log onto his account and change his password so he can no longer access it.
Prosecutors also read a message Denise New sent her son in which she references the altercation and says it wasn't her fault that he "bruises easily." She adds in that message that she is "just going to start posting cruel stuff on" Facebook in response.
"Have fun with all your little friends responding to what I posted on your wall," she is heard saying in one phone message.
Her voice shaking and frequently dabbing her eyes for tears, Denise New said in her testimony that the posts were made for multiple reasons. Some were in response to concerns over his behavior, including an episode a short time before in which Lane New was said to have driven nearly 100 mph from Hot Springs to Arkadelphia.
Other posts were intended for Denise New's own Facebook account, but she mistakenly added them to her son's because she is not that familiar with the website, she said. She claimed others were sarcastic or simply reflective of the way she communicates with her son, which she said might appear vulgar.
"But we both conversate like that with each other," Denise New said. "It's jokingly when we do that."
She and defense attorney Justin Hurst insisted there was no intention to harass the boy.
The mother and son have talked since the postings were made and Denise New said it seemed they were making progress on resolving the issue.
"I thought we were working on it and then I don't know what happened," she said through tears. "I don't know."
Hill called the postings a "breakdown in parenting."
"What we have here is, to me, a clear case of a parent of all people doing some really bad things to their child," he said. "... What you did is harassment. Nobody has the right to talk to someone like that, especially a parent."
The case has drawn wide attention largely because of its link to Facebook, though Hill said it's not the first time he has encountered involving postings on social networking sites, e-mails or text messages. Several other similar cases have come up in his courtroom over the past few years, he said.
"We live in a world now where what used to be said between two people or in a parking lot, now you hit a button and hundreds, maybe millions, of people can hear what you do," he said. "It makes it maybe even more important for a person to think before they act because the amplification can be tremendous."