Democrat Chad Causey conceded the race Tuesday night to Republican Rick Crawford for the 1st District seat, according to The Associated Press.
At 11 p.m., with 408 of 687 precincts reporting, Crawford had 64,785 votes to Causey's 56,007. Ken Adler of the Green party had nabbed 5,624 votes.
Both national parties had focused heavily on the seat with advertising and get-out-the-vote efforts.
The seat was left open by retiring Democrat Rep. Marion Berry.
With Crawford's victory, Republicans will now occupy three of the four Arkansas seats in the U.S. House, as well as one of the two Arkansas seats in the Senate. The 4-2 GOP majority in the state's total congressional delegation is the first such majority since Reconstruction.
No Republican has held the position since Reconstruction.
Causey is former chief of staff for Berry. Crawford owns an agricultural news service.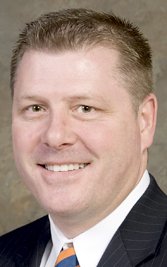 Photo by Lori McElroy / Arkansas Secretary of State
Rick Crawford candidate for U.S. Congress District 01
In the campaign, Crawford emphasized deficit reduction early before news broke in August of his 1994 bankruptcy. In recent months, Crawford has made repealing the recent health care overhaul as his primary objective.
Causey, 34, is the former chief of staff to Berry. He beat former state Senator Tim Wooldridge of Paragould in a hotly-fought June run-off after finishing second among six candidates in the primary.
Causey emphasized his moderate Democratic credentials, saying he would try to roll back Medicare cuts in the new health care fix and distancing himself from Washington liberals such as House Speaker Nancy Pelosi.
Read tomorrow's Arkansas Democrat-Gazette for full details.
Thank you for coming to the Web site of the Arkansas Democrat-Gazette. We're working to keep you informed with the latest breaking news.