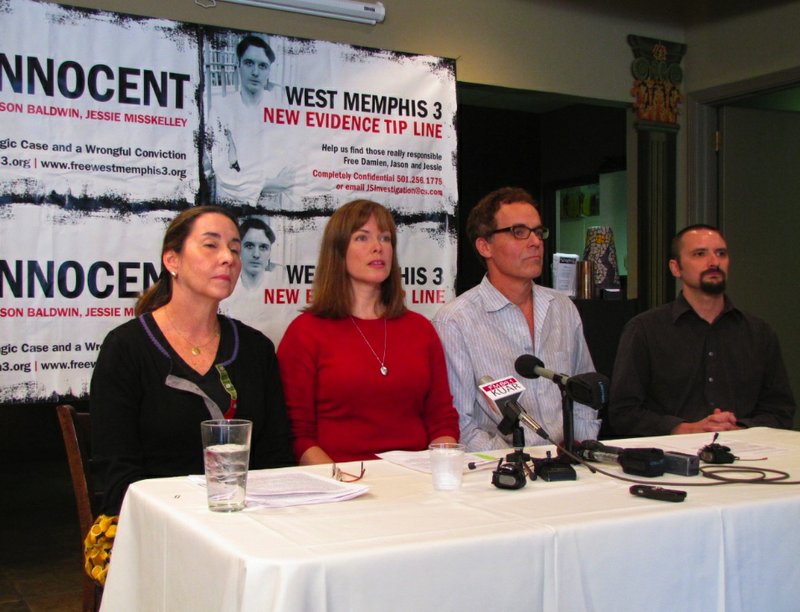 Capi Peck, Lorri Davis, Brent Peterson and John Hardin speak during a news conference Thursday in Little Rock. ( Gavin Lesnick)
LITTLE ROCK — Damien Echols' wife on Thursday praised the Arkansas Supreme Court for its decision released earlier in the day ordering new hearings for her husband and his two co-defendants in the grisly murders of three West Memphis boys.
Court's order for new hearing praised
Watch Video
Echols, along with Jason Baldwin and Jessie Misskelley, were convicted of the 1993 slayings of the three 8-year-old boys, who were found dead and hog-tied in a ditch off Interstate 40 in West Memphis. But the state's high court on Thursday ordered evidentiary hearings to consider new DNA and other evidence that some say calls into question the men's guilt.
Echols' wife, Lorri Davis, said during a news conference in west Little Rock that she is confident the hearings will lead to a new trial and ultimately an acquittal. She said she spoke to her husband, the only one of three to be sentenced to death, and that he was excited by the news.
"He's so happy, he's ecstatic, he's hopeful," Davis said. "I told him 'this is the beginning.' And he said 'no, quite frankly, Lorri, this is the end.'"
Watch video from the news conference here.
Document Set
West Memphis Murders
View All
Davis said the DNA evidence, additional forensic evidence, an affidavit showing juror misconduct in the original trial and new witnesses make her "absolutely" sure a new trial is ahead.
She said she and other supporters are even seeking an agreement with the attorney general and prosecution to skip the evidentiary hearings and just go forward with a new trial.
"An evidentiary hearing is going to cost the state of Arkansas a substantial amount of funding," she said. "To have that step when we're going to have a new trial anyway ... let's just move this along."
Davis spoke at Trio's on Cantrell Road alongside the founders of Arkansas Take Action, a group that rallies for the release of Echols, Baldwin and Misskelley.
Sponsor Content