LITTLE ROCK — The Hillcrest home of a contestant on the CBS reality show "Big Brother" was heavily damaged in a fire early Wednesday, the same day she was to appear on the program's live finale.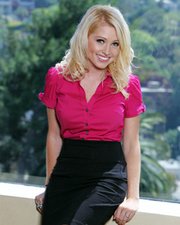 Laura Grisham said her son, Nick Grisham, was awakened by the blaze at the home on the corner of Van Buren Street and Lee Avenue. Nick Grisham, who made it out without injury, is the fiance of Britney Haynes, the 23-year-old woman eliminated from winning the reality competition in last week's episode. She is slated to vote for the show's winner in tonight's finale.
Laura Grisham said the couple picked out the rental home and that her son in July helped move Haynes' belongings into the residence after she left to appear on "Big Brother," where she is sequestered from the outside world.
Nick Grisham called the producers to let them know about the fire, Laura Grisham said.
"He told them what happened and they agreed they wouldn't say anything to Britney," Laura Grisham said. "She can't do anything. The final show is tonight and it's live. There's no sense in her knowing."
Nick Grisham went back inside to rescue the couple's two dogs and family members have been able to salvage some possessions, Laura Grisham said. She said her son was to fly to Los Angeles later Wednesday to meet Haynes after the show.
He was concerned about how Haynes would react to the news, Laura Grisham said.
"He hasn't seen her in three months and he's afraid she's going to be mad," Laura Grisham said. "I said 'you don't understand son, you are lucky to be alive, especially after going back in two more times to get the dogs out.'"
The blaze was started by a small grill in the backyard that ignited the grass, spreading to a trash can and then the house, investigators said. Laura Grisham said her son was grilling and that the fire started some time after he finished despite his dousing the coals in water.
The house was fully involved when crews arrived about 1:30 a.m., said Little Rock Fire Department Capt. Randy Hickmon. It took about an hour-and-a-half to get the fire under control.
The single-story, blue structure is still standing with a large burned area at its rear, where the windows are boarded up and a tarp covers part of the roof and an adjacent wall. Burn and heat marks are visible on other parts of the structure.
Preliminary total damage is estimated at $50,000.
In the finale of Big Brother on Wednesday night, Brittney was awarded a $25,000 prize for being voted as America's Favorite Houseguest.
This article was originally published at 7:11 a.m.