LITTLE ROCK — Hours of storms packed with violent winds spun off tornadoes and drenched cities across Arkansas, killing at least five people Monday.
By nightfall, thousands of people in at least 24 counties had suffered property damage or power failures as a result of the super-cell storms that began marching across the state Monday afternoon.

University of Arkansas Flooding
Watch Video

Church destroyed in Pulaski County
Watch Video
Three of the storm victims died in flash-flooding in north Arkansas, and two more died of unknown causes in storm-ravaged Vilonia.
From the state Department of Emergency Management headquarters in North Little Rock, Gov. Mike Beebe declared a "general state of emergency" for the state, spokesman Matt DeCample said.
As they watched the storms unfold, DeCample said, a funnel cloud passed over the headquarters building.
"Thankfully, it never came down," he said.
The worst damage was believed to be in Vilonia, where Faulkner County Attorney Stephan Hawks said a possible tornado left a path of damage 3 miles wide and 11 miles long.
Power lines and trees blocked the roads into the Faulkner County city of about 3,815. Late into the night, there were reports of people trapped in what was left of their homes.
"We can't get in there to help people," Vilonia Police Sgt. James Bell said about 10 p.m. as he rerouted traffic headed north on Arkansas107.
Bell was sending the volunteers who arrived in droves to help in the storm's aftermath back to the nearby Vilonia Fire Department.
As the line of cars trying to turn around to get to the Fire Department backed up, one man walked up to Bell and said he had a truckload of chain saws and asked where he needed to go.
Bell reached out, took the man's hand and shook it, and said, "Thank you, we need all the help we can get."
As the night progressed, police began turning volunteers away for the night because the city was unsafe, littered with power lines and heavily flooded areas.
Officials expected to begin searching for survivors and clearing debris at dawn.
More than 100,000 Arkansans were without power late Monday. Entergy of Arkansas Inc. spokesman Dan Daugherty said 72,616 homes and businesses had no service. More than 40,000 customers of the Electric Cooperatives of Arkansas were also without service,spokesman Doug White said.
Tommy Jackson, a spokesman for the state Department of Emergency Management, said it had been a "rough night" for much of the state.
"Vilionia was hit very, very hard - although there have been so many reports," Jackson said. "When daylight comes, it will be a much clearer picture us."
Jackson said he doesn't ever remember so many tornado warnings and thunderstorms hitting the state all at once.
"We're issuing every warning we have," National Weather Service hydrologist Tabitha Clarke said earlier in North Little Rock. "We've issued warnings for tornadoes, flash flooding, river stages, thunderstorms, everything."
The weather even forced National Weather Service forecasters into the agency's storm shelter as the storm crossed their North Little Rock office, a move repeated by officials with the North Little Rock City Council.
Among the alerts were at least 25 tornado warnings. Weather service Meteorologist Chuck Rickard said it's still unclear how many tornadoes actually touched down.
"It's dark, and we can't get a good assessment of damage," Rickard said. "Until the light of day, it's impossible to get an idea."
Weather service survey teams will head out today to Vilonia to inspect damage, weather warning coordinator John Robinson said. He said teams would tour several other areas to scout for tornado damage.
Robinson said he didn't know how large a tornado struck the Faulkner County town. Reports from spotters indicated that it may have been a half-mile wide, but Robinson said that estimate was based upon a path of damage along U.S. 64 and that didn't provide an accurate assessment.
"Ten to 12 tornadoes wouldn't surprise me," Robinson said of Monday's storms.
Extensive damage was also reported in the Saltillo area near Vilonia, Faulkner County Sheriff Karl Byrd said.
"Some residences were totally destroyed," Byrd said.
Conway Regional Medical Center spokesman Lori Ross said the hospital had 15 storm-related emergency patients, most of whom were from Vilonia.
GARLAND COUNTY DAMAGE
Garland County was also among the hardest-hit areas, though buildings were also destroyed in Pulaski County and elsewhere.
In Garland County, the smell of pine permeated the air from toppled trees. Many of them blocked roadways, forcing residents to wait in the rain on roadsides to get into their neighborhoods.
Several people already had chain saws out Monday evening, trying to clear the roads as the storm raged on.
Arkansas State Police spokesman Bill Sadler said troopers in Garland County were working with the sheriff's office and medical crews to free people trapped in homes.
About 20 homes in Hot Springs Village in Garland County were hit by felled trees after a report of a tornado, but no injuries had been reported, said Mary Jo Clark, a dispatcher at the Hot Springs Village Police Department.
"We haven't been able to assess any damage yet," she said.
A possible tornado touched down in the Sunshine community south of Hot Springs Village on Monday evening, the weather service's Clarke said.
The weather service issued a "tornado emergency" for the area at 5:20 p.m., meaning law enforcement officers or other trained spotters had confirmed a tornado touchdown.
Tiffany and Kyle Hill had just gotten to their home near Brady Mountain in Garland County when the storm pounded the area.
"It's headed here," Tiffany Hill yelled to her husband.
He balked and refused to go into the couple's safe room. Instead, he peered out the windows - just in time to see what he thought was a tornado.
"It's coming," he yelled.
A tree fell on the couple's home, but no one was hurt.
In Pulaski County, the worst damage was in the community of Palarm, north of Maumelle on Arkansas 365, sheriff's spokesman Lt. Carl Minden said.
There, high winds ripped off nearly the entire western and southern sides of the Mount Pilgrim Baptist Church. Inside, many pews remained in rows, and decorations still adorned the walls. But debris coated the rest of the church's interior. Outside, cinder blocks, windowpanes and a leaking propane tank were strewn in the yard.
"Basically, half the church is gone," Minden said. "It looks like an explosion ripped through it."
The Pulaski County Special School District saw several buildings damaged after the hook of a powerful storm cell swept through around 8:30 p.m., board President Bill Vasquez said.
North Pulaski High School sustained severe damage after the storms sheared the roof of the auditorium off as if it were the lid of a sardine can, he said.
"The roof of the auditorium is about 200 yards behind me lying in the woods," Vasquez said. "We also lost an entire wall - the wind blew those bricks down."
Inside, Vasquez said, ceiling tiles are dangling and water damage is extensive throughout the interior of the building. He said classes at the school were canceledfor today.
"It physically moved it," Vasquez said of the building. "There's a lot of damage that makes it structurally unsound at the moment."
FLOODING
Three fatalities from Monday night's storms were from flooding, officials said.
In southern Washington County, 38-year-old Consuelo Santillano of West Fork attempted to drive a white 2005 Honda Odyssey through floodwaters. She was driving on Arkansas 265 South when her vehicle stalled, stranding her as well as her 11-year-old son, sheriff's spokesman Kelly Cantrell said.
When Santillano stepped out of the car, the swift water swept her into the Illinois River. Firefighters found her body 150 yards away. Her son was found uninjured, Cantrell said.
An elderly Madison County couple also were killed when War Eagle Creek swept across Arkansas 23, taking their car with it, Sheriff Phillip Morgan said.
The couple's car was recovered late Monday evening, Morgan said. He wasn't releasing the victims' names but said they were a couple who lived west of Huntsville.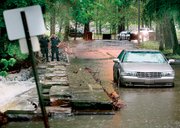 Rescuers also were searching Monday for a 17-year-old who was separated from his grandfather while kayaking Sunday evening on the Buffalo River despite evacuations of the river and campsites, county emergency department coordinator Pattie Mills said.
Searchers had found the grandfather at Dixon Ford about 1 p.m. Monday.
The University of Arkansas at Fayetteville canceled classes Monday afternoon as roads, including U.S. 71B, were briefly closed because of high waters.
"All the people I've talked to say this is unprecedented," said John Diamond, associate vice chancellor for relations.
Rising waters also closed several highways leading to the Northwest Arkansas Regional Airport, turning the airport near Highfill into an island. More than 100 people were stranded there Monday afternoon, said Scott Van Laningham, the airport's executive director.
No flights were canceled, and the airport was not in danger of flooding, he said.
LONG NORTHWEST DELUGE
More than 10 inches of rain fell Saturday and Sunday in Northwest Arkansas and along the Missouri-Arkansas border in northeast Arkansas, National Weather Service officials said.
An additional 8 inches of rain is forecast for some areas of northeast Arkansas over today, Wednesday and Thursday, Clarke said at the weather service.
"This much rain could cause numbers like 2008," she said, referring to widespread flooding in March and April that year.
In Northwest Arkansas, 11.92 inches of rain fell in Fayetteville since Thursday as a frontal boundary stalled over the area, said Joe Sellers, a meteorologist with the National Weather Service in Tulsa.
"It's a common pattern in the spring," Sellers said of the stalled front. "But it's not common to see the duration this has had."
He said that in most cases, stalled fronts create rainfall for a day or two and then move on. In this case, Sellers said, the front has remained over Northwest Arkansas, generating a cyclical pattern of storms.
The system is expected to finally push out of Northwest Arkansas by tonight or early Wednesday he said. But it still could produce 2 to 4 more inches of rain before that happens.
"Unfortunately, due to the high water amount the area's already received, the rainfall will compound an already dangerous situation," he said.
The Little Rock District of the U.S. Army Corps of Engineers said Beaver Lake near Rogers and Table Rock Lake near Branson were rising rapidly.
'IT'S WET EVERYWHERE'
Six U.S. Geological Survey crews have traveled around the state since Friday, taking river measurements and repairing damaged river gauges, said Jaysson Funkhouser, U.S. Geological Survey supervisory hydrologist.
He said gauges on the Kings River in Berryville and the Illinois River in Northwest Arkansas were damaged by rapid floodwaters.
"It's wet everywhere," Ravenden Springs Police Chief Kevin Montgomery said. "I don't care where you go, there's water."
In Sharp County, Hardy police evacuated 70 homes along the Spring River as it reached 16.6 feet Monday evening - 6.6 feet above flood stage. The homes are on stilts, and many are occupied only during the summer, but roads leading to the homes were submerged.
City officials also moved equipment and files from the Hardy City Hall on Monday afternoon, anticipating that the building would soon flood.
"We're preparing for the worst," Hardy Police Chief Ernie Rose said.
Randolph County Judge David Jansen said crews were watching levees along the Black River in the eastern part of town to ensure they could withstand the additional water.
"We're ready for whatever it's going to do," he said.
Farther upstream on the Black River, hundreds were evacuated from their homes Monday in Poplar Bluff, Mo., as water neared the top of the town's levee system. The levee was topped in places, and officials feared it might break.
WORRISOME RIVERS
With forecasters predicting minor to moderate flooding along the White River by today, Independence County officials were warning residents and farmers Monday to take precautions, said Glen Willis, the county's emergency management director.
"Right now, we're on standby," Willis said Monday afternoon during a break in the rain.
Willis is expecting as much as 5 to 5 1/2 inches of rain by today - an amount that could cause the White River to crest 5 feet above its flood stage by this afternoon.
Willis' office has alerted residents of Oil Trough, a low-lying river community with about 200 people, to the dangers.
In addition to flooding along several of Arkansas' river basins, the Mississippi River is expected to continue to rise through May, officials with the U.S. Army Corps of Engineers said.
The river in Vicksburg, Miss., is expected to crest at 53.5 feet on May 18. The river crested at 51 feet in Vicksburg during the floods of 2008.
Clarke said the flooded Mississippi River will cause a backup of floodwaters on the Arkansas River and on the Black, White, Cache and other rivers farther north.
"We could see flooding for more than a month," she said.
UPDATE AND VIDEO: Four people killed by storm in Vilonia
Information for this article was contributed by Cathy Frye, Jake Sandlin, Andy Davis, Chad Day, Debra Hale-Shelton, Alison Sider, Matthew Harris, Chris Branam, Tracie Dungan, Dave Hughes, Scarlet Sims and Robert J. Smith of the Arkansas Democrat-Gazette
Front Section, Pages 1 on 04/26/2011