CINCINNATI, Ark. — A rare New Year's Eve tornado fueled by unusually warm weather sliced through the tiny Cincinnati community in Washington County before sunrise Friday, killing three people and injuring several as it roared across Northwest Arkansas.
The powerful storm system also ripped through Missouri, killing three there.
In Cincinnati, Gerald Dean "Buck" Wilson, 88, his wife, Mamie Wilson, 78, and James Richard "Dick" Murray, 78, died when the tornado touched down at 6:09 a.m. Friday.
At least nine others were taken by ambulance from Cincinnati to hospitals, officials said.
Murray died when his milk barn near the Wilsons' home collapsed. His son, Michael, was trapped in the barn, but Cincinnati volunteer firefighters began digging him out shortly after the tornado passed.
A longtime dairy farmer, Dick Murray walked from his brick home every morning with his son to milk his cows. He fretted over cars on his walk to the cows, said Edie Claybrook, who was one of several neighbors who took in some of Murray's heifers Friday while the family decided what to do.

Storm damage in Cincinnati, Ark.
Watch Video
"Dick walked across the street, watching out for traffic for 50 years, and a damn tornado runs him over," Claybrook said.
Family members gathered at Murray's home Friday afternoon but said they didn't want to talk about Murray. His widow sat outside their house crying.
People who knew Murray said he was quiet, wore suspenders, shared his barn with other farmers and worked hard.
"He was about as nice of a guy as you'd ever want to meet," Claybrook said.
AT A GLANCE
Power outage mapAt least 3 deadMultiple injuries and damage reportedRed Cross setting up center at Methodist church in Cincinnati
Many of Murray's 100 cows were taken to Don Jackson's barn nearby. Jackson and Murray had been friends for some 40 years. Though Jackson quit dairy farming in 1989, the two helped each other.
Michael Murray, 51, remained at Washington Regional Medical Center in Fayetteville about 6 p.m. Friday. A nurse said he didn't want his condition released.
At the site of the Wilsons' home, neighbor Rochelle Lawrence and a relative of Buck Wilson combed through smashed glass fruit, tangled clothing, broken dishes and insulation to find family photos.
Buck Wilson's glasses were still in the case. Lawrence pulled out a gray shirt and coveralls and wept.
"He always wore the same stupid outfit," she said.
Buck grew vegetables across the street. He hauled watermelons to sell across the county, and he was active and talkative, said Don Johnson and other residents who knew him.
He was married to Cincinnati fireman John Randolph's mother for 20 years, Randolph said. But sometimes, Wilson didn't know Randolph. Several people said Wilson suffered from Alzheimer's disease.
Buck Wilson's pet baby rabbit was found in a field with a broken foot.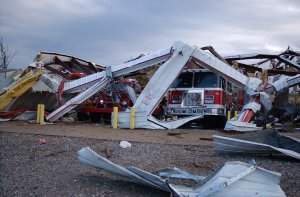 Photo by Rod Russell, Washington County Enterprise Leader
The building housing the volunteer fire department in Cincinnati, Ark. was destroyed during Friday's tornado.
FLYING LIKE SUPERMAN
Ruth Mauch survived the tornado that killed her parents, the Wilsons.
Mauch, and her son, Richard Grubbs, were hunkered down in their bathroom when the tornado blasted through their wood-frame house.
Mauch could feel her son hanging on to her foot as a tornado lifted them into the air, then Grubbs lost his grip.
They swirled with the storm for a few seconds along with debris from the house before the tornado dropped them in a cow pasture.
"I knew I was not on the ground," Mauch, 58, said Friday while waiting in the emergency room at Washington Regional Medical Center. "I didn't have much time to think, but I was thinking about hitting the ground."
Mauch said she didn't remember the impact. She came to rest in "the messiest part of the cow pasture" with a bathroom wall on top of her.
Mauch and Grubbs, 38, had taken refuge in the bathroom when they heard the tornado tear through a house across the street. When the tornado ripped their house apart, a bathroom wall crashed down on them, but the toilet helped break its fall.
"We put our heads up under the toilet," Mauch said. "The wall fell on me, then the wind picked us up."
"We were flying like Superman," said Richard Grubbs. "Everything collapsed on us. The roof collapsed on us. Then the house started moving sideways. Then we were flying."
Grubbs said he has a twisted ankle and is "bruised up."
"It's kind of a miracle to be honest," he said. "That's the way I think of it. Neither one of us is that hurt, really."
Mauch had cuts on her head and knee, a bruise on her cheek and possibly a broken little finger.
Mauch said it was "pitch black" darkness when the storm hit. She and her son tried walking out of the debris, but they couldn't see anything, and shards of glass were everywhere. Then, they saw a light shining through the debris.
Somehow, the storm had switched on a small flashlight Grubbs had received for Christmas. They used the light to find their way out of the rubble.
Mauch said she had no insurance on the house. A year and a half ago, a house where she was living was destroyed by fire.
Mauch said she has two daughters who live in the Dallas area. After the funeral for her parents, she'll probably go live with one of them, she said.
WORST DAMAGE
Friday's tornado destroyed some homes and chicken houses near Lake Wedington and there was some damage in Tontitown, but the worst destruction was in Cincinnati, said Washington County Judge Marilyn Edwards.
In Cincinnati, the wind twisted off metal roofs, wadded up mobile homes as though they were paper and ripped apart 100-year-old homes in minutes.
Roughly 100 hay bales in a field behind Cincinnati Methodist Church were scooped up and scattered over the community.
The Fire Department's 5-year-old building was twisted and shredded. Firefighters worked Friday afternoon to free the four firetrucks inside before freezing weather sets in and ruins the equipment.
"They are in shock right now," said John Luther, Washington County emergency management director. "It will take time for the severity of it to sink in."
The community had no tornado sirens to warn residents, he said.
The Red Cross set up a shelter at the Methodist church and was distributing sandwiches and drinks to volunteers.
"Anyone who needs shelter will be able to use the church," Edwards said.
In Benton County, piles of debris that included two couch cushions, a child's shirt and a toy cow dropped at Northwest Arkansas Regional Airport, grounding flights from 6:45 a.m. to 10 a.m.
Two flights made it out Friday morning before the shutdown, but one plane was stranded on a taxi lane because of the debris.
"We did not have any damage to our airport, but damage to other people's property ended up on the runway out here," airport manager Kelly Johnson said.
The tornado was part of a system, fueled by unusually warm weather, that pummeled the South and Midwest on Friday.
Two National Weather Service meteorologists late Friday afternoon determined one tornado's path took it from just northeast of Westville, Okla., to an area northwest of Tontitown in south Benton County.
Meteorologist David Jankowski said preliminary reports show the twister at one point was an EF3 on the Enhanced Fujita Scale with maximum winds of 140 mph.
It was uncertain whether the twister stayed on the ground from Westville to the spot near Tontitown, Jankowski said. The width of the tornado's path wasn't known Friday.
"They are still trying to determine that," Jankowski said.
In Arkansas, the storm hit four counties: Benton, Fulton, Madison and Washington, according to the Arkansas Department of Emergency Management.
The storm destroyed or damaged 29 homes and seven businesses, Emergency Management Department spokesman Renee Preslar said.
Robert McGowan, coordinator with the Benton County Department of Emergency Management, said the tornado destroyed four houses, one mobile home, two barns, two chicken houses and some other property.
Washington County reported the three deaths in Cincinnati and three injuries, along with 14 damaged homes and one damaged business.
ROARING ON
As the storm roared onward Friday, authorities in Fulton County said heavy winds or possibly a weak tornado crossed U.S. 63 south of Mammoth Spring, destroying a small building at the Mammoth Spring National Fish Hatchery.
The storm popped up at about 1 p.m., Salem Police Chief Albert Rook said.
Several people were fishing for trout on the Spring River when the storm struck, Rook said, but no one was injured.
"They saw it coming, got in their cars and took off," Rook said of the anglers. "Then, when it was over, they came back and fished some more."
Three others died when storms spawned by the same weather system ripped up the Missouri countryside near Rolla, according to The Associated Press.
In south-central Missouri, Megan Ross, 21, and her grandmother, Loretta Anderson, 64, were killed when a tornado hit at a Lecoma farm, Dent County Emergency Management Coordinator Brad Nash said.
North of Rolla, Phelps County Emergency Management Director Sandy North said Alice Cox, 69, was killed as the Belle, Mo., woman visited a friend, AP reported.
AP also reported that a tornado estimated as EF3 with winds of 136 mph to 165 mph damaged 20 homes in a neighborhood southwest of Rolla at Fort Leonard Wood that houses officers.
In Illinois, about two dozen homes were damaged - some severely - and a woman was injured when her car was struck by a falling tree branch, AP reported.
Back in Arkansas, power crews worked Friday afternoon to restore power to the last few hundred homes among the 18,000 Ozark Electric Cooperative customers who lost electricity because of the Friday morning storm, spokesman Penny Storms said.
The 912 customers who remained without power as of 4:30 p.m. were concentrated in the area between Lincoln and Westville, Okla .,and they were expected to have power restored by midnight, she said. Crews during the day worked to replace 13 electric poles snapped off by the storm, she said.
Shandra and Jeff Maxwell escaped unharmed with their two daughters from a house on Winwood Ranch Road.
"All I can think is 'Praise the Lord.' God was good to them and he saved their lives," said Nichole Starr, Shandra Maxwell's cousin, who traveled from Stilwell, Okla., to help the couple salvage belongings.
Jeff Maxwell said he awoke around 6 a.m. and began walking around his house. At 6:20 he heard a loud, rumbling.
Pictures shook on their hooks in the hallway. Walls trembled and windows shattered as he and his wife ran to their girls' room.
"When we got to their room, we hugged everybody up and it was all over within 30 seconds," Maxwell said. "It was over so fast. I don't really have any idea what happened."
One of the Maxwells' neighbors, Joyce Anderson, huddled on the floor between her dresser and bed. Winds from the tornado shattered windows, she said. The first noise she heard after the storm was a child screaming for help.
Jaylee Fox, 13, and her stepfather, Lee Walker, were inside their mobile home when it was picked up by the tornado and thrown 100 yards across the street and into an empty field. Both survived. Walker's leg was broken, McGowan said.
RARE EVENT
The last fatal tornado in Washington County was June 11, 1970, but weather service records don't show where it hit. One person died in that storm, weather service meteorologist Joe Sellers said.
Records kept since 1950 show Benton and Washington counties haven't previously been hit by a December tornado, Sellers said.
The tornado will go down as the 38th tornado to hit Benton County since 1950. There have been 25 tornadoes in Washington County in the same span, Sellers said.
Both counties were last struck by a tornado in 2008.
Gentry, Centerton and Hiwasse in Benton County were hit in January 2008. The Elkins area in Washington County was struck in May 2008, Sellers said.
Information for this article was contributed by Adam Wallworth, Bill Bowden, Robert J. Smith and Kenneth Heard of the Arkansas Democrat-Gazette and by Teresa Moss of the Benton County Daily Record.