LITTLE ROCK — The man accused of shooting two soldiers outside of a Little Rock recruiting center has pleaded guilty to killing one and injuring another in the 2009 attack and will serve life in prison.

Muhammad gets life in plea deal
Watch Video
Abdulhakim Muhammad frequently confessed committing the attack that he said was fueled by U.S. actions against Islam in the Middle East. But Pulaski County Prosecutor Larry Jegley said Muhammad on Monday approached the state for the first time about a possible plea deal.
The Tennessee native received a sentence of life in prison with no chance of parole on the capital murder count and life on the other counts, 12 in all, to be served consecutively. Pulaski County Circuit Judge Herb Wright also sentenced him to 15 years in prison for each firearm enhancement count, totaling 180 extra years.
The sentences are to be served consecutively.
Army Pvt. William "Andy" Long died in the June 1, 2009 shooting while Pvt. Quinton Ezeagwula was injured.
Jegley said prosecutors were ready to go forward with the case when the plea deal began developing Monday morning.
"Ultimately any plea resolution has to be OK with the victim and the victim's family," he said after the hearing. "The Long family is merciful beyond description. And they showed mercy to Muhammad. Muhammad showed no mercy to the victims whatsoever."
After the trial didn't get under way as planned Monday morning, there was a flurry of activity at 1 p.m. as Muhammad was sworn in and advised of his rights. Prosecutors detailed the shooting and he acknowledged he was responsible and hadn't been coerced into pleading guilty.
The jury was dismissed, and testimony started immediately in the sentencing phase. Army Pvt. Quinton Ezeagwula's mother, Sonja Ezeagwula took the stand first.
Sonja Ezeagwula who said she was testifying because her uniformed son was barred from doing so while clad in Army fatigues, cried as she talked about the injuries he suffered. Sonja Ezeagwula asked her son to take off his shirt so Wright could see the injuries first-hand, but Wright stopped her.
"He has a physical impairment for the rest of his life that won't go away," she said.
Daris Long, Andy Long's father, told Wright his son's death was devastating.
"After 2 years, 1 month and 25 days, I can tell you from my experience and expertise at being a father of a murdered son, there is no closure," Daris Long said. "It is a myth."
Janet Long, Andy Long's mother, said she will always regret not hugging her son when she dropped him off at the recruiting center where he was killed.
"I can tell you that on June 1, part of me along with my son, died that day," she said.
Prosecutors went to trial because they sought the death penalty for Muhammad, but they agreed to drop it as part of the plea deal.
After the hearing, Daris and Janet Long said they were disappointed the federal government hadn't done more to investigate and prosecute the case.
Muhammad and investigators said he drove up to a military recruiting station in Little Rock where two soldiers — Long, 23, and Ezeagwula, then 18 — were smoking cigarettes outside. They'd recently completed basic training and had volunteered to work as recruiters. Neither had seen combat. Muhammad fired an assault rifle, killing Long and wounding Ezeagwula.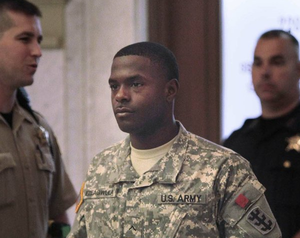 Photo by Danny Johnston / The Associated Press
U.S. Army Pvt. Quinton Ezeagwula waits outside a courtroom at the Pulaski County Courthouse in Little Rock, Ark., Thursday, July 21, 2011. The trial is underway for Abdulhakim Muhammad, the man accused of wounding Ezeagwula and killing another soldier outside of a Little Rock recruiting station in 2009.
Police stopped Muhammad moments later on a highway that would have taken him to Memphis, where he lived until he moved to Little Rock. Officers found more weapons and ammunition in his truck, along with a stash of bottled water and food. He told authorities he would have killed more soldiers if he could have.
Muhammad and those prosecuting him say he knew what he was doing, but his defense attorneys and father say something's clearly wrong. His lawyers argued that he was not guilty by reason of mental defect, and a defense psychiatrist testified Muhammad was delusional.
Read tomorrow's Arkansas Democrat-Gazette for full details.
Thank you for coming to the Web site of the Arkansas Democrat-Gazette. We're working to keep you informed with the latest breaking news.