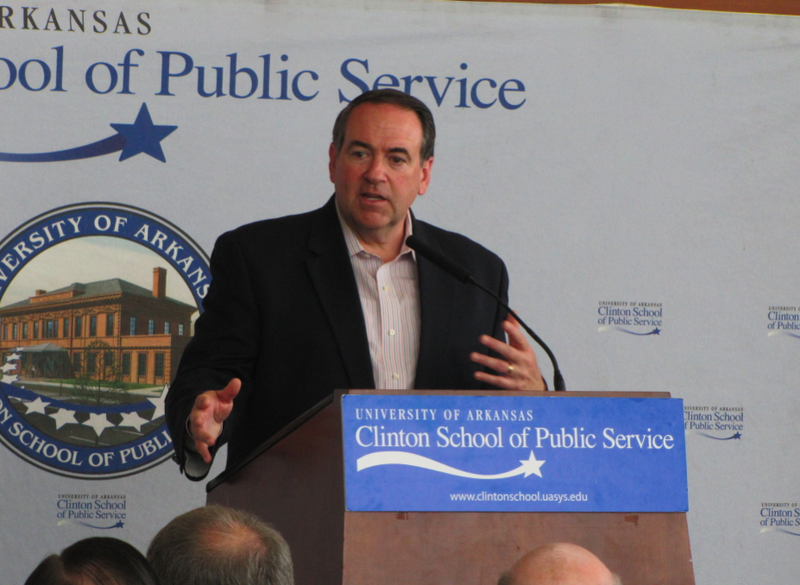 Former Arkansas Gov. Mike Huckabee speaks during a lecture at the Clinton Presidential Center Wednesday. ( Gavin Lesnick)
LITTLE ROCK — Former Arkansas Gov. Mike Huckabee on Wednesday reiterated his recent announcement that he won't seek the Republican nomination for president, but declined to rule out accepting a spot as vice president on the Republican ticket.

Huckabee speaks at Clinton Center
Watch Video
Huckabee, who was considered a frontrunner in some circles before announcing last month on his Fox News television show that he would not seek the nomination, spoke in Little Rock as part of the Clinton School of Public Service lecture series.
"Everything is still open," Huckabee said when asked afterward about being the potential Republican candidate's running mate. "I haven't closed doors because I found out long ago that that's not a smart thing to do. Then you try to figure out how to open them when they come knocking. I'm not looking for anything, I'm content with what I'm doing. That's what I plan to do."
Whoever becomes the Republican challenger to President Barack Obama has a long road ahead of them, Huckabee said during his speech before about 300 people. He noted Obama, the Democratic incumbent, won't have to survive a difficult, expensive primary battle and that he may have $1 billion in campaign funds when the Republican nominee is determined.
Republicans, on the other hand, will be "bloodied and battered" with little time to fundraise to take on Obama, Huckabee cautioned. He warned that a bitter primary battle in which Republicans work to destroy each other will "just give President Obama four more years."
Asked afterward if that was the biggest factor in his decision not to run, Huckabee said it was just one of many.
"I feel like if I had run, I would have had a really good opportunity - nothing certain," he said. "But there were a lot of reasons that went into it it and I've kind of gone through them before. That's really what it was about, just deep within me. I think it's going to be a very brutal process."
Huckabee said he's not sure who will win the Republican nomination, but that he suspects the person has already surfaced in the process. Noting the favorites this time four years ago were Hillary Clinton and Rudy Giuliani, Huckabee said it's too early to predict who the Republican frontrunner is in 2012.
Any endorsement may not come until after the nomination.
"I don't feel any pressure or hurry to do it," Huckabee said, adding several of the candidates are his friends. "... To pick one means I won't pick some of the others and that would be tough for me right now."
Huckabee, who was speaking about his book "A Simple Government," said he's "not even thinking about changing" his mind about running for president himself.
Sponsor Content