SPRINGDALE — A chemical accident sent 173 Tyson workers to five hospitals Monday morning when they were overcome by chlorine gas fumes at the Berry Street chicken processing facility.
Patients were taken to hospitals by ambulance and Ozark Regional Transit buses. They were decontaminated at Northwest Medical Center-Springdale by stripping out of their clothes at the emergency room entrance and donning hospital gowns. Although hazmat materials were available and ready, no one was washed down, hospital officials said.
Twelve employees were admitted to local hospitals, and about 130 affected workers were retained for observation and treatment for exposure Monday evening. The rest were treated and released.
The most serious injuries include two workers admitted to the intensive care unit at Northwest Medical Center-Springdale and one in intensive care at Northwest's hospital in Bentonville.
Springdale also reports two other admissions in stable condition and 26 held for observation. Bentonville released six, admitted one additional patient and retained 23 for more observation and treatment. In Siloam Springs 24 workers were being treated and watched. At Washington Regional Hospital in Fayetteville six workers were admitted with various degrees of respiratory illness and in stable condition, said Gina Maddox, hospital spokeswoman.

Mercy Health System in Rogers said 56 Tyson patients were decontaminated and treated for chemical exposure.
The plant employs 1,200, and there were 600 or so working the first shift Monday. All are accounted for, according to manager Brent Holman.
Chlorine in its gaseous form can be extremely dangerous, even in small doses, said Dr. Tammy Tucker, a primary care physician at Northwest Medical Center-Springdale.
Chlorine gas enters the system through the eyes and lungs, acting as an acid once it gets inside the body,
often burning lung capillaries and mucous membranes, Tucker said.
Photo Gallery
Tyson Gas Leak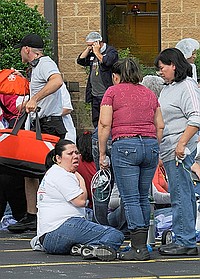 Tyson gas leak
Emergency response crews summoned ambulances from other area cities to the scene. Emergency response units and hazardous material teams came from Rogers, Fayetteville, Siloam Springs and Washington and Madison counties to assist Springdale emergency crews. Eureka Springs emergency responders were put on stand-by.
Workers were evaluated by medical personnel on site and transported to hospitals in Springdale, Rogers, Bentonville, Fayetteville and Siloam Springs. ORT buses were called to the scene to transport some of the workers.
Families of those taken to Northwest Medical Center were being gathered and updated on the situation at the hospital.