LITTLE ROCK — UPDATE:
The winners of the men's and women's Little Rock marathon have crossed the finish line.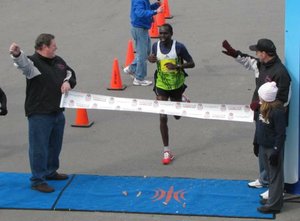 Photo by Gavin Lesnick
Mark Chepses crosses the finish line as he wins the Little Rock Marathon Sunday.
Mark Chepses, of Kenya, was first on the men's side with an unofficial time of 2:24:07. Leah Thorvilson, of Little Rock, crossed in 2:45:51, taking the women's race for the third year in a row.
Thorvilson, who had been training in Colorado for the race, said an injury to her foot flared up for much of the first 10 miles.
"It hurts," she said minutes after crossing the line. "That's the worst the Little Rock marathon has ever hurt for me ... Those last 6 miles were nerveracking. I was just going, 'I'm not going to get it, I'm not going to get my third victory."
After Thorvilson were Uli Bromme (2:47:52) and Donna Palisca (2:52:29).
Chepses said the race was "very nice" and that he quickly warmed up despite temperatures in the low 30s at the starting line.
The next finishers were: Julius Kosgei (2:29:17), Matthew Fecht (2:29:19), Joseph Aulwes (2:31:28) and Hillary Kogo (2:35:12), according to the unofficial results.
PREVIOUSLY:
Francisco Aranda started running as a way to relieve stress from work.
But the escape almost immediately turned into a passion and on Sunday morning, the 68-year-old Aranda was preparing to race in a marathon in his 25th state.
"It's something that I never thought was possible," the IT consultant from Detroit said as he waited alongside the starting area at the Little Rock Marathon. "But when I start talking to other runners and saw what they had done, I realized what I'm doing is nothing."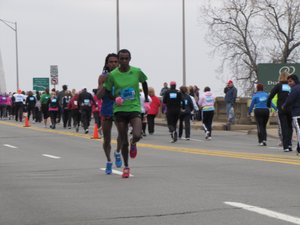 Photo by Gavin Lesnick
The leaders of the Little Rock Marathon cross the Broadway bridge Sunday morning.
CLICK HERE TO WATCH LIVE VIDEO FROM THE FINISH LINE
Click here to visit our Little Rock Marathon section.
Aranda is one of the estimated 10,000 runners, joggers, relayers and walkers who again made the Little Rock marathon and half-marathon sold-out events. Runners left the starting gate at 8 a.m. as confetti rained down on President Clinton Avenue.
Participants from all 50 states and 33 countries descended on the area to take to the streets, racing through a path that winds through downtown Little Rock and North Little Rock, up into Hillcrest, down Riverfront Drive and back again.
On Sunday morning as the 8 a.m. start time drew closer, marathoners filled up the River Market. Some jogged up and down the side streets, others paced back and forth in the starting corral and dozens waited in line at local coffee shops that opened early for the event.
Some had competitive times and prizes in mind, while others said they were there just for the experience of finishing.
Rachel Klistaui, 42, drove 14 hours from La Crosse, Wis. to Like Aranda, she is attempting to run a marathon in every state and has completed races in 16 states in the last four years.
Running has been important to her even longer.
"I've been doing it my whole life," she said about an hour-and-a-half before the marathon was to begin. "I started it in grade school and running is who I am. It's the one thing that's been with me through everything, besides my Raggedy Ann doll."
Brant Mackey, 44, came from Springfield, Ill. to run in the half-marathon. He was racing on behalf of Medals4Mettle, a group which works to donate marathon medals to children struggling with handicaps, diseases and other challenges.
Mackey said he would give his medal to a 10-year-old boy from Joliet, Ill. who has cancer.
He said he chose to run in Little Rock for the second year in a row - despite an 8-hour drive each way - because of a great course and the courteous event staff.
"This is one of the greatest races," Mackey said. "We were here last year and we just came back for the fun. We say when we come to Little Rock, we want to get our Bill Clinton on."