In the six years since Alice Walton's May 2005 revelation that she was buying up multimillion-dollar artwork and building a nationally important museum in Wal-Mart's hometown of Bentonville, she has spurred a sense of boosterism and high economic hopes at home, while also igniting a broad debate on museums' public stewardship of the arts.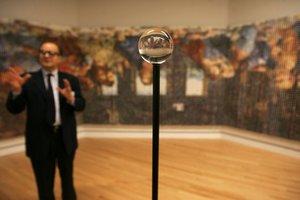 Photo by Ryan McGeeney
Works in the museum are arranged by chronological order. The final gallery will feature traveling exhibitions, highlighting different themes and artists as described here by David Houston, the museum's director of curatorial.
For Walton, 62, daughter of the late Wal-Mart Stores Inc. founder Sam Walton and an heir to his fortune, no particular painting inspired her to want to create Crystal Bridges Museum of American Art, but rather a combination of a childhood spent creating art with her mother, the late Helen Walton, and having no other outlet nearby to explore this creativity further.
"I guess it was the experience, or the lack of it, and the love of art, that I had growing up," Walton said while sitting in a glass-walled board room at Crystal Bridges a little more than two weeks before its Nov. 11 opening.
"I used to draw and do watercolors with my mom. But, you know, we, we really didn't have any museums. We got to go to the Gilcrease [Museum] in Tulsa, and she made sure to get us to a museum occasionally here or there, but we just didn't — it wasn't part of our experience growing up."
Walton spoke in her demure, deep-throated drawl with reporters at a media preview Oct. 24, appearing radiant and relaxed, leaning back in her chair with her hands folded in her lap for much of the time. Her silver tresses were pulled back and she wore a large, side-swept scarf.
Walton, who is ranked by Forbes magazine as the 10th-richest person in the United States for 2010 at $20.9 billion, is working with the family foundation her father started in 1987. It poured more than $1.2 billion in endowments and one-time gifts into the museum in 2010 alone and $1.3 billion all together.
Opening its doors Friday in downtown Bentonville, the 201,000-square-foot Crystal Bridges Museum of American Art sits in a forested ravine. It is home to two spring-fed ponds flowing around and under its pavilions, designed by the Boston-based architect Moshe Safdie, in the heart of a 120-acre campus with walking trails connecting it to points like the city Square.
Gift to the community
Museum officials expect 150,000 to 300,000 visitors annually.
After deciding to move forward with plans for the museum — sometime in the late 1990s, Walton estimated — Walton and her family described the museum as a gift to the community, and it later was the beneficiary of special state legislation granting it sales- and use-tax exemptions.
Act 1865 of 2005, sponsored by then-Rep. Horace Hardwick, R-Bentonville, provides the exemptions to specific nonprofit museums. Hardwick said at the time that, while other museums could have qualified, he drafted the bill to secure Crystal Bridges for Arkansas, overriding the competitive interests of other states with blanket tax exemptions for museums, such as Tennessee and Texas.
Crystal Bridges will open with a permanent collection of roughly 500 works spanning about five centuries of American art, from the Colonial era through 2010.
Walton and the museum's advisers and staff have frequented auction house giants such as Sotheby's and Christie's, both London-based with prominent New York sales rooms, browsing for art to fill her museum's galleries.
"I met Alice Walton one weekend in New York and had a grand time with her," said Barbara R. Palmer of State College, Penn., whose long involvement with philanthropic causes and the Palmer Museum of Art on the Pennsylvania State University campus eventually led to her relationship with those at Crystal Bridges.
In New York, Walton had her art-acquisition advisers with her, including John Wilmerding, as well as Crystal Bridges' Sandy Edwards, deputy director of museum relations.
"I don't know what they bought, but I think they were well-received wherever they went," said Palmer, who donated a sculpture — Angel by Seymour Lipton, 1975 — to Crystal Bridges in honor of Edwards and her late husband, Clay, both of whom she'd worked with on fundraising initiatives at Penn State.
But Walton revealed during the Oct. 24 media tour of the museum that she doesn't attend the auctions and hasn't ever bid in person at one.
"I never have," she declared.
Bid From the saddle
Because the major auctions in New York tend to coincide with her cutting-horse world championships — she lives on a Texas ranch and competes in riding competitions — she has been known to phone in bids while sitting astride a saddle.
"I'm not really given a lot of choice if I want to compete," she said with a throaty laugh.
Other times Crystal Bridges' staff members do the honors in person. Walton said the museum's executive director, Don Bacigalupi, has come to take on the auction deals.
The kind of art collector and connoisseur that Walton is largely depends upon whom one asks.
"I would say she's one of the most visionary collectors in the field," said Amy Cappellazzo, chairman of post-war and contemporary development at Christie's, who works with buyers and sellers including Crystal Bridges.
There are American museums out there with vast, "amazing collections," but they have been buying artwork for decades.
"Those weren't assembled by someone seeking to do this in their own lifetime," Cappellazzo said.
"I don't know of an equivalent collection of this kind," she said. "I mean, others have done it. But this one is quite far-reaching in its scope, both back into history and looking at contemporary artists and contemporary works."
Some East Coast arts journalists and bloggers who cover museums with an eye toward public access, transparency and respect for the wishes of deceased art donors take a different view. They are sensitive to "deaccessioning" — the selling of artworks to raise money for other art or financial needs.
They had plenty to write about as Walton stirred up debates in New York, Philadelphia and Nashville, Tenn., with art acquisition attempts that were, respectively: successful, failed and pending in a Tennessee high court.
The writers also have taken issue with, among other things, the label "world-class museum" that local and national media outlets alike affixed to Crystal Bridges long before its entire permanent collection was revealed.
In mid-June, Lee Rosenbaum — who blogs as "CultureGrrl" for the online publication ArtsJournal — called into question the label and deconstructed articles on Walton and the museum that appeared in The New Yorker and The New York Times.
'World class' how?
Atop a photo Rosenbaum posted of one of Crystal Bridges' outdoor sculptures, a rotund piglet depicted in Andre Harvey's 2009 Stella, appeared the headline: "Alice Walton's 'World-Class Museum': Does NY Times Know Something We Don't about Crystal Bridges?"
Rosenbaum opined that with only 70 or so works revealed at that point, the jury is out on how distinguished the museum's initial collection will be.
Richard Carreno, who blogs for The Philadelphia Junto and Broad Street Review online arts publications, agreed.
"You don't invent 'world class' overnight," Carreno said in an interview in late October.
Carreno was not necessarily condemning the term: Why would it be used if Walton's museum is eschewing international art for a focus on American art? Why not "national class"?
"It could be the best museum in Arkansas, or the best museum in the South," Carreno said, adding there are a number of quality, little-known museums that don't use boosterism. "They're not trying to foist any terminology on the public to make themselves seem self-important."
Carreno was among those in the Philadelphia area who protested Walton's November 2006 joint offer with the National Gallery of Art in Washington to buy Thomas Eakins' renowned 1875 painting The Gross Clinic from Thomas Jefferson University for $68 million — said to be the highest price for an American work of art created before World War II.
In January 2007, Carreno blasted Walton as "a bumbling billionairess from Arkansas, the Wal-Mart heiress" who was an unwitting, easy mark for what he contended was an inflated starting bid. "Every heist needs a moneybags."
But Walton's chief art acquisition adviser, John Wilmerding, has insisted in interviews over the years that she is a value-oriented buyer who won't pay inflated prices for art, choosing instead to wait out the market.
In the end, Walton and the National Gallery lost the bid for The Gross Clinic to a Philadelphia fundraising drive.
"In this case, she entered into a sale agreement that contained the bizarre — maybe even unprecedented — caveat that her deal was off if another buyer offered the same $68 million within 30 days," Carreno wrote in Broad Street Review. "This rider was fantastic on its face. How many of us would buy a house subject to the same proviso?"
Walton's view: "I could have been smarter about it: Hindsight's a wonderful thing." But, she said in the October news conference, the failed bid had a positive outcome.
"I wish we'd gotten it, but I'm also proud of the way the Philadelphia community came together to save something that they thought was very important," she said.
"I think it's wonderful when a community and a region is proud of a main artist and wants to keep that work," Walton continued. "And if they want to come together and figure out a way to do that, then more power to them."
Walton first caused a stir when it was learned in May 2005 that she and the Walton Family Foundation purchased, from the New York Public Library, Asher B. Durand's Kindred Spirits, an iconic Hudson River School landscape, for a reported $35 million.
That time, she was on the opposite side of Washington's National Gallery, bidding against it in its joint bid with New York's Metropolitan Museum of Art.
During the Oct. 24 media preview, Kindred Spirits was among some of the paintings already hanging in the Crystal Bridges galleries and was one of several that had been on loan to other museums.
In both East Coast examples, the paintings were said to be hung in alcoves where they were hard to see or access. And defenders of Walton's attempts to purchase them have said it's better for the works to be spirited off to America's heartland — where the public has access to them — than to be sold into private hands or to overseas museums.
'Two of every kind'
In a recent interview, Carreno said he's softened his view of Crystal Bridges' permanent collection but still sticks by his earlier assertion likening Walton's collecting style to Noah's Ark: "two of every kind" from a particular artist.
"I went over the inventory of pictures the museum has, and I'm impressed," he said. "But it's not very deep. There's no depth."
"Depth," for curators, either involves showcasing a host of works by a particular artist, he said, or pairing, say, an Eakins painting with a Rembrandt containing a similar element: "You can see how Eakins borrowed from Rembrandt."
Philadelphians were upset at the prospect of losing Eakins' The Gross Clinic because he was an early American Realist painter whose themes and locations were mainly Philadelphia-based and spoke to the heritage of the area.
People tend to identify with and empathize with a work that illuminates their history and patrimony, he said.
"When you take an important work and you put it in a small museum that has no context, it loses something," Carreno said. "It becomes a 'Las Vegas Eiffel Tower.'"
Walton found herself involved in another fight when she offered the historically black Fisk University in Nashville $30 million for a half-share in its 101-piece Alfred Stieglitz Collection.
The attempt evolved into a protracted court battle in Davidson County, Tenn., Chancery Court that is pending in the Court of Appeals of Tennessee Middle Section at Nashville.
A lower court judge approved a sharing arrangement whereby the collection could be displayed at Crystal Bridges museum on a rotating basis every two years beginning in fall 2013, while still being enjoyed half the time by Nashville residents. The collection was donated to Fisk University about 60 years ago by the late American artist Georgia O'Keeffe along with a "no-sale" condition. O'Keeffe was the widow of Stieglitz, a noted photographer and collector.
Fisk University has said it is financially strapped and must sell the collection to avoid closing.
The case has raised legal questions regarding deaccessioning and whether donor's wishes can be disregarded after circumstances change.
Carreno said Walton has managed to reignite the national debate over such issues, noting recent efforts of various groups who've regretted historical removal of art and have sought to repatriate works to their original homes or, in some instances, owners.
"I'm proud of the efforts we've made," Walton said of her high-profile acquisition deals, in her Oct. 24 news conference.
Win either way on Fisk
Should the museum lose the Fisk case, Walton said it won't be so noticeable a gap in the collection that it would have been years ago when the court cases first started.
"I don't think that it's something we have to have. We obviously have bought many things from probably the same period as the collection covers," Walton said. "But the offer to Fisk is two-fold. ... I'm very proud of the fact that we're making an offer and have made an offer that can help strengthen Fisk financially, which it needs."
"The Fisk collection was going to be broken up before we made the offer," she said. "And I really felt very strongly that it shouldn't be broken up."
The offer, she said, keeps the collection intact and comes as close as possible to O'Keeffe's wishes.
Walton has bequeathed Crystal Bridges 100 artworks from her personal collection as "promised gifts," she explained, and said visitors can expect to see some of them occasionally rotated in for exhibits.
Her main goals for the museum are to bring art appreciation to Arkansas and surrounding states and to draw tourists from afar.
Thanks to a $20 million endowment from Wal-Mart, admission to Crystal Bridges will be free to all, but she and others locally expect tourism spending to increase after the museum opens.
"I hope that Crystal Bridges brings widespread access to this whole region," Walton said of the Ozarks and surrounding areas. "I guess the most important thing to me is, I hope we bring opportunities to people."
Walton's family members had to be on board when she went forward with plans for the museum, she said. The museum's property is on Walton family land that would have otherwise been used for homes for her nieces and nephews.
"It's been fun, because it's been a journey for us as a family," Walton said. "The museum actually fits well within our traditional foundation efforts."
The foundation's efforts have been three-pronged: education, the environment and giving back to the region.
It never occurred to Walton for Crystal Bridges to feature anything other than American art, owed to her parents' patriotism and the way in which art made American history really come alive for her.
"I love American art," she said. "American art has yet to take its full place, I believe, in the balance of art in the world — in the universe."
"It's still a story that's being told and unfolding, and as a new museum, I think it's exciting for us to be able to be a part of it and help rewrite and expand some of the research areas that still need a lot of work."