LITTLE ROCK — Arkansas highway officials temporarily closed a major interstate highway between Little Rock and Dallas, as well as other roads in central Arkansas, because of flash flooding. One community college was closed, while several schools in the Pulaski County Special School District were letting students who live in flood-prone areas be picked up early.
All lanes of Interstate 30 were closed around 10 a.m. at mile marker 127 near Otter Creek as heavy rains pushed streams out of their banks on the southwest side of Little Rock. The inside lanes were reopened around 11:15 a.m., and all lanes were open again around 1 p.m.
Photo Gallery
November 2011 flooding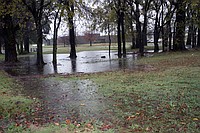 Highway spokesman Randy Ort said the usual detour around the area, Arkansas Highway 5, is also flooded. Highway spokesman David Nilles said that other highway closings include Highway 244, between Highways 267 and 266, and Highway 37 in Newport.
No weather-related accidents have been reported yet, Nilles said.
Several flash flood watches and some warnings are in effect across parts of Arkansas.
Pulaski Technical College-South has canceled classes for Monday because of flooding in the area. At Rahling and Chenal in West Little Rock, there was a report of 5.2 inches of rain as of 7:30 a.m.
The National Weather Service has issued a flash-flood watch for 53 counties in the state through Monday night. Little Rock, Fort Smith, Fayetteville and Jonesboro are among the cities included in the watch.
Forecasters expect a frontal boundary to stall and combine with an upper-level disturbance to bring widespread showers and thunderstorms to Arkansas. Two to four inches of precipitation are possible in the watch area, and some places could receive up to eight inches of rain.
Temperatures are expected to range widely Monday, from the middle 50s to the lower 80s.
Read tomorrow's Arkansas Democrat-Gazette for full details.
Thank you for coming to the website of the Arkansas Democrat-Gazette. We're working to keep you informed with the latest breaking news.
Information for this article was contributed by The Associated Press.