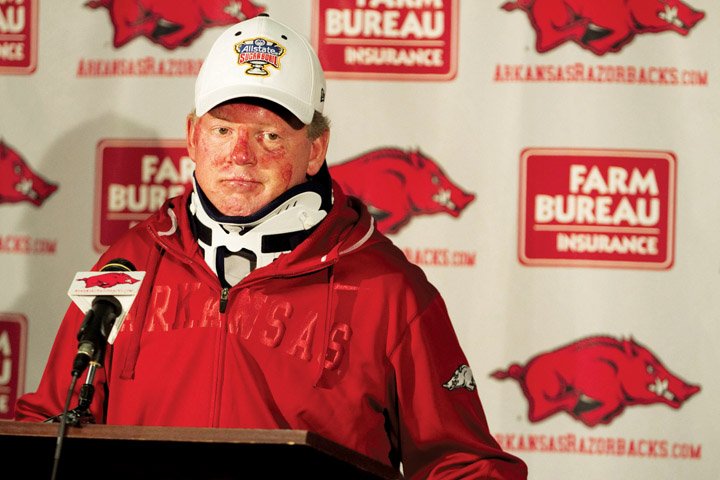 LITTLE ROCK — The University of Arkansas released the phone records of former head football coach Bobby Petrino on Wednesday afternoon.
The records, obtained through a Freedom of Information Act request by the Arkansas Democrat-Gazette, show Petrino's history pertaining the usage of his university-funded phone. The seven sets of records details Petrino's cell phone usage from Sept. 12 of last year to April 5.
Document
Petrino phone records March 12 - April 5
View
The records show Petrino and Jessica Dorrell, who Petrino hired to his football staff in March, exchanged 288 phone calls and 4,388 text messages during the time frame.
Petrino and Dorrell often spoke multiple times in a day and would often exchange scores of text messages during a 24-hour span.
In all, the records consist of 305 pages spanning seven months.
On the day of Petrino's motorcycle crash, April 1, Petrino made eight calls from 6:41 p.m. until 9:44 p.m. on the phone. The crash occurred at 6:32 p.m. according the accident report from the Arkansas State Police.
Petrino and Dorrell spoke twice on the phone earlier that day. Petrino placed a 10-minute call to Dorrell at 3:24 p.m. Dorrell later called Petrino for a 6-minute conversation at 3:39 p.m.
Dorrell placed a 22-minute phone call to Petrino the day following the accident.
Other calls include one at 6:34 a.m. on March 28 - the day her hire was announced. There were three text messages around the lunch hour that day as well.
On April 5, there was a flurry of calls between them beginning around 1:50 p.m. and ending at 5:42 p.m. The Arkansas State Police Report identifying Dorrell as a passenger in the accident was released that day and Petrino was placed on an administrative leave that night pending an investigation.
He was fired after four seasons as the Razorbacks' head coach on Tuesday.
Dorrell was involved in the accident on Arkansas 16 in rural Madison County, about 23 miles southeast of Fayetteville. Petrino initially said he was the only passenger during the accident, which left him with multiple broken ribs, a cracked vertebra and a sprained neck.
Read tomorrow's Arkansas Democrat-Gazette for full details.
Thank you for coming to the website of the Arkansas Democrat-Gazette. We're working to keep you informed with the latest breaking news.

Jeff Long - Bobby Petrino Firing
Watch Video
Inside the Petrino Crash
PETRINO STATEMENT: "I was informed in writing today at 5:45 p.m. that I was being terminated as head football coach at the University of Arkansas. The simplest response I have is: I'm sorry. These two words seem very inadequate. But that is my heart. All I have been able to think about is the number of people I've let down by making selfish decisions. I've taken a lot of criticism in the past. Some deserved, some not deserved. This time, I have no one to blame but myself." CONTINUE READING HIS STATEMENT
Sponsor Content