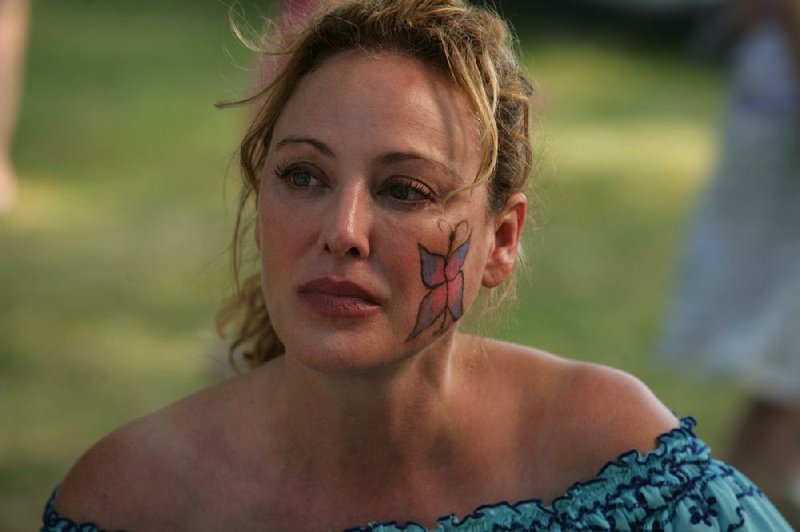 Virginia Madsen is a luminous mother raising three girls by herself in Rob Reiner's family film The Magic of Belle Isle.
LITTLE ROCK — It is a little unfortunate that The Magic of Belle Isle is opening in Little Rock the same day as the slightly better and much more advertised Hope Springs, for a lot of the people who go to see Meryl Streep and Tommy Lee Jones act like a fairly ordinary old married couple would probably also enjoy watching Morgan Freeman and Virginia Madsen getting to know each other.
As it happens, both movies are set in quaint, titular little villages that seem more a part of the Eisenhower '50s than the 21st century, and both are elevated by the performances of their lead actors. For some, The Magic of Belle Isle has the added virtue of being completely safe for children - aside from a brief appearance by Fred Willard, there is nothing in Belle Isle that a parent (or grandparent) might feel uncomfortable explaining to a child.
It has been submitted that Belle Isle is the first time Freeman, who (it ought to go without saying) is one of the pre-eminent film actors of all time, has ever played the romantic lead in a movie, but if you were among the tens of tens who saw 2006's Ten Items or Less you might beg to differ. Anyway, Freeman is indisputably the lead in this film, and that in itself is reason enough to watch it even if the following synopsis makes it sound a bit silly and contrived (it is silly and contrived but so are banana splits and no one argues that they're no fun).
A once prolific and celebrated but now a blocked and alcoholic writer of Western novels, the wheelchair-wielding Monte Wildhorn (Freeman) moves in next door to a divorcing mother, Charlotte O'Neill (Madsen), who is raising three daughters in a charming resort town full of eccentric characters. Monte, charged with house- and dog-sitting for a friend over the summer, is determined to spend his days and nights anesthetized by sour mash.
But you know that isn't going to happen, even before he changes the name of the dog from "Ringo" to "Spot" and agrees to tutor Charlotte's 9-year-old daughter Finnegan (Emma Fuhrmann) in the uses of an imagination. Gradually and inevitably he becomes enmeshed in the lives of the women next door, discovering that Charlotte is not only winsome but well-grounded and capable of pecking out some beautiful Beethoven.
Director Rob Reiner seems to have turned away from the garish excess of his last "big" movie, 2007's The Bucket List (which used a lot of CGI to move Freeman and Jack Nicholson around the globe), in favor of smaller, eccentric projects such as this one and 2010's nostalgic suburban fable Flipped. Here he replicates the languid rhythms of remembered summer vacations, allowing the characters to take their time to discover how they feel about things.
There are a couple of jarring sequences - a broad scene involving a birthday party clown doesn't work on any level - but the overall effect of the film is gently soothing. And, like the film that's across town and above the fold in this newspaper section, it's driven by carefully crafted performances by a couple of real pros. There's nothing here that stretches Freeman's range, but he works with such radiant authority that we never doubt that Monte's platitudes are sincere.
And Madsen is just wonderful, a real woman bearing up during a tough time (what man could mistreat her so?), supported by remarkably unbratty daughters.
This is a cuddly puppy of a movie - what heart is so dark to do it violence?
The Magic of Belle Isle 83 Cast: Morgan Freeman, Virginia Madsen, Madeline Carroll, Emma Fuhrmann, Nicolette Pierini, Kenan Thompson, Fred Willard Director: Rob Reiner Rating: PG-13, for mild thematic elements and language including some suggestive comments Running time: 109 minutes
MovieStyle, Pages 29 on 08/10/2012
Print Headline: The Magic of Belle Isle
Sponsor Content