FAYETTEVILLE — After nearly eight months of searching, Arkansas finally has its new football coach.
Bret Bielema accepted the Razorbacks' coaching position Tuesday, ending a 7-year run as head coach at Wisconsin. He will be formally introduced at a 4 p.m. press conference on Wednesday.
Bielema went 68-24 as coach of the Badgers. His .739 winning percentage is the ninth-highest among active college head coaches who have at least five years experience.
"I am very humbled and honored to become the head coach of the Arkansas Razorbacks," Bielema said in a release through the UA. "During my conversation with Jeff (Long) he described the characteristics for the perfect fit to lead this program. It was evident we share the same mission, principles and goals."
Under his tutelage, Wisconsin has won three consecutive Big Ten championships, including a 70-31 win over Nebraska in the league's title game last Saturday.
His teams recorded at least 10 wins four times and will appear in their third consecutive Rose Bowl next month. Bielema is not expected to coach the Badgers (8-5) in the bowl game against Stanford. Wisconsin is 2-4 in bowl games under its former coach, including a 0-2 record in the Rose Bowl.
To conclude the 2006 season, Wisconsin beat Arkansas 17-14 in the Capital One Bowl in Orlando, Fla. The Badgers finished 12-1 that year, their best record under Bielema.
"Coach Bielema has led his team to a historic run of championships while seeing a record number of student-athletes recognized for academic achievement," UA athletics director Jeff Long said in a release. "Throughout his career, he has demonstrated a commitment to competing for a national championship with a program known for discipline, honesty and integrity. His tough, aggressive style of play has been successful and will be appealing to student-athletes and Razorback fans."
Bielema, 42, played college football at Iowa and began his assistant coaching career there in 1994. He spent eight seasons with the Hawkeyes before moving to Kansas State as a co-defensive coordinator in 2002.
He was hired as Wisconsin's defensive coordinator in 2004 and promoted to head coach following Barry Alvarez' promotion to athletics director in 2006.
"I was very surprised when Bret told me he was taking the offer from Arkansas," Alvarez said in a statement. "He did a great job for us during his seven years as head coach, both on the field and off. I want to thank him for his work and wish him the best at Arkansas."
According to the Associated Press, Bielema's Arkansas contract is for six years and is worth $3.2 million. According to those figures and based on an adjusted USA Today list of college football coaching salaries, Bielema would be the 10th-highest paid coach in the country next year.
Bielema's Wisconsin contract paid him more than $2.6 million per year and ran through 2016. Reports Tuesday indicate his buyout there was $1 million.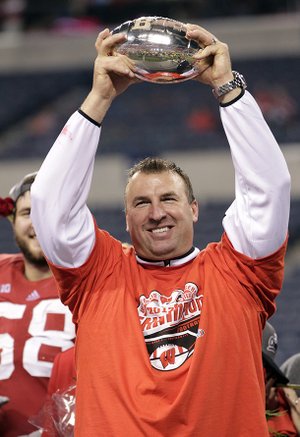 Photo by The Associated Press
Wisconsin coach Bret Bielema holds up the trophy after Wisconsin defeated Nebraska 70-31 to win the Big Ten championship NCAA college football game Saturday, Dec. 1, 2012, in Indianapolis. (AP Photo/AJ Mast)
Bobby Petrino, the former Arkansas coach who was fired in April for misconduct, made $3.56 million annually as part of a seven-year contract signed in 2010. His buyout was $18 million for the first two years.
Forbes rated the Razorbacks as the eighth-most profitable college football program last year at a value of more than $89 million, helping the school spend millions on facilities upgrades.
"The infrastructure in place at Arkansas shows the commitment from the administration to accomplish our goals together and I am excited to begin to lead this group of student-athletes," Bielema said. "This program will represent the state of Arkansas in a way Razorback fans everywhere will be proud of."
Among the additions are a football operations center scheduled to be completed next summer and outdoor practice fields completed earlier this year valued at more than $40 million combined. The university announced earlier this week it will perform a cost analysis to potentially expand its football stadium with a project that could cost as much as $95 million.
Bielema succeeds John L. Smith at the helm of Arkansas' program. Smith signed a short-term contract in April and was reassigned to an administrative position last weekend. The Razorbacks, which combined for 21 wins in the two years prior, finished the 2012 season with a 4-8 record.