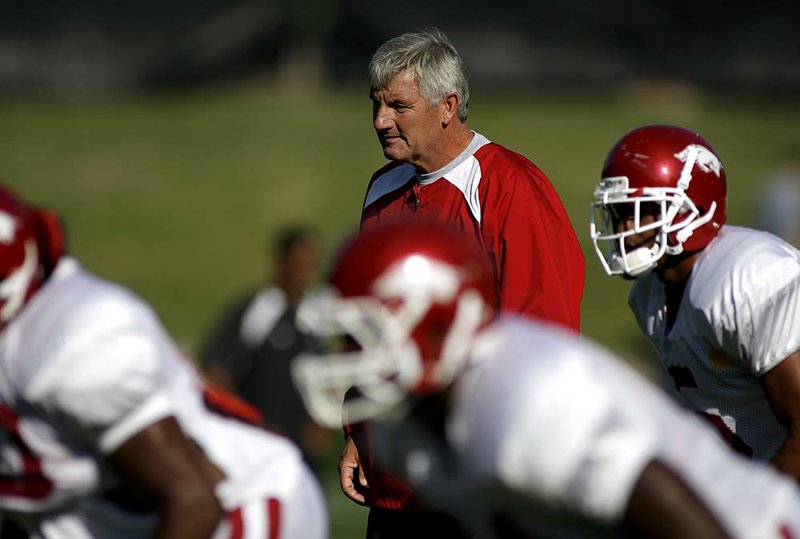 Arkansas Democrat-Gazette/JASON IVESTER 08-17-09 UA football practice on the practice field assistant coach Bobby Allen ( Jason Ivester)
FAYETTEVILLE — Bobby Allen, who has spent 15 seasons coaching multiple positions on the Arkansas defense, has been reassigned to the role of high school relations director for the Razorbacks, coach Bret Bielema said Saturday.
The new position for Allen is a non-coaching one. He replaces Jason Shumaker, who accepted a position earlier this month as running backs coach on Paul Petrino's staff at Idaho.
Allen, 53, coached the Razorbacks' secondary in 2012. He has also had stints as co-defensive coordinator, linebackers and defensive line coach during his tenure.
"To me, you learn the foundations and principles of coaching," Allen said earlier this year. "Each position, there is a certain skill level you have to teach and expertise as far as teaching techniques, but to me it's about teaching."
"I just feel blessed that I've been able to be here at Arkansas for as long as I have. To have the luxury of seeing my family grow up in one town and go to one high school, that doesn't happen very often for guys in our profession. The SEC is the best conference and being at a school like Arkansas, I feel like I've truly been blessed."
Two of Allen's sons are slated to be on the Arkansas roster next season. Brandon Allen is currently a redshirt freshman quarterback, while Austin Allen, who earned state player of the year honors as a senior quarterback at Fayetteville High School, is expected to sign a letter of intent in February.
Bielema, who has officially hired five full-time assistant coaches since being hired Dec. 4, said he has a running backs coach and linebackers coach lined up, but those announcements won't be made until the coaches' bowl games are played. Newly-hired coordinators Jim Chaney and Chris Ash have had input on the hires, which also include defensive line coach Charlie Partridge, offensive line coach Sam Pittman and receivers coach George McDonald.
"Offensively, it was very apparent that maybe the style I was using at Wisconsin (didn't fit here)," Bielema said. "It was important for me to go to a guy who has had success with a blend of pro-style and spread-style offenses.
"On defense, we'll be a 4-3 scheme and a team that is aggressive on first and second downs; not aggressive by blitzing, but aggressive in nature. We want kids to be aggressive and on third down, we'll have fun."
Tim Horton and Taver Johnson, who are currently on Arkansas' staff, are still in contention for other open assistant vacancies, Bielema said. Horton has spent the last six seasons as the Razorbacks' running backs coach and recruiting coordinator, while Johnson came on staff earlier this year as linebackers coach.
Sponsor Content