Lawyers for a doctor who was sentenced to life in prison for his role in a 2009 bombing that nearly killed the head of the Arkansas State Medical Board argued Wednesday that there wasn't enough evidence to convict him.
Randeep Mann wants the 8th U.S. Circuit Court of Appeals to dismiss his convictions or at least grant him a new trial. Prosecutors, meanwhile, want Mann's convictions and sentences to stand. They say Mann, 53, was responsible for a bomb left outside Dr. Trent Pierce's home in West Memphis after the board suspended Mann's license following the overdose death of some of his patients.
Pierce has said he believes the attack, which took away his sense of smell and left him blind in one eye and deaf in one ear, was revenge for revoking Mann's license to prescribe narcotics.
Mann's lawyers argue that prosecutors didn't prove that.
"To this day, the bomber ... is unknown," Blake Hendrix said.
Prosecutors don't challenge that. They have said they don't believe Mann planted the bomb in Pierce's driveway, but they think he had someone else do it.
Still, Mann, who ran a pain clinic in Russellville, was convicted in 2010 on a weapon of mass destruction count and other charges. Investigators said the explosion outside Pierce's home came from a grenade rigged inside a spare tire.
Prosecutors tried to link Mann to the tire, but Mann's defense attorneys said they didn't succeed.
Hendrix said prosecutors' evidence only shows that the spare tire fits any Nissan Altima manufactured between 2002 and 2006, and that Mann had a friend who owned a 2002 Nissan Altima with a missing spare tire.
"It's a completely unremarkable fact that a spare tire was missing" from a car seven years after Mann's friend bought it, Hendrix said.
Mann was arrested on weapons charges after the February 2009 bombing. Investigators said they found nearly 100 grenades and a tremendous cache of machine guns and ammunition at or near Mann's home, though almost all of the firearms were legally registered. It took almost a year for agents to build their case against Mann, who was indicted in January 2010.
Mann, who is in custody at a federal prison in Coleman, Fla., was not present at Wednesday's oral arguments, which took place at the University of Arkansas in Fayetteville, but dozens of law students were.
Mann was in custody in at a prison in Coleman, Fla., according to the Federal Bureau of Prisons website.
Read tomorrow's Arkansas Democrat-Gazette for full details.
Thank you for coming to the website of the Arkansas Democrat-Gazette. We're working to keep you informed with the latest breaking news.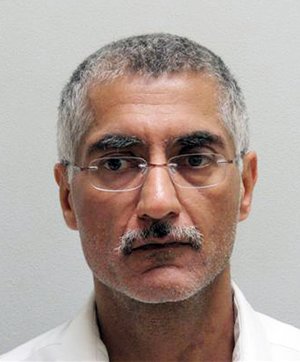 Photo by Pulaski County Sheriff's Office, file / AP/Pulaski County Sheriffs Office
FILE - This file photo released Aug. 18, 2009, by the Pulaski County Sheriff's Office shows Dr. Randeep Mann. In a court filing Tuesday, June 29, 2010, prosecutors say Mann's alleged drug distribution led to the February 2009 bombing of Dr. Trent Pierce, who survived the attack at his West Memphis, Ark., home.