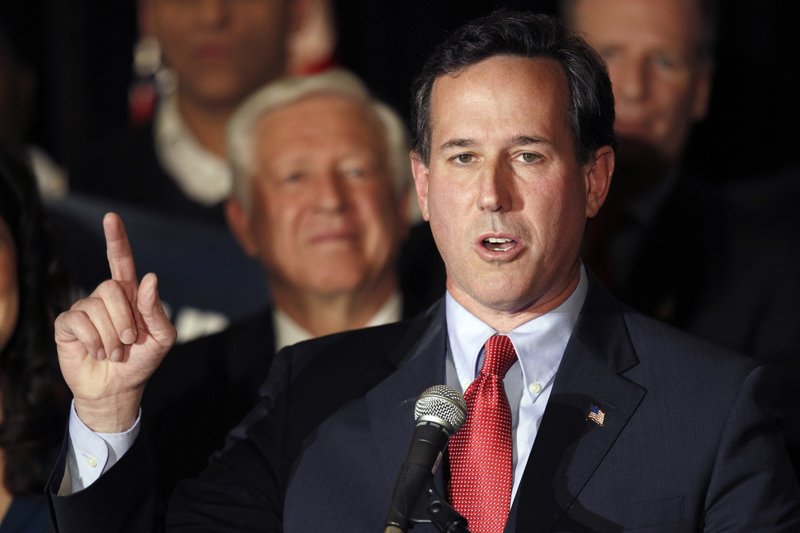 Republican presidential candidate former Pennsylvania Sen. Rick Santorum speaks during a primary night watch party Tuesday, Feb. 7, 2012, in St. Charles, Mo. (AP / Jeff Roberson )
GOP candidate profiles and polls
---
See candidate primary results for each state
WASHINGTON — Former Sen. Rick Santorum has surged into second place in the race for delegates with wins in Republican presidential caucuses in Colorado and Minnesota.
Santorum picked up at least 52 delegates in Tuesday's contests, including all 37 delegates at stake in Minnesota, according to an analysis by The Associated Press. Former Massachusetts Gov. Mitt Romney got at least six delegates, while Newt Gingrich and Ron Paul were shut out.
Overall, Romney has 107 delegates, including endorsements from members of the Republican National Committee who automatically attend the party's national convention and can support any candidate they choose. Santorum has 69 delegates, Gingrich has 32 and Paul has nine.
The race for delegates is still in the early stages. It will take 1,144 delegates to win the GOP nomination.
Santorum also won the Missouri primary Tuesday, but the party is not awarding any delegates based on the results. Instead, Missouri will award its 52 delegates through a system of caucuses and conventions, starting March 17.
Minnesota had 37 delegates up for grabs Tuesday — 13 based on statewide results and 24 based on results in individual congressional districts. Minnesota has not yet finalized new boundaries for its congressional districts, but Santorum's victory in the state was so sweeping that he would win them all, regardless of how the lines are drawn, according to the AP analysis.
Colorado had 33 delegates at stake — 12 based on the statewide vote and 21 based on results in individual congressional districts.
Delegates to the party's national convention from Minnesota and Colorado are not bound by the results of Tuesday's caucuses. The caucuses were the first step of a multi-step process to award the delegates.
However, the AP analysis showed Santorum would win all of Minnesota's delegates and at least 15 delegates in Colorado, if he maintains the same level of support throughout the process. Romney won at least six delegates in Colorado. The remaining 12 could not be determined on election night because the party did not provide votes by congressional district for counties that are split into multiple districts.
Unofficial returns in Minnesota show Santorum winning 81 of the state's 87 counties, finishing about 8,600 votes ahead of Paul, who came in second. Paul got the most votes in four counties, garnering 196 more votes there than Santorum.
The AP calculates the number of national convention delegates won by candidates in each presidential primary or caucus, based on state and national party rules. Most primaries and some caucuses are binding, meaning delegates won by the candidates are pledged to support that candidate at the national conventions this summer.
Political parties in some states, including Minnesota and Colorado, use local caucuses to elect delegates to state or congressional district conventions, where national delegates are selected. In these states, the AP uses the results from local caucuses to calculate the number of national delegates each candidate will win, if the candidates maintain the same level of support.
Sponsor Content