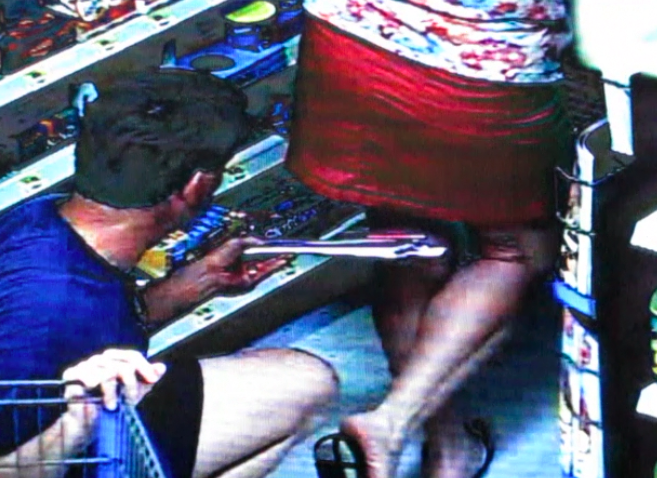 A frame from video released by the Conway Police Department shows what police say is a man pointing a device with a camera up a woman's skirt and recording video.
CONWAY — An ex-teacher charged with harassment after surveillance cameras captured him secretly filming up female shoppers' skirts at a Conway Wal-Mart has pleaded guilty.
Michael Rush, who was later dismissed from his job with Vilonia Public Schools, entered the plea Thursday to misdemeanor charges in a deal with prosecutors that will have him serving jail time on the weekends.
Conway District Court Judge Amy Brazil accepted the plea deal, which also calls for Rush to continue counseling and therapy, avoid contact with any of the women he secretly filmed, stay out of Wal-Mart and pay fines and court costs. The deal includes 180 days of jail time with all but 30 suspended. Those will be served on weekends beginning Friday.
Surveillance from the Wal-Mart on Skyline Drive showed Rush on multiple occasions approaching female shoppers, kneeling near them and aiming an iPad or iPod up their skirts when they weren't looking, police said.
Rush, speaking in a low voice that was barely audible in the courtroom, admitted doing so and said he was ashamed.
"My arrest brought my sickness to light and I sought counseling immediately," he told Brazil. "... I've been sober from this behavior since the day I was arrested."
At one point, Rush said he feared he might accidentally come in contact with the women he filmed, saying he felt "vulnerable" because he can't recognize them.
"You saw them the day you were in there," Brazil said. Rush then agreed he would do his "utmost" to avoid contact.
At least two of the victims attended the court hearing, though they left before Rush registered his concern.
Rush did not respond to a reporter's questions as he left the courthouse after his hearing.
Rush, a Conway resident, had taught in the school system for about 15 years, officials there said when he was arrested. He served in different teaching roles over the years, but most recently taught middle and high school students in a credit recovery class.
Vilonia Public Schools Superintendent Frank Mitchell said this week that Rush was "let go" before the new school year started because of his "inappropriate activity in public."
Sponsor Content