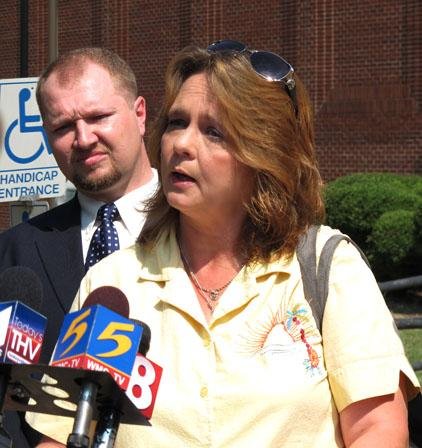 Pam Hicks talks to media outside the Crittenden County Courthouse on Friday, June 22, 2012 in Marion, Ark. Hicks is suing the city of West Memphis and the West Memphis police department, demanding to see the belongings her son, Steve Branch, had with him the day he was killed 19 years ago. Branch is one of three Arkansas Cub Scouts brutally murdered 19 years ago. Also pictured is law student Danny Owens. (AP Photo/Adrian Sainz)
MARION — A judge says he plans to rule next week on whether to dismiss a lawsuit filed by the mother of one of three Cub Scouts killed in northeast Arkansas in 1993.
Pam Hicks filed a civil lawsuit in June in hopes of viewing evidence in the slaying of her son, 8-year-old Stevie Branch, and his friends, Michael Moore and Christopher Byers.
Hicks argues that police and prosecutors are violating Arkansas' Freedom of Information Act by not allowing her to examine items from the case that include her son's bicycle and clothes.
David Peeples, attorney for the city of West Memphis, argued that the physical evidence Hicks wants to see is not covered by the state's FOIA law and asked Circuit Court Judge Victor Hill on Wednesday to dismiss the lawsuit.
Sponsor Content