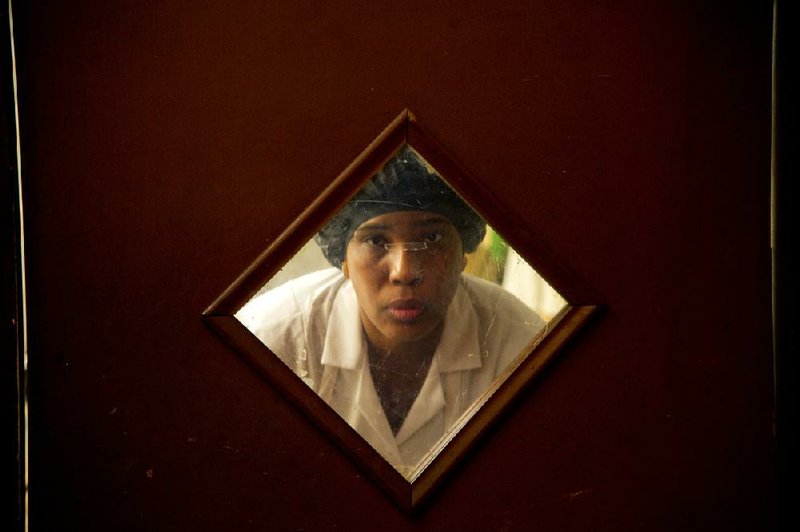 Anita Chester (Macy Gray) unspools a lurid story in Lee Daniels' The Paperboy.
LITTLE ROCK — Producer/director Lee Daniels has a way of drawing people in to his films for all the wrong reasons. There's an element of against-the-grain sensationalism in a majority of the work he's produced and/or directed — a sympathetic pedophile, an overtly graphic sex scene, a woman urinating on a younger man to save him from a jellyfish sting — that elicits titillation and buzz, only to draw in crowds of people who aren't really prepared for the emotional depths he intends for them to embrace. He's like a carnival barker who promises a wolf-woman but instead gives you a sad, hairy woman in a cage who really needs for you to hear her life story.
In his latest film — the one already notorious for the aforementioned jellyfish sequence — he's brought on the peculiar swamp-billy vibe from co-writer Peter Dexter's novel, and grafted it to his idiosyncratic vision.
The story, as told in extended flashback to the late '60s by a former maid (Macy Gray), involves a well-regarded journalist, Ward Jansen (Matthew McConaughey), who returns to the small Florida hamlet in which he was raised along with a colleague from his paper, Yardley (David Oyelowo), a black writer from London, who is filled with pomp, circumstance and the very definition of what folks in that part of the world might refer to as "uppity."
The men are in town to investigate the murder conviction of a local swamp rat, Hillary Van Wetter (John Cusack), on death row for supposedly gutting a sheriff. With the help of Ward's younger brother, Jack (Zac Efron), and Van Wetter's would-be fiance, Charlotte (Nicole Kidman, in a tousled blond wig and Tammy Faye Bakker eye makeup), who has fallen for the condemned man from outside the prison gates, the two men attempt to free Van Wetter and right the corresponding story of the corruption of the Southern court system in the process.
It sounds like a ripe setup, especially for McConaughey, who has done similar work in A Time to Kill and The Lincoln Lawyer. The only thing is, the film is almost wholly disinterested in the ins and outs of the investigation. It is far more concerned with its peculiar set of characters, and their twisted-up interplay, including Jack, who quickly falls madly in love with the much older Charlotte, and tries to convince her to dump her convicted killer fiance and run off with him.
Before too long, we have entered into a peculiarly sordid world of backroom sex, violence and unsettling alligator entrails. You get the sense that it is this sort of milieu that really gets Daniels going, the direction he wants to push his material into.
As for Efron (who, with this role, is clearly trying to broaden his horizons from the High School Musical showmanship and holy hunk routine for which he's been previously famous), one hopes he took the time to consult with McConaughey, who has escaped his romantic-comedy prison sentence and emerged as a daring, demented actor, entirely happy to dive into unsavory and unsettling roles. McConaughey delights in mangling his previous hunky leading man brand and setting fire to public perceptions of him in the process. In this way, he's the perfect foil to Daniels' twisted vision. The two of them might well have found each other's muse.
The Paperboy
83 Cast: Matthew McConaughey, Nicole Kidman, Zac Efron, David Oyelowo, John Cusack, Scott Glenn Director: Lee Daniels Rating: R, for strong sexual content, violence and language Running time: 107 minutes
MovieStyle, Pages 40 on 10/26/2012
Print Headline: The Paperboy
Sponsor Content