LITTLE ROCK — Backers of a medical marijuana proposal in Arkansas say language describing the measure gives voters a fair summary of its effects and want the state's highest court to reject efforts to knock it off the ballot.
Document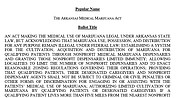 Supporters and opponents of the proposed initiated act to legalize medical marijuana sparred in briefs filed with the state Supreme Court on Wednesday.
A coalition of conservative groups wants the court to either remove the measure from the ballot or order election officials to not count votes for it. The groups claim the ballot title doesn't inform voters of all of the law's consequences.
Arkansans for Compassionate Care said its proposal accurately summarizes the law so voters can make an informed decision.