MAYFLOWER — Residents in a Mayflower subdivision evacuated after an Exxon Mobil pipeline spilled thousands of gallons of oil into their community are preparing for lengthy stays away from home, one said Monday.
Warren Andrews, 52, who lives at 12 N. Starlite Road, said he and some of the other evacuated residents from nearly two dozen homes in the neighborhood were told Sunday to expect to be out of their homes at least six days.
"It's been pretty rough," Andrews said Monday, taking a break from picking up a few essentials during a quick trip back into his house. "They told us at first it'd be two days [we were evacuated]. Now it's six and possibly 10.
"It's just a sad accident. I didn't even know the oil pipeline was there."
Faulkner County Judge Allen Dodson said there was no definite timetable for when residents would be allowed to return, but he said it would likely be a phased process when it begins. Some of the neighborhood was less affected than other parts, so those residents will be cleared to go back in first.
"One side of that street had no oil," he said, stepping outside from an incident command center set up east of town near Interstate 40. "Hopefully those folks will folks will be able to get in fairly soon. I'm optimistic we're approaching just a few days for some of those folks to return to their homes."
On Monday, crews were still working in the neighborhood — and other parts of town — to sop up and flush the oil from the road, yards and drainage ditches. More than a dozen workers were visible in the street in either direction from Andrews' home setting down or picking up pads to sop up the black, sticky oil. The stench of the fumes was thick in the air.
It's still not known what caused the 20-inch pipeline to burst or precisely how much oil spilled, Exxon officials said Monday. Crews have been responding with resources necessary to clean up a 10,000-barrel spill, but company spokesman Alan Jeffers said it's thought to be much less than that. Officials have previously said it appeared a few thousand barrels spread from the site, leaking into some drainage areas but stopping short of Lake Conway. A barrel equals 42 gallons.
Jeffers on Monday reiterated the company's apologies for the incident and stressed Exxon would remain on scene for at least weeks and foot a clean-up bill that will go into the "multiple millions of dollars."
"That will be our responsibility to pay that," he said, noting the company will stay till the cleanup is done. "... We're very sorry for doing this. We know it's been an incredible inconvenience to the community, especially coming on a holiday weekend, on Easter weekend and people are out of their homes. That's our fault, and we're very sorry for it."
Andrews said he was home when the pipeline burst Friday afternoon. His wife noticed it first as she was leaving.
"She called me and said 'Honey, something's wrong," Andrews said. "I came out and I smelled it. Then I saw it coming down the street."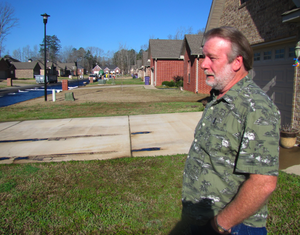 Photo by Gavin Lesnick
Warren Andrews talks to a reporter Monday in his yard, which is several houses down the street in the same neighborhood from an ExxonMobil pipeline that burst Friday.
Andrews praised the responders who arrived within minutes of his calling 911 as well as Exxon, who he said have been on the scene, taking care of expenses and checking up multiple times daily.
Still, being out of the house has presented hardships. His daughter's birthday party, which had been set for Friday night, had to be scrapped, as did an Easter celebration the family was to host Sunday.
And it hasn't been easy returning to the house even briefly to take care of the family's two dogs and cat or to pick up essential items. The first day, emergency responders gave the family only 10 minutes to gather belongings, and some were inadvertently left behind.
"My daughter called me and said 'Dad, my prom dress!'" Andrews recalled with a smile. "She said 'I don't want it smelling like oil.'"
Police on Monday were still blocking the entrance to the subdivision, though Andrews arranged to park on a neighbor's property and then walk to his back door.
Then there are the potential long-term effects of the oil and its impact on property values. Andrews owns another home in the subdivision too and had been readying to put it on the market.
"That's kind of canceled," he said. "I'm hoping this doesn't have a long-term affect on property values. But no one's wanting to say right now."
Dodson said officials are still directing their attention toward the immediate goals of cleaning the spilled oil. But he encouraged residents like Andrews to be in touch with Exxon's claims center and even consider hiring an attorney.
"Everything I've seen from Exxon is they're going to take care of anyone who's affected," he said. "I believe they'll do that. And I'm here to make sure they do."