Jackie Robinson's story is so engrossing that it can be retold endlessly without getting stale. Writer-director Brian Helgeland's (A Knight's Tale) new bio-pic about the baseball great, 42, lacks the courage and the imagination that Robinson brought to the diamond. You can guess when Mark Isham's score will get louder and when one of the characters will spout an inspirational quotation.
That said, Helgeland would be a fool to tinker excessively with a legend, especially since some of the prejudices Robinson shattered on the field are still with us.
Now that every major league baseball player sports Robinson's long-retired number 42 on his jersey on April 15 of each year, it's hard to believe that integration of the majors wasn't inevitable. 42 sanitizes some of the vitriol that Robinson and Brooklyn Dodgers team president and general manager Branch Rickey (Harrison Ford) received, but to Helgeland's credit, the film somehow makes the hate they experienced seem real.
In the film, Robinson doesn't have to dodge bottles thrown by spectators as well as the pitches that are aimed at his head, but Helgeland does a good job of recounting how hotels and ballparks north of the Mason-Dixon Line (there were no Major League teams in the South yet) could be hostile toward Robinson and the Dodgers in 1947. As a result, it makes recounting teammate Pee Wee Reese's (Lucas Black) on-field embrace of Robinson even more poignant and heroic. Because Robinson was a fellow infielder, he could also have been competition for Reese's job.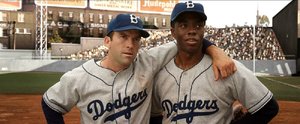 Pee Wee Reese (Lucas Black) proves to be a great teammate to Jackie Robinson (Chadwick Boseman) in 42.
Casting Chadwick Boseman as Robinson was certainly a wise move. Boseman bears an uncanny resemblance to the real ballplayer and looks credible swinging at pitches and dashing across the bases. Boseman expertly recaptures how Robinson was a nightmare for pitchers. If Robinson didn't reduce their prize fastballs to batting practice, his base-stealing skills destroyed their concentration.
Boseman also plays seething resentment beautifully. It's easy to sense that this fellow would love to use his bat to silence hecklers on and off the field.
Boseman has an easier time matching his real-life counterpart than Ford does. With the odd hairdo, glasses and bushy eyebrows, Ford obtains a passing resemblance to Rickey, but his strange, affected speaking style takes getting used to. To their credit, Ford and Helgeland manage to get inside Rickey's head and reveal the strange blend of opportunism and idealism that led to his seeking players like Robinson. While he'd cynically quip that he simply wanted players of Robinson's caliber and the dollars of black fans who'd pay to see him, Rickey was also a devout Methodist who saw his beloved baseball as more than a game.
Orson Welles once said, "If you want a happy ending, that depends, of course, on where you stop your story." That's probably why 42 ends with 1947.
Robinson died at age 53, and his autobiography was bluntly titled I Never Had It Made. There has already been a cable movie about a 1944 incident, when he was court-martialed for refusing to sit in the back of the bus.
Robinson's full story is complicated and fascinating, so the ideal film about him would be one where his risk-taking offensive strategy would be reflected in the storytelling. Helgeland hugs the base, whereas Robinson would have stolen it.
42 80 Director: Brian Helgeland Cast: Chadwick Boseman, Harrison Ford, Nicole Beharie, Christopher Meloni, Ryan Merriman, Lucas Black, Andre Holland, Alan Tudyk, Hamish Linklater, T.R. Knight Rated: PG-13, for thematic elements including language Running time: 128 minutes