Returning to Ontario, Canada, this year for the 2013 Toronto International Film Festival, I take with me several important lessons I gleaned from my first attendance last fall.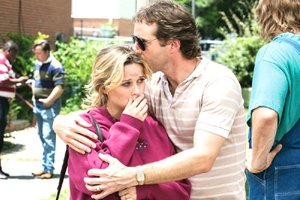 Pam Hobbs (Reese Witherspoon) and husband Terry (Alessandro Nivola) comfort each other in Atom Egoyan's Devil's Knot, a feature based on the sensational 1993 "West Memphis Three" murder case.
Don't over-commit. With a smorgasbord of more than 300 films, countless exhibitions and shorts, and nearly every star and director in attendance, it's remarkably easy to schedule yourself in a way that proves to be physically impossible to actually meet. Cinematic die-hards can screen up to six movies a day - which means you are in a darkened movie theater (or standing in line for one) from roughly 8 in the morning until 11 at night. Like a starving man suddenly facing an Indian lunch buffet, you have to pace yourself or you'll end up extremely uncomfortable.
Take some chances. With that many films from which to choose, it would be entirely possible to select only those films and filmmakers with which you were already pretty well acquainted. That would be a huge mistake. Some of the most memorable films you will see at a festival are also the most unexpected (see Norte, the End of History, below). Dozens of extremely talented and dedicated people have spent months cultivating and curating this festival, screening thousands of films in order to make their selections, so have some faith in their abilities and seek out films you know absolutely nothing about.
Talk to everyone. One of the chief treasures of a massive, international festival such as this is the way in which it brings in film-lovers, critics and industry members from all over the world to share the experience. Everyone who attends the festival has a common bond: A love of cinema and an undying belief in its ineffable power to influence, inspire and inform us. If that's not a great enough conversation starter, you can always discuss where to eat whenever you get a break from film-watching (and in my particular case, how to avoid eating Toronto burritos).
With all these edicts in mind, here is an alphabetized list of some of the films I'm most excited about seeing in this year's festival.
August: Osage County: Easily this year's winner for the annual Oscar-bait prize, wherein a film seems to conform to nearly all criteria needed for pulling home the Academy Award. Based on a Pulitzer- and Tony Award-winning play by Tracy Letts, the film, about a group of sisters who have to return to their childhood home and re-engage with their difficult mother, is chock-full of acting royalty, including Meryl Streep, Julia Roberts, Chris Cooper, Benedict Cumberbatch and Sam Shepard. The only potential fly in this otherwise silky-smooth ointment is director John Wells, whose only previous feature film, The Company Men, was met with mixed reviews.
Blue is the Warmest Color: The winner of this year's ultra prestigious Palme d'Or at Cannes, Abdellatif Kechiche's three-hour French opus tracks the beginning, middle and end of a lesbian relationship between two young women. Stars Adele Exarchopoulos and Lea Seydoux also took home best actress awards from Cannes, which bodes well for a film that's apparently almost entirely about the two of them. The film is graphic in its depiction of the women's raw sexuality, but is reportedly equally unflinching when it comes to the rest of their relationship. Let the debate rage about whether this is an exploratory emotional masterwork or merely exploitive, but it should be fascinating to watch either way.
Dallas Buyers Club: Texas native Matthew McConaughey continues his impressive career resurgence with this starring role as real-life electrician Ron Woodroof, who was diagnosed with HIV back in 1986 and given months to live, and ended up helping create the personal syndicate model for other HIV survivors to receive under-the-radar medications while bypassing the slow-reacting Food and Drug Administration in the process. Though director Jean-Marc Vallee is relatively unknown in the United States, the film, which sports a strong cast beyond McConaughey, including Jared Leto and Jennifer Garner, could certainly be poised for an Oscar run when the time comes.
Devil's Knot: A fictionalized account of the tragically infuriating West Memphis Three affair - known all too well to Arkansas natives - this film, from provocative Canadian auteur Atom Egoyan, features Reese Witherspoon, Mireille Enos, Colin Firth and Dane DeHaan all involved in the infamous case of murdered boys, alleged Satanists, bungled police work, and young men going behind bars under dubious circumstances. Egoyan, who back in 1997 made the elegiac The Sweet Hereafter, also about a small community torn apart by tragedy, would appear to be on familiar ground with this depressing opus. At times, his films have been so opaque as if being viewed in a steam room, but this promises to be a bit more straightforward, at least on paper.
The Fifth Estate: The opening gala film at the festival this year is something of a bio-pic, only instead of a politician or artist, it concerns WikiLeaks, the website founded by Julian Assange (Cumberbatch, again, who figures to be spending a good deal of time in Canada speaking with the press) and Daniel Domscheit-Berg (Daniel Bruhl) that allowed international whistle-blowers to release highly classified government materials to the world via the power of the Internet. As Assange, since charged with various offenses by several different countries, has been holed up in the Ecuadorian embassy in London, where he has been granted asylum since June 2012, it remains to be seen how this film deals with the story when it's really only half-finished. Apparently, the success of The Social Network has mitigated studio fears that Internet dramas are somehow too slight to make a cinematic impact: This one comes to us from mega-studio Dream-Works.
Gravity: For this highly anticipated film from brilliant Mexican director Alphonso Cuaron, just check out the first trailer, which involves two panicky astronauts (George Clooney and Sandra Bullock) hurtling out of control outside their space station. Cuaron's first film since the unforgettable Children of Men needs very little of its considerable hype to hook me thoroughly. Since, regrettably,the Coen brothers' new film, Inside Llewyn Davis, inexplicably won't be screening in Toronto, this is probably my most anticipated film of the entire festival.
Joe: In keeping with his eclectic film making oeuvre, director David Gordon Green, who has worked in the past on somber dramas, experimental oddities, and stoner comedies, brings us another of his more serious efforts, this one concerning an ex-con, played by Nicolas Cage no less, who becomes an unlikely parental figure for an adolescent boy (played by Mud's Tye Sheridan), in desperate need of guidance. Green has shown a talent for working with kids (as his excellent feature debut, George Washington, attests), but the real question is what kind of performance he has pulled out of the famously enigmatic Cage, who can simultaneously be the best thing and worst thing working for you in a given picture.
Night Moves: Fortunately, this is not some sort of misbegotten Bob Seger bio-pic (and if you're looking to title that would-be epic, almost every one of his songs - "Against the Wind," "Turn the Page," "Like a Rock" - could do the trick), but rather the next feature from the supremely talented Kelly Reichardt (Meek's Cutoff, Old Joy), this one about a trio of dedicated environmentalists - played by Dakota Fanning, Peter Sarsgaard and Jesse Eisenberg - who plan to blow up a dam. I don't know much more about it, but Reichardt is so gifted and her storytelling so rich, I'm happy to give her the benefit of the doubt.
Norte, the End of History: To be honest, this four-hour film from Filipino master Lav Diaz probably wouldn't have figured so prominently on my list before esteemed Grantland film critic Wesley Morris declared it a "masterpiece," having screened it at Cannes. The film concerns the comings and goings of a small group of interrelated characters, the aftermath of a horrible act of violence and the innocent man who gets accused of the crime. But, as always, I'm open to another critic's arguments - especially when that discourse is as well presented as Morris' was - and any film that earns this kind of praise ("an astonishing work of life, death, and art that isn't bluntly political, vapidly violent, or completely self-obsessed") has me more than intrigued. Pencil me in for that 250-minute experience, but I'd better go on ano-liquid diet before sitting down, unless they grant us an intermission.
The Past: Iranian director Asghar Farhadi makes his follow-up to 2011's brilliant A Separation with this family drama involving an Iranian man who deserts his French wife and children in order to return to his homeland, only to be aggrieved when the abandoned woman moves on with her life and meets someone else. It might sound a bit similar, tone-wise, with his previous film, but since A Separation had such strong character work, and was so good in exposing varied complexities behind a richly detailed plot that expertly weaved everything together, that hardly sounds like a denigration.
Prisoners: Hugh Jackman is neither singing plaintively nor unsheathing a set of adamantium claws in this new thriller from French-Canadian director Denis Villenueve (Incendies) about a man whose young daughter disappears and who wages a furious investigation of his own, seeking out the men who might have abducted her. Naturally, this could go eight directions from sideways in the wrong hands, even with a spirited cast that includes Jake Gyllenhaal, Maria Bello, Paul Dano and Melissa Leo, among others, but the bet here is Villenueve is up to the task, and Jackman will prove, yet again, he's not just another pretty/warmly-voiced/ferocious/X-Man face, but an actor with considerable chops behind all that other talent.
Last year, I managed to watch 23 films over the course of six days. This year, I hope to go for 25. I will dutifully report back to you, bleary-eyed but doubtlessly energized, after I emerge from the dark recesses of the theater each day on the Blood, Dirt & Angels blog, and with a concluding piece when I return stateside. The Toronto International Film Festival begins Thursday and concludes Sept. 15.