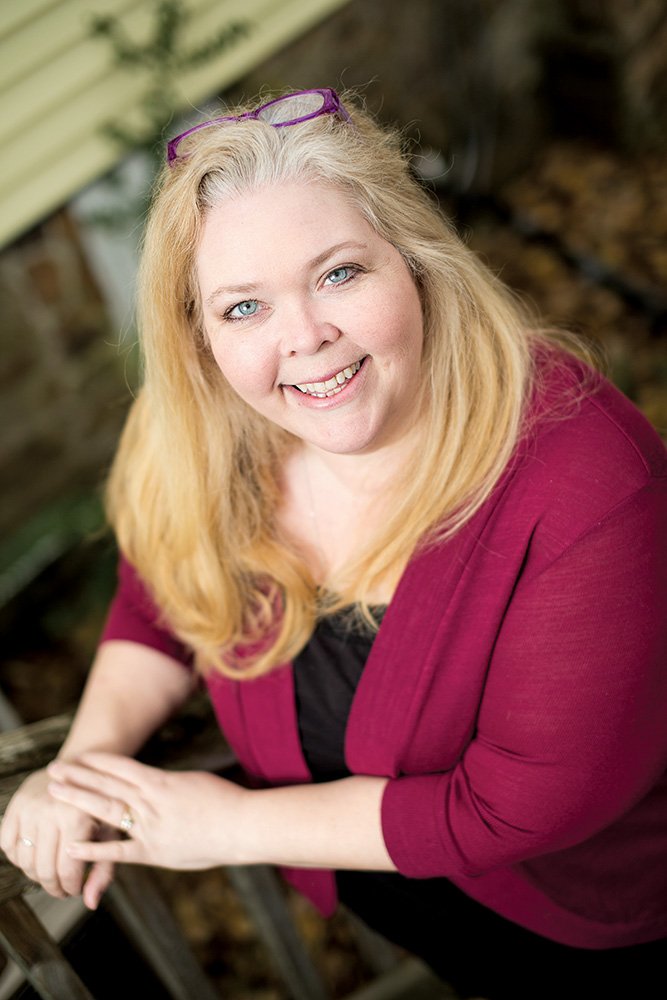 Kathy Bryan, 48, director of Margie's Haven House in Heber Springs, said she shares her story of being sexually trafficked as a teenager to bring awareness and change. "It happens more than people think," she said. ( Nick Hillemann)
Kathy Bryan, 48, of Heber Springs said she was a naive teenager when she met the man who showered her with attention before selling her for sex.
"I thought I would go my whole life without talking about it," Bryan said.
"It" is sexual trafficking.
Bryan, the new executive director of Margie's Haven House, a women's shelter in Heber Springs, reluctantly started sharing her story in 2011.
It's not about selling newspapers, she said.
It's not about getting attention for the women's shelter.
"As many times as I tell this story, the purpose is to let people know that it really happens. It's not something new that happens," she said. "It happens so much more than people think."
She wants to make people aware of the warning signs of sex trafficking so their daughters and sons don't fall prey to the crime.
Bryan was also instrumental in getting the Arkansas Legislature to pass legislation earlier this year to make the consequences of sex-trafficking crimes tougher.
It was a long road and two years of "hell" — her word — before getting to that point.
Bryan said she lived the first part of her childhood in a "tiny, tiny town" in New York, about 70 miles north of Syracuse. Her mother and father divorced when Bryan was 3 years old.
Her mother remarried to a Navy man, and Bryan said they moved to Virginia Beach, Va., to a normal, middle-class neighborhood.
She was 16 when she literally bumped into her trafficker on the sidewalk, she said.
"I had met a new friend at my high school, and she lived about 10 blocks away from where I lived," Bryan said.
"I would walk to her house to study there … because I was the oldest of five, and it was quieter, and it was kind of a break because I was like a second mom."
She bumped into a man, and they said hello.
"It seemed like every time I walked to her house, I would see him," Bryan said. "It went from, 'Hey,' to having a conversation. He won my trust and talked to me, and before I knew it, I thought I was dating him."
Bryan said he told her he was 30. He was actually older — in his 40s.
"The thing is, as I have met other folks who have been trafficked, … the core of the elements are the same, and the details are what's different," she said.
"He knew to look for someone who was vulnerable. I had that daddy-sized hole in my heart because my daddy had abandoned me when I was 3."
The man wooed her — he bought her things, took her dancing and out to eat.
One night, Bryan said, he told her that he had forgotten something at his house.
When they went inside, he started kissing her, and from the shadows in the stairwell, Bryan said, another man appeared.
"They raped and sodomized me for several hours. When they were finished, they just got up and walked in the kitchen and kind of left me lying there in the living room," she said.
"I kind of remember stumbling to my feet and running into this little half bath off the kitchen," she said.
Bryan thought the bathroom had a small window she could use to escape.
It didn't, and she was trapped.
When she came out, the man she thought was her boyfriend blocked her way.
He told her where he expected her to be the next day.
"I thought, 'You're nuts. I'm out of here,'" she said.
Then he made a chilling statement to Bryan about her sister.
"He said, 'I know you don't want her involved.'"
Her sister was 6 years old.
"Hearing that — it was worse than what they'd just done to me," Bryan said. "My sister is kind of like my world. I loved all my siblings. I adored them, but I had prayed for her for years.
"I had a sister who died not long after birth. I always wanted a sister. He knew that."
Bryan said he also told her, "And I know your mom gets real lonely at night with your dad at sea."
Thus began her two-year nightmare, Bryan said.
The brainwashing and manipulation he used are the same that men use in domestic abuse, she said.
"Even if a policeman came up and said, 'I can help you,' I wouldn't have told him. I was that convinced my family was in danger," she said.
She said her trafficker made comments that let her know he watched her family.
"I lived a double life," Bryan said. "I went to school every day; I still maintained good grades. I got a job, but at night, it was awful.
"I was one person at night and one person in the day."
Bryan said she would sneak out of the house to meet her trafficker, and he would take her to different homes.
"They were, for all intents and purposes, residential brothels. I never saw another girl there," she said.
"People need to know it happens to both sexes. The victimizers are both sexes, too. I was abused by women and men," she said.
The man who originally attacked her at her "boyfriend's" home became a frequent abuser.
Bryan, who said she was a virgin when her abuse started, said there were some "miracles" from her ordeal.
"I never got pregnant," she said. "I never got an STD (sexually transmitted disease). I never got dead, although I almost did a couple of times.
"I was raped at knife point."
Had she not been new to the high school, Bryan said, she thinks teachers would have noticed a change in her.
The trafficking ended abruptly.
"He picked me up one night to take me to a house — I don't know why this happened, and I haven't heard of this happening, and it's really strange, but it's my truth — he pulled over into this tiny little shopping center," she said.
He started walking through the parking lot, and she followed him.
"He stops beneath this light. He said, 'I don't want to ever see you again. Don't try to find any of these people you've been with. You need to live far away. … He grabbed my shoulders and kissed me on my forehead, and he said he loved me, and then he walked away," Bryan said.
"I know he didn't love me. I had just spent two years of hell with him. Maybe he thought he did. I don't know why he freed me except God intervened somehow."
When she says "freed," that's because Bryan considers herself as having been a slave those two years.
Bryan said she doesn't know how she got home that night.
Afterward, she went on with her life.
"You'd think I'd be shouting for joy and telling everybody, but I just kept going forward," she said.
People often ask why anyone who is abused doesn't leave or seek help.
"I think it's hard for someone who's never been abused to wrap their head around the depth of shame," she said. "I was with him for two years. Some people, it's seven years or eight years, or whatever.
"It's almost a form of Stockholm syndrome where you identify with them, or otherwise, it's living in constant terror. You develop a relationship, even though it's not a good one."
Bryan said she had a "severe case" of post-traumatic stress syndrome years later, which included having nightmares, depression and anxiety.
"I kind of pushed it down. I thought, 'Who am I going to tell now?' I just went forward with my life. I had planned on being a doctor. I did well in school," she said.
Bryan attended college for 1 1/2 years but didn't graduate.
"I ended up meeting my husband; we've been married 28 years," she said.
"I didn't want anything to do with men, but he's an amazing man."
She said they were married eight to 10 years before she told him about her past.
"I put it in a box, put it on a shelf, hoping I'd never see it again," she said of her experiences.
The couple were living in Memphis when she started remembering what happened.
"It was bad. I was having flashbacks; I was having nightmares."
I told him, 'I have been raped several times,'" she said.
She said her husband was shocked and angry at the trafficker.
She and her husband have three children, and at the time, she was running an in-home day care.
Bryan said she stopped the day care and received therapy for six months.
She said her therapist said her delayed reaction was "pretty common."
"When you're on the battlefield in war and your best friend gets shot, you don't stop and mourn then," she said.
Bryan said she also became a Christian.
"That had a huge bearing on the healing — huge, huge," she said.
During one of her prayer times, Bryan said, she felt God urging her to tell her story.
She resisted because it meant telling her family, for one.
"I finally acquiesced," she said.
"I felt horrible for dropping this huge bombshell on everyone."
Her mother was devastated, Bryan said, and had to be told about it on two different occasions.
"She really blocked it out," Bryan said. "I think she's still in shock that it could have happened and she didn't know.
"Now she's ridiculously supportive and very proud of me."
Bryan said she is "very close" with the sister she wanted to protect.
"It took her a while to absorb it," Bryan said.
Bryan and her husband, an Arkansas native who works for Verizon Wireless, moved to Heber Springs in 2006.
She has had different jobs and is a real estate agent.
Bryan said she joined the Margie's Haven House board in October 2012.
"How I got involved in Margie's is I went and spoke to the board, telling them about my story to bring awareness to trafficking and to ask them, if we ever had victims in this area,
would Margie's be open to assisting in any way?" she said.
When the previous director retired, Bryan, then president of the board, was encouraged to take the position.
She started her new role in September.
"We have a good shelter. We have an excellent facility, and the community literally rallies around us," she said.
Bryan said that every time she speaks on the subject, someone comes to her afterward and tells her of a similar experience.
She said talking about her abuse "brought in another layer of freedom because there's freedom in the truth."
"Thank God, I survived, but it happened." she said. "When I don't stay quiet, it gives people the opportunity to see they can speak out, too. I guess there's safety in numbers.
"That's why you do it."
Her fledgling website, which includes her story and offers ways to help and links to news articles about human trafficking, is abolitionistsunited.org.
"I don't feel like a victim anymore; I don't even feel like a survivor. I have a friend who calls us overcomers. Being able to use what happened to me to bring awareness is awesome," Bryan said.
What happened to her trafficker?
"I don't know," she said. "I do wonder."
Here's what she does know: "Victims need to know they can reach out for help and ultimately find healing and a good life," she said.
The National Human Trafficking Resource Center, which includes sexual trafficking, is (888)-373-7888.
The 24-hour crisis line at Margie's Haven House is (501) 362-6757, and its website is www.margieshavenhouse.com.
Senior writer Tammy Keith can be reached at (501) 327-0370 or tkeith@arkansasonline.com.
Sponsor Content