LITTLE ROCK — The Arkansas Senate voted Thursday to override a veto of a near-ban of abortions starting in the 20th week of pregnancy and backed a separate measure that would outlaw the procedures in most cases beginning in the 12th week.
The Republican-led Senate voted 19-14 along party lines to override Democratic Gov. Mike Beebe's veto of the 20-week bill, a day after the GOP-led state House voted to override it. A simple majority was required in each chamber.
That law, which took effect immediately, is based on the contested claim that fetuses can feel pain by that point.
Senate President Michael Lamoureux, R-Russellville, supported an override but told reporters afterward he was unsure whether the ban would survive a constitutional challenge.
"If it was an easy answer, then people wouldn't be raising that subject," he said after the vote.
Minutes after overriding Beebe's veto, the Senate's voted 26-8 in support of the measure that would outlaw most abortions starting in the 12th week of pregnancy, sending it to Beebe for consideration. He must decide by next week whether to sign or veto it.
Rita Sklar, executive director of the American Civil Liberties Union of Arkansas, said she was disappointed with the Senate's override and said her group was now looking at suing the state over the new restriction.
"We are going to do everything within our power to protect the health and reproductive decision-making abilities of women and in this case that includes looking very carefully at litigation," she said.
Beebe said he thinks the new law contradicts the U.S. Supreme Court's 1973 Roe v. Wade decision, which legalized abortion until a fetus can viably survive outside of the womb, which is typically at 22 to 24 weeks. He said the state will waste money trying to defend it.
Sen. Bruce Maloch, D-Magnolia, previously voted for the 20-week ban but said he voted against the override out of deference to Beebe and the concerns the governor raised over the measure's constitutionality.
"These bills are a real dilemma for people who are pro-life, but still there are constitutional concerns. It does really tear at you," Maloch said.
Sen. Larry Teague, D-Nashville, who voted for the 20-week ban initially but opposed the override, had similar concerns.
"The budget's tight. We're working on giving businesses and individuals some tax relief. I don't think it makes sense to spend money on expensive litigation," said Teague, who is a co-chairman of the budget committee.
The near ban of abortions starting in the 20th week of pregnancy is based on the disputed claim that a fetus can feel pain by then and therefore deserves protection from abortion.
Seven states have enacted similar 20-week restrictions based on the fetal pain argument, according to the Guttmacher Institute, which tracks laws affecting women's health. A similar law in Arizona has been blocked while a federal appeals court reviews a lawsuit challenging it.
The Arkansas bill is based on research the bill's sponsor, Rep. Andy Mayberry, and other abortion opponents cite that fetuses can feel pain at 20 weeks. The American College of Obstetricians and Gynecologists, however, says it knows of no legitimate scientific information supporting the idea that a fetus experiences pain.
The 12-week bill is based on the argument that a fetus should be protected from abortion once its heartbeat can be detected during an abdominal ultrasound. The governor has not said whether he'll veto the bill but said earlier that he has constitutional concerns with the measure.
Sen. Jason Rapert, R-Conway, the sponsor of the 12-week ban, said Beebe should let the measure go into law without his signature.
"I respect his opinions and what he has to do as an individual, but I believe he should honor the vote of the Legislature," Rapert told reporters after the vote.
How senators voted on the 20-weeks bill
YES: 19
Republicans (19): Bledsoe, Caldwell, Clark, Dismang, English, Hendren, Hester, Hickey, Holland, Hutchinson, Irvin, Key, King, Lamoureux, Sample, Sanders, Stubblefield, Williams, Woods
NO: 14
Democrats (14): Bookout, Burnett, Cheatham, Chesterfield, Elliott, Flowers, Ingram, Johnson, Lindsey, Maloch, Pierce, Teague, Thompson, Wyatt
NOT VOTING: 2
Republicans (2): Files, Rapert.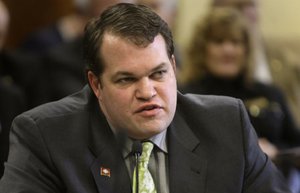 Photo by AP
FILE - In this file photo taken Feb. 7, 2011, Sen. Michael Lamoureux, R-Russellville, speaks during a legislative committee meeting at the Arkansas state Capitol in Little Rock, Ark. Lamoureux, as incoming president of the Arkansas Senate, says he believes lawmakers can find common ground on proposals to expand the state's Medicaid program and cut taxes, despite partisan divisions in the Legislature. (AP Photo/Danny Johnston, File)