LITTLE ROCK — Medals that will be awarded to finishers of the 2013 Little Rock Marathon races were unveiled Monday by marathon officials.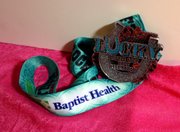 At 8 inches and weighing 2 pounds, 12 ounces, the Little Rock Marathon finisher's medal is the largest in the world, according to the news release. The decor will also include 12-millimeter stones within the display and a custom ribbon.
Those who finish the half marathon will receive a 4-inch medal that weighs around 12 ounces.
This year's marathon theme, "Lucky," will be displayed on both medals.
"For us (the Little Rock Marathon), it is all about the medal," said Gina Marchese Pharis, the Little Rock Marathon's co-executive director. "Athletes come from around the world to earn our medal and every finisher is awarded a medal. On race day, only a few athletes are called winners. We want each of our finishers to feel like a winner when we put our medal around the neck. When it is all said and done, the one thing so many finishers cherish is their medal. "