Library, hospital partner for health
Originally Published January 24, 2013 at 12:00 a.m.
Updated January 23, 2013 at 11:17 a.m.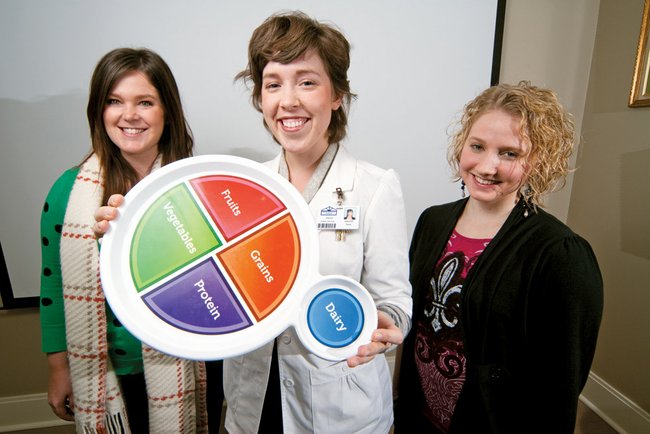 PHOTO BY: Rusty Hubbard
Krista Petty, right, has been trying to get a wellness/nutrition series started for the Saline County Library System. Now, she and the libraries are collaborating with Saline Memorial Hospital, including hospital employees Rebecca Jones, left, and dietitian Ashley Tappe, to put the program into place.
The Saline County Library System is collaborating with Saline Memorial Hospital in Benton for the first time to present the Well on Your Way program, starting today at the Mabel Boswell Memorial Library in Bryant.
Krista Petty, public relations coordinator for the Saline County Library, said progress in this collaborative effort began in the early fall of 2012.
"I wanted to just show the public that you can get healthy in a lot of different ways [other] than just getting on a treadmill," Petty said.
Spinal-care and belly-dancing classes were offered, and Petty said that after finding the fun and success of these classes, the library started looking forward to how to proceed with a wellness program.
Rebecca Jones, marketing and community-relations coordinator for Saline Memorial, said the hospital has always had educational programs.
"It's nice to have [classes] outside the hospital," Jones said. "You get a different audience."
Both Jones and Petty said they are excited to see the people who will become involved with the program.
"I think it's a great opportunity for us to partner because the library is a place where you go to learn, and they're already accustomed to coming here," Jones said.
The Well On Your Way program's first event, titled "Nutrition Myth Busters: What Everyone Needs to Know About Nutrition and Physical Activity," features Ashlee Tappe, a registered dietitian from Saline Memorial, who will speak about the myths of nutrition and teach participants how to eat healthy foods in 2013.
She will kick off the program at 6:30 p.m. today at the Bryant library branch, 201 Prickett Road.
"There are a lot of misconceptions with diet and health," Tappe said. "I'm going to tell participants how to get a better understanding of how to take care of themselves."
Petty said January is the perfect time to kick off the program because of resolutions that people make for the year.
"Diet and nutrition — what's a better way to start in January?" Petty asked.
Not only will the Well
on Your Way program tackle
diet and nutrition, but events throughout the year will
include a health fair, a heart-health event and a session
to address sleep disorders. The wellness program will continue until the end of April.
Petty said she hopes that if the events are successful, the library could potentially extend the Well on Your Way program further into the year.
"One of the things I'm most excited about is that [the program is] about wellness, and it's about prevention, and we've found topics and experts that can talk to people," Jones said.
The various events feature doctors and other health care professionals from around Saline County to talk about problems or potential problems Arkansans could face in their lifetimes.
"We have a lot of great, very talented physicians and clinicians at the hospital that are great educators, and they're very willing to share," Jones said.
Tappe said she is excited to interact with members of her community and see who will stay motivated to keep their New Year's resolutions to stay healthy in 2013.
A second presentation of Well on Your Way's "Nutrition Myth Busters" will be at 4:30 p.m. Jan. 31 at the Bob Herzfeld Memorial Library in Benton.
For more information on the Well on Your Way program, call (501) 778-4766 or visit www.salinecounty
library.org.
Staff writer Lisa Burnett can be reached at (501) 244-4307 or lburnett@arkansasonline.com.
Online News Editor Lisa Burnett can be reached at lburnett@arkansasonline.com.