Former Secretary of State Hillary Clinton was in Little Rock on Monday as the newest children's library in Arkansas was dedicated in her honor.
The Hillary Rodham Clinton Children's Library, which opened in March, was packed with more than a thousand patrons for the ceremony, including former President Bill Clinton.
While visiting the library, Hillary took a brief tour of the facility, read to a group of children and finished with a press conference, where she expressed her gratitude for the honor and for those who attended.
Hillary's choice of book for the children was "The Very Hungry Caterpillar," which she read to around 20 children in a nook area in the library, along friends and parents.
Clinton gave a 15-minute speech to the gallery on-hand, sharing stories of how she and Bill would read to daughter Chelsea at local libraries in the area when living in the city while Bill was governor and later in Washington after he was elected president.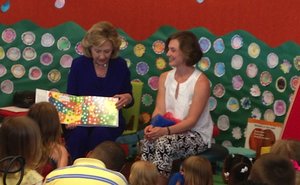 Photo by David Harten
Hillary Clinton reads to children at the new Hillary Rodham Clinton Children's Library in Little Rock on July 8, 2013.