Chris Callis had planned to stage a huge bonfire for his friend's 32nd birthday party, but dry conditions of the sort that give way to wildfires scrapped that idea in its tracks.
So Callis traded in fire for water and opted instead for a pool party even though his 60-acre farm outside Bentonville is distinctly lacking a pool.
That's where a background in construction came in handy: Callis, his girlfriend and the guest of honor worked to position hay bales into a makeshift pool frame, lined it with plastic and then filled it with water. The creation, made over just three days, was a hit with the guests and then online, where photos of it made the front page of link-sharing site Reddit, attracted more than 110,000 views and garnered nearly 700 comments.
Click here to see a gallery of photos showing the pool's construction.
Gallery: Hay bale pool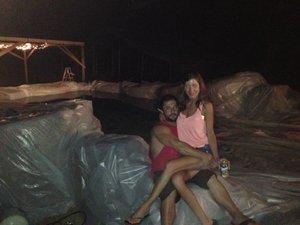 Chris Callis and girlfriend Ashleigh Wright sit by the hay bale pool they and friend Jack Daniels Moody built for Moody's birthday.
"We always try to provide some sort of entertainment," Callis said. "Fire was the plan. I just didn't really want to have a giant forest fire. It was an awesome party. I ended up going to bed at 6 in the morning. People were out there till 4:30 or 5. It was as good as an outdoor party gets."
The hay bales were aligned in a horseshoe shape around a hill on the property, creating an angled beach-like entrance to a pool that reached a depth of about 4 feet on the opposite end. After placing the hay, Callis laid down tarps, tar paper and a huge roll of plastic. Construction-grade spray adhesive held it all together, and a garden hose was used to slowly fill it up. The basin itself measured about 18 by 25 feet.
Callis said at least 50 people took to the water at one point during the party, which was held Saturday.
He took photos and put them on Facebook and a friend submitted a link to Reddit, where it received considerable attention. Callis, 32, figured there'd be a few jokes about building a pool out of hay bales (one poster did call it "brilliant redneck engineering"), but he said it seemed most responders were genuinely impressed.
"I don't think I read every single post," Callis said. "But I read a ton of them, and it was pretty positive. Normally you'd get some haters."
Callis has dismantled the pool since the party, using a tractor to pull out the hay wall and spilling the water onto the surrounding ground.
But, he said, it may return. If not again this summer, almost certainly next year.
"Everybody is hitting me up to do it again," he said. "I think next time I'll make it a little bit bigger or a little bit steeper. That was just the first attempt."