Much of the reason Wolverine has become everyone's favorite Canadian mutant is because, despite his origins in the Marvel Universe, he doesn't act much like a superhero.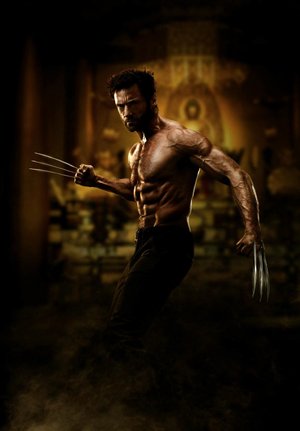 With bone claws coated with adamantium, Hugh Jackman is nearly indestructible as Logan in The Wolverine.
While Logan (Wolverine's given name) can play well with others (especially other mutants), he's understandably suspicious of humanity because they view his insanely fast ability to heal as freakish or even demonic.
As a result, he doesn't even try to be nice to the people he encounters. There's a great deal of suspense over whether Logan will do something brave or noble because he feels no compulsion to help those who've treated him with scorn.
The last time Hugh Jackman broke out his adamantium claws to play Logan, it was in the astonishingly wrong-headed X-Men Origins: Wolverine, which took away his mean streak and made the mistake of solving his mysterious origins. Half of what makes Wolverine so much fun in the comics is that readers discover his forgotten past, which apparently goes back hundreds of years, along with him.
Director James Mangold (Walk the Line) thankfully atones for the sins of Gavin Hood's misbegotten film by keeping Logan as cynical as we've grown to love him.
This time around, Logan is recruited by a mysterious young woman from Tokyo named Yukio (Rila Fukushima) who tells him that a recurring nightmare he has about surviving the bombing of Nagasaki is actually a memory. Her boss, Yashida (Hal Yamanouchi), is the Japanese soldier Logan saved decades earlier, but he lacks the Canadian's ability to heal from just about everything, including nuclear fallout.
The now old and dying man wants to meet with Logan once more to say goodbye, and even a surly mutant can't say no to that.
When he arrives in Japan, he finds the old man talking cryptically about giving the brooding Wolverine the death he's always wanted to have. Before Logan can make sense of it, Yashida dies and leaves his industrial fortune to his granddaughter Mariko (Tao Okamoto).
When yakuza attack Yashida's funeral, Logan rescues Mariko but discovers that his self-healing power has been mysteriously weakened. Injuries like bullet wounds that once merely annoyed him now prove harmful.
Protecting the heiress also entails dodging another obsessive protector (Will Yun Lee) who used to love her, and a fellow mutant named Viper (Svetlana Khodchenkova) who can kill people merely by projecting her snakelike tongue at them. The fact that she's also an oncologist gone wrong only makes her more deadly.
Jackman is a fan of Chris Claremont and Frank Miller's dark, Japan-set Wolverine stories, and there's a vigor in his performance that was missing in the last installment. Mangold and screenwriters Mark Bomback and Scott Frank almost give Logan too many obstacles to face (do we need ninjas and yakuza?). Perhaps a few of the less intimidating foes could have been left on the cutting-room floor.
Nonetheless, it's a treat to see Logan back to his cranky old self. And that's enough to make any Wolverine fan happy.
The Wolverine
86
Cast: Hugh Jackman, Rila Fukushima, Svetlana Khodchenkova, Will Yun Lee, Famke Janssen, Brian Tee, Hiroyuki Sanada, Hal Yamanouchi, Tao Okamoto
Director: James Mangold
Rating: PG-13, for sequences of intense sci-fi action and violence, some sexuality and language
Running time: 126 minutes