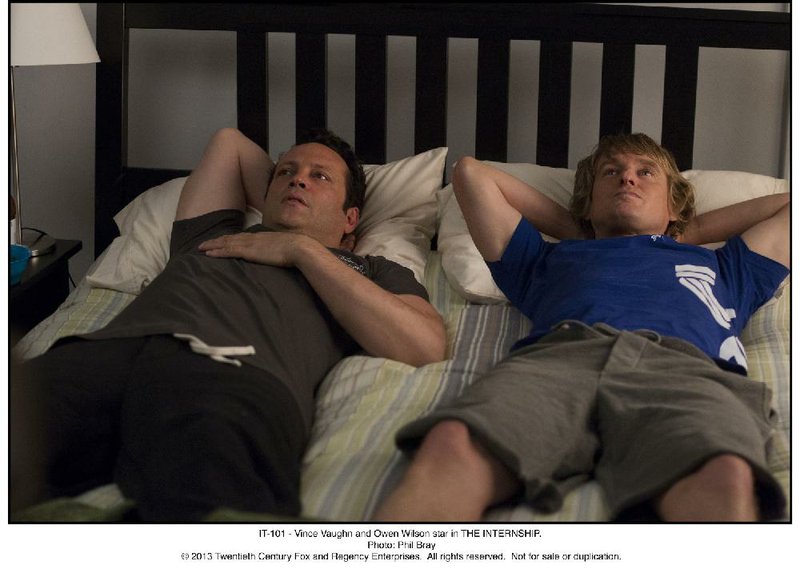 Billy (Vince Vaughn) and Nick (Owen Wilson) are old economy types who find themselves behind the curve as they try to land jobs in the technology sector in Shawn Levy's The Internship.
Let us pause a minute to consider the career of one Vincent Anthony Vaughn. The son of a salesman in Illinois, he first burst into cinematic consciousness as Trent, the fast-talking, charismatic best friend to down-in-dumps schlub Mikey (Jon Favreau) in 1996's Swingers. Handsome, quick-witted and talking an endless stream of positive vibe gibberish, Vaughn was an instant hit. After a few years of taking passes at more serious dramas, Vaughn settled into his obvious niche and grew a comic cottage industry around that fast-talking, gleeful persona, a bombastic, nonsense-spouting salesman of himself.
In a span of about five years, he mined a steady stream of box-office gold (included in this fertile period: Old School, Starsky & Hutch and Dodgeball) culminating in 2005's megahit Wedding Crashers, where he was paired with Owen Wilson as a couple of goofball friends who figured out the perfect way to meet hot, desperate women. By then, he was on top of the Hollywood comic A-list at 35. That might stand as his career highpoint. In subsequent years, he has appeared in a host of less-successful fare, vacillating between wan comedies (The Dilemma, The Watch) whose only hope lay in riding his smooth-talking personality as the main attraction or, worse yet, schmaltzy family Christmas flicks that failed to generate the heat of a 10-watt light bulb.
Now, at 43 and stolidly middle-aged, Vaughn has the air of someone who peaked early, like a former star high school quarterback who ends up having to pump gas for a living. Pasty and slightly bloated, his looks may have slipped a bit, but curiously, it could work well with his fast talking style by adding a new level of vulnerability to his comic persona. He just needs the right roles to take advantage of his new found pathos.
Apparently, he has figured the best way to get these kinds of roles is to write them for himself. His new comedy, which sees him paired up again with Wilson, tries to tackle the boys' impending mortality head-on by constructing an entire plot around the fact that they are rapidly approaching an age where they can't understand what young people are even talking about anymore.
He and Wilson play Billy and Nick, a couple of middling salesmen who get bumped from their jobs when their shady company runs aground. With no particular prospects in sight, Billy resorts to doing a Google search on "jobs for people with no skills" until the idea hits him that they should just go ahead and work for Google itself. No sooner has he made this decision than the boys are quickly enrolled in an Internet college and accepted into the highly coveted internship program at the world's most successful search company.
Once there, however, things start out bleakly: Neither one of them has the foggiest idea about technology or Internet culture and worse, they are quickly relegated to the team of misfits that no one else seems to want. You see, the internship is actually a summer-long competition to determine which of these myriad teams will end up with guaranteed full-time Google careers. Their sad little group is led by Lile (Josh Brenner), a mousy midmanager at the company, and is rounded out by the requisite hard-driven Asian (Tobit Raphael), phone-obsessed loner (Dylan O'Brien) and gorgeous geek girl (Tiya Sircar), who has never had a boyfriend.
Over the course of the summer, the team gradually begins to bond under the constant prattling encouragement of the "old" dudes, and things begin to turn around, despite the looming presence of their main rival, a team of superstars led by an insufferable British snob (Max Minghella). Naturally, there's also a minor love story thrown into the mix, involving Nick and a high-level Google executive (Rose Byrne), a gorgeous work-obsessive who just needs a bit of manly high jinks to set her straight.
The film is all about overcoming adversity and moving past your personal obstacles.Vaughn has written himself a part wherein his character does little more than try to raise everyone else's spirits, even as his tendency toward colossal screw-ups becomes more and more of an issue. As a piece of self-help nonsense, it could be worse. Vaughn and Wilson (who also looks as if he has aged significantly since their last go-round) are truthfully a bit long in the tooth for the roles, which perversely adds a bit of realism to their characters' plight. When Billy first meets with his team, he can't even talk about the most basic Internet parameters without sounding like someone's pathetic grandfather (he keeps saying "on the line" instead of "online" and proposes with great gusto a new app that almost exactly replicates Instagram).
Still, there are significant problems. While the film goes down easy enough, it all too often plays as little more than a Google infomercial, with the handsome campus and all the wacky perks of the job (free food! crazy colorful bikes! sleep pods!) on near constant display. "It's the greatest place to work in America!" Billy squeals near the beginning of the film, and damn if the producers don't do everything in their power to prove that point (even going so far as to have a character spout a line near the end that might well be the company's mission statement). One supposes there was a serious bidding war for the high-tech company that wanted to sign on to this bit of propaganda. It makes a certain amount of sense to have it be an actual company, but it totally dampens the comic potential of satirizing Internet corporate culture, while taking product placement to an entirely different - and most unwelcome - level.
The other trouble: Vaughn's screenplay (which he co-wrote with Jared Stern) is so intent on teaching us valuable, uplifting life lessons that it further drains the comic life out of the script. It plays a bit like an old episode of Fat Albert and the Cosby Kids, with an emphasis on the bits you were meant to learn and take to heart at the end. Very little of it is earned (nor is the inexplicable success of the team very much ever explained) and it has absolutely none of the thrilling, unexpected laughs of a truly daring comedy. Ironically, for a film that purports to be about learning how to take risks and putting yourself out there in order to pursue your dreams, it plays everything aggravatingly safe.
This kind of thing might well turn out to be Vaughn's ultimate fate, cursed with a comic screen persona that has distressingly little room for variation. There are certainly worse ways to make a living (pumping gas comes to mind, after all), but we can at least feel a bit let down that the former Double-Down Trent has now been reduced to such limited circumstances.
The Internship 77 Cast: Vince Vaughn, Owen Wilson, Rose Byrne, Josh Brenner, Max Minghella, Tiya Sircar, Tobit Raphael, Dylan O'Brien, John Goodman Director: Shawn Levy Rating: PG-13 for sexuality, some crude humor, partying and language Running time: 119 minutes
MovieStyle, Pages 33 on 06/07/2013
Print Headline: System malfunction
Sponsor Content