The ultimate measure of whether a historical drama is working is if it can make viewers who know what happened feel the same uncertainty the participants did while the events were happening.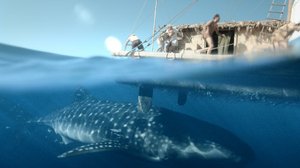 A whale shark investigates the raft constructed by Thor Heyerdahl (Pal Sverre Hagen) and his crew in Kon-Tiki.
A quick Google search for the phrase "Kon-Tiki" or the name "Thor Heyerdahl" won't stop you from enjoying Joachim Ronning and Espen Sandberg's new film of Heyerdahl's Kon-Tiki voyage. It might even make you appreciate what Heyerdahl and his compatriots accomplished even more.
Kon-Tiki was Norway's 2013 Oscar nominee for Best Foreign Language Film, although it was filmed simultaneously in English and Norwegian to get financing (the version playing on screens here in Little Rock is in English).
Instead of quibbling over whether the movie qualifies for the honor on this technicality, it's better to marvel at how Ronning and Sandberg expertly manage to make an audience feel like they are sailing with Heyerdahl, wondering if the voyage would validate his unpopular theories or prove him to be a fool by killing him and his crew.
As Kon-Tiki begins, Heyerdahl (Pal Sverre Hagen) visits Polynesia and begins to wonder how the inhabitants might have gotten there, because ancient sailors from Asia would have had to sail against the current. He comes to believe Polynesians have more in common with the pre-Columbian civilizations of Peru, even though no academics take his theory seriously.
After trying in vain to get funding for research in New York, he and a fellow exiled European named Herman Watzinger (Anders Baasmo Christiansen) work out a plan to sail a balsa wood raft built almost exactly like the ones ancient Incas might have sailed.
The few modern accouterments include a radio and a movie camera. Even in the days before the Internet, having no photos handy of a seemingly impossible feat merited a "pics, or it didn't happen" response. No wonder potential backers are hesitant to get behind the mission.
Not only does Heyerdahl's theory seem unlikely (ethnographers still dismiss his theories), but the Pacific might just make short work of his vessel, the Kon-Tiki. The fact that he's not much of a sailor and that most of the rest of his crew are naval novices doesn't bode well, either.
While Ronning and Sandberg and screenwriters Petter Skavlan and Allan Scott take liberties with the facts of Heyerdahl's voyage (the fate of a bird in the film differs from real life), they consistently make the journey and its consequences seem real. If the sea itself doesn't sink their raft, the creatures, like whale sharks, that live in the water will. The mix of real and CGI fish is quite convincing, and the filmmakers actually shot portions of Kon-Tiki on the open sea.
At the same time, there's a haunting beauty about the voyage that makes the trip seem worthwhile despite the danger or its impact on research. The movie also has a humbling sense of how small we humans can seem in the face of the elements.
Hagen's performance is another formidable asset. Heyerdahl's amiable charm masks a steely determination that could endanger all the souls on the raft. At times, his faith in his hypothesis seems a little too firm, considering that a voyage like his hasn't been attempted in thousands of years.
Heyerdahl wound up winning the Best Documentary Oscar for 1951 with his own footage of what happened.
The team behind this effort had to settle for a nomination, but not viewer indifference.
Kon-Tiki 88 Cast: Pal Sverre Hagen, Anders Baasmo Christiansen, Tobias Santelmann, Gustaf Skarsgard, Odd-Magnus Williamson, Jakob Oftebro, Agnes Kittelsen Directors: Joachim Ronning, Espen Sandberg Rating: Rated PG-13 for a disturbing violent sequence Running Time: 118 minutes