LITTLE ROCK — And so Hollywood continues to ravage previously established narratives in an effort to generate a hit seemingly as lazily as possible.
Alongside film sequels, prequels and reboots, TV show spinoffs, copyright-expired classic literature, video games, theme park rides and blogs, we continue now with a host of re-purposed myths and fairy tales. In a couple of years alone, we've been confronted with new dramatically overwrought renderings of Snow White (in Mirror Mirror and Snow White and the Huntsman), Red Riding Hood, and Hansel and Gretel (although we're still waiting for the big-screen adaptation of the terrifying German tale "The Great Tall Tailor," about a man who hides in closets and lops off the thumbs of unsuspecting children - someone get Tim Burton on the phone).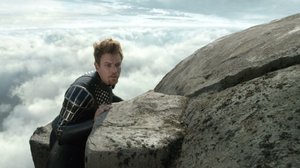 Earnest warrior Elmont (Ewan McGregor) strives to save a princess from a race of unsanitary behemoths in Bryan Singer's Jack the Giant Slayer.
Thing is, most of these newly hatched reimaginings haven't worked out terribly well. Turns out, as resilient as these tales can be - each of them seems to have at least a dozen different versions - not even they have been able to withstand the sheer horror of being subjected to a Hollywood 'Tween Makeover. In these retellings, Snow White becomes a warrior princess; Red Riding Hood, a foxy werewolf slayer; and Hansel and Gretel super-ninja witch assassins.
But then along comes Bryan Singer, a supremely talented director with a lot to prove since his last two pictures, the disastrous Superman Returns and the under performing Valkyrie, fell surprisingly flat. Here, he has the unenviable task of having to reimagine yet another beloved folk tale. The shocker is, he takes the dicey plunge and pretty much manages to pull it off. Of course, the basic story about a boy and his magic beans had to be expanded, reshaped and dramatically heightened in order to fill the theater seats with teenagers.
In this rendition, Jack (Nicholas Hoult) isn't a boy so much as a strapping young man, a poor farmer living with his uncle (Christopher Fairbank). One morning, he is sent out to sell the family horse in order to have enough money to fix their leaking roof, but after a chance meeting with a beautiful princess, Isabelle (Eleanor Tomlinson), and a rushed business deal with a furtive monk inside the gates of the kingdom, Jack returns with only a small sack of magic beans, to the horror of his beleaguered uncle.
One thing leads to another and before long we have an impressively giant stalk carrying off Jack's house with the princess still inside, up to the land of the giants. Once word reaches the desperate king (Ian McShane), he sends some of his best guardsmen to save her, including their commander, Elmont (Ewan McGregor), along with the shifty Roderick (Stanley Tucci), whose evil plans for a marriage to the princess drove her away from the castle in the first place.
Once there, the crew discover the giants' lair and their horrific personal hygene (indeed, with all their burping and general uncleanliness, they resemble nothing quite as much as enormous 8-year olds who haven't been flossing). Gathering for a war with the humans, the giants take the opportunity to climb down the stalk to seek their revenge for earlier humiliations.
Unsurprisingly, the film moves at a pretty breakneck pace, but in keeping with Singer's excellent previous work on such films as The Usual Suspects, Apt Pupil and the first two X-Men films, he is always willing to slow down a scene just enough to mine it for significant and satisfying detail. When you couple that with his acute visual imagination (the big revelation of the first giant occurs through the surface of a small pond Jack is hiding in), everything starts to work together. It's a technique that has served the director well over the years, though, as the film gains speed and hurtles to its action-packed conclusion, there is much less opportunity to let it properly breathe.
They also make Jack enduringly likable. Hoult plays him with resolute humility ("I'm not wildly keen on heights," he informs the princess while hanging precipitously high above the kingdom). He's not a wisecracking, intemperate boy-hero; he's a farm boy in love way above his station and hoping for a little adventure in his life before he gets shackled with the responsibility of his profession.
It certainly doesn't always work this way, but as with the Harry Potter films, the high-falutin' cast (including a charismatic turn by the scene-stealing Tucci, who seems to be having a ball playing the villain) add a veneer of respectability to the whole enterprise that helps carry it through some of its more cartoony aspects.
Of course, this remains, essentially, a 'tween action film. Everything in it has to get ramped up and super sized, and the stakes greatly enhanced (a single stalk in the fairy tale becomes a mammoth network of tree-trunk thick vines spiraling upward; a lone giant becomes a formidable CGI army; instead of a boy's familial love and a simple homestead, a beautiful princess and an entire kingdom are at stake) but Singer and his slew of screenwriters, including longtime co-collaborator Christopher McQuarrie, keep the characters just grounded enough to make the fable resonate, at least a little.
You get the sense the producers wanted to have a bit of fun with their fable, so small comedic moments abound (including a super close-up shot of a giant's face, whose rutted complexion and enormous pores should make everyone think twice about proper sunscreen application), and a welcome sense of bemusement permeates the production. It might not exactly be a triumph, but it at least proves it's OK to sustain a little hope for the fairy tale genre.
Jack the Giant Slayer 87 Cast: Nicholas Hoult, Ewan McGregor, Stanley Tucci, Ian McShane, Eleanor Tomlinson, Christopher Fairbank Director: Bryan Singer Rating: PG-13, for intense scenes of fantasy action violence, some frightening images and brief language Running time: 114 minutes