Little Rock's Robinson Center Music Hall is due for a major makeover in a little more than a year.
The Little Rock Advertising and Promotion Commission has hired a team of architects (Little Rock's Polk Stanley Wilcox firm will partner with Ennead Architects of New York) to design it.
They'll also help put together a bond election to come up with an estimated $50 million to $65 million it will take to improve the acoustics, retrofit the building against earthquakes and remodel the interior and exterior for a more modern and "community-incorporated" look.
The building's face, bust and booty lift, timed to coincide with the rebuilding of the nearby Broadway Bridge to minimize the effect on traffic, is expected to start in summer 2014 and last through the fall of 2016.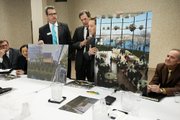 That's two entire seasons in the lives of the arts organizations that put on all or some of their performances on the stage of the seven-decade-old auditorium/concert hall.
Robinson is the home of the Arkansas Symphony Orchestra, which plays all of its Masterworks and pops concerts there (a total of 22 each season), plus at least one children's concert a year.
Celebrity Attractions brings in at least four touring Broadway shows a season. The one for 2013-14, the last before the renovation, will include returns of Disney's Beauty and the Beast and the biggest one so far, Wicked.
And Ballet Arkansas stages its annual production of Peter Ilich Tchaikovsky's The Nutcracker there every December.
There's been a considerable amount of planning, consultation, even a little scurrying to come up with alternative venues for concerts, plays and ballets for the two years the space won't be available.
But everybody involved guarantees patrons that just because there will be a temporary change in venues, none of them are planning to go on hiatus, shut down or otherwise bide their time.
BROADWAY OFF-BROADWAY
"We're going to have a Broadway season," says Ed Payton, chief executive officer of Tulsa-based Celebrity Attractions, which presents touring shows in Little Rock and five other cities in Oklahoma and Texas.
"We do have a variety of options we're pursuing. We're looking to do a Broadway season that would make use of multiple venues in the area so we can bring a variety of different programming to the community.
"Some of what we're doing we're calling 'going off-Broadway'" - Robinson is at the intersection of Broadway and West Markham Street - which would involve doing smaller shows in smaller venues, but "we're also going to continue to bring touring national Broadway shows."
And once Robinson reopens, "we'll be able to bring shows that are bigger and better."
"Our goal is to continue to serve our community," says Christina Littlejohn,executive director of the Arkansas Symphony. That means, she says, continuing to put on concert seasons even if the alternative venues aren't entirely perfect.
"At this point, very little is off the list," she says. "The ideal would be a space that would be most similar, downtown, that seats 1,500-1,800, that has to hold an orchestra."
Except, of course, that the only facility that really fits that bill is … Robinson.
Littlejohn and Payton agree that, if there was another facility that could stand in for Robinson, it would probably make Robinson, well, redundant.
So, absent the ideal, both are eyeing the new auditorium at Maumelle High School, which seats about 1,200 and has state-of-the-art facilities.
"I haven't seen it yet myself, but a number of our teams" - composed of board members and orchestra musicians and staff - "have looked at it and given it rave reviews," Littlejohn says.
"It has the capacity to present some of the larger Broadway shows," Payton says. "We have looked at it on more than one occasion and are still looking at some specs to make sure, but from what we can tell at this point, it's the one hall in the area that would allow us to bring decent-sized national touring shows to the Little Rock area.
"It has the fly space, it has the proscenium, it has the size and specifications of the loading dock that we need. We wish the seating capacity could be a little larger, but it's an absolutely beautiful hall, not a bad seat in the house.
"There are very few shows - Phantom [of the Opera], The Lion King - that wouldn't fit in there," he says. "The wing space would be narrow, but that's the case with Robinson now."
Payton says one option would be to add one or more performances to the run of a show to make up the difference in seats and ticket sales between the high school and Robinson.
ON THE BALL
One other alternative that both are considering: the Wally Allen Ballroom in the Statehouse Convention Center, West Markham and Main streets, about three blocks from Robinson.
The symphony has scheduled an open orchestra rehearsal, to prepare for an early-April "run-out" to Hope, at 7:15 p.m. March 29, to gauge the space's acoustics, particularly when it's full of humans.
The ballroom has room for 1,500-1,600 chairs, Littlejohn says, "and we need to fill it out." Admission is free; call (501) 666-1761, Extension 114, or e-mail kparker@ArkansasSymphony.org if you would like to attend. Concertgoers will also be asked for their feedback, either through a paper or online post-concert survey.
"It's downtown, and 1,500-1,600 seats would be good for us if it works acoustically," she says. "But we don't want to set a whole season there without testing it."
And not wishing to put all its concert eggs in one basket, symphony teams are fanning out to check out area churches and schools as possible venues. Littlejohn suggested a possible situation in which one venue might house Masterworks concerts and another the pops.
Payton says the convention center ballroom would work for concert shows, such as the 100 Years of Broadway production that was onstage at Robinson last month. And there are a number of smaller-scale shows that would not require as large a venue as Robinson; many of even the larger touring shows are set up to scale down as they visit smaller cities with smaller halls.
"They're built to fit into halls of all shapes and sizes," explains Payton, who was in New York last week talking with producers to get a better feel for the kind of shows they might be able to do.
"We're looking at diversifying the package; we might bring in some things that we would not normally do, that other communities across the country that have a Broadway series present on a regular basis. There's a whole variety of those," including, for example, Menopause the Musical and Late Night Catechism, shows that were hits off-Broadway and have Broadway pedigrees.
Other possibilities include a planned 800-seat theater at Pulaski Technical College and using Verizon Arena, which frequently cordons off portions of the floor and bowl to create The Theater at Verizon, a more "intimate" (if the sense that 6,000 seats is more intimate than 18,000 seats) space. "We've [also]been talking to the folks at Arkansas Repertory Theatre about their facilities," Payton says.
"It won't be the same old, same old .… We'll have to give patrons the idea they might not all be at the same place every time."
Payton says Celebrity Attractions went through the same process in Oklahoma City when its major performance venue went through a three-year rebuild in the 1990s. And in the decade since the hall reopened, season subscriptions increased almost 400 percent.
And, he says, the Robinson rebuild should make it possible to bring in those really big shows, including Phantom and Lion King, that have bypassed Little Rock because the size of the venue and particularly because the loading dock area has been inadequate for timely show load-in and load-out.
MAKING A POINTE
As with almost all American ballet companies, The Nutcracker is Ballet Arkansas' bread-and-butter show, the one that makes the money that allows it to do other, presumably less profitable performances in other parts of the year.
Ballet Arkansas Executive Director Lauren Strother says her organization, too, has been considering Maumelle High's facility, but has also been looking at possibly taking The Nutcracker on the road to the 1,200-seat Donald W. Reynolds Performance Hall at the University of Central Arkansas in Conway, and/or possibly taking a condensed version of the massive ballet on tour.
New arts centers in Stuttgart, where Ballet Arkansas has already performed, and Mountain Home present possible opportunities, she says. "There are a lot of really amazing new theaters" springing up. And she's not ruling out even a possible "arena-style" Nutcracker.
One requirement of any potential venue is that is has an orchestra pit of some kind. The ballet company has partnered for several years with the Arkansas Symphony to provide live musical accompaniment.
"Our greatest concern is that we don't want to lose our link-up with the Arkansas Symphony," she says.
With at least three organizations all eyeing the same alternative venues, Littlejohn says, there's the potential for a scheduling scuffle of some kind waiting in the wings.
"We're still a year out, but in terms of securing a spot, we've got to be moving quickly," she says.
Style, Pages 29 on 03/19/2013