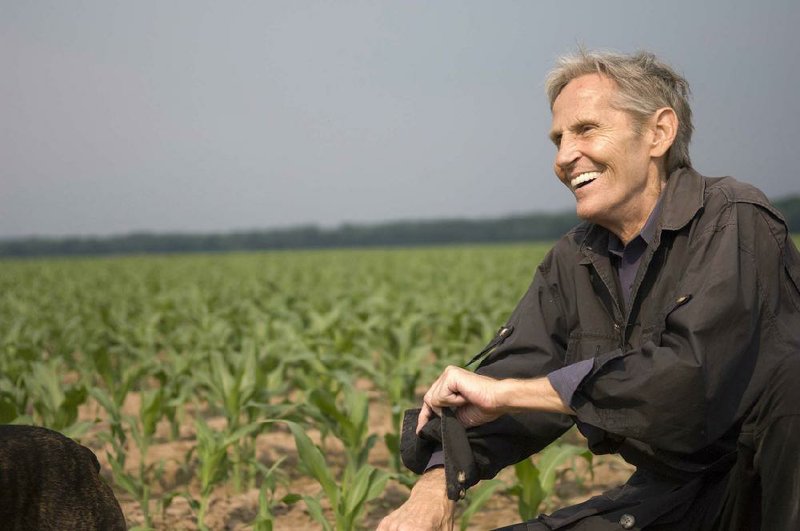 Levon Helm, dirt farmer and the only drummer who could make you cry, is the subject of Jacob Hatley's Ain't in It for My Health.
Unlike a lot of people who will read this review, I didn't know Levon Helm.
But I know what he was, and more importantly what he meant. He was a national treasure, and he was instrumental in the revival of what Greil Marcus memorably called "the old, weird America" and its re-incorporation into American popular culture in the late 1960s.
And of all the figures - Bob Dylan, Gram Parsons, et al. - who smuggled those sepia-toned seeds into rock 'n' roll, Helm, was arguably the most authentic. He was the only American, the only Southerner, and one of the key voices in The Band, which was The Great American Band precisely because its mostly Canadian-ness made them outsiders, which lent them perspective. Which let them see straight into the heart of the wounded, noble land to the South. (For a Canadian, all of the U.S. is the South.)
Even though most of Jacob Hatley's documentary takes place in and near Helm's home in Woodstock, N.Y., he still comes across as unmistakably a Southerner. (A trip to Fayetteville is unfortunately punctuated by a copy editing error in the superimposed script.) But you need to remember that Helm was an actor, and a good one, which means he had mastered the art of presenting himself unselfconsciously to an audience. It is impossible at this point to separate Helm's act from essence, and in a way Ain't in It for My Health puts me in mind of D.A. Pennebaker's 1967 documentary Don't Look Back that covered Dylan's 1965 British tour: Knowing that the subject is highly aware of the camera doesn't make it any less fascinating.
Hatley originally encountered Helm when he was contracted to work up a promotional film for Helm's comeback album Dirt Farmer, which won the Best Traditional Folk Album Grammy in February 2008, an episode that's captured in the film. But mostly Hatley's camera just hangs around in Helm's kitchen and studio, capturing his easy interactions with family and musicians, and his more difficult relationship with a recurrence of throat cancer.
Some of the residual bitterness from his time with The Band is referred to - Helm held a grudge against the group's self-anointed "leader" Robbie Robertson until the end of his life (I've heard conflicting reports on whether there was a deathbed reconciliation) - but the film never tips over into the "where-are-they-now?" mode, though the (perfectly reasonable) remarks by British journalist Barney Hoskyns, author of the useful Across the Great Divide: The Band and America, might feel a little over-obvious to anyone who's read Levon's own book, This Wheel's on Fire. (Careful viewers will catch a glimpse of a framed copy of this newspaper's review of the book - written by former Arkansas Democrat-Gazette critic Jack W. Hill - on the wall in Helm's house.)
Because we know that Helm - who died in April 2012 - is coming to the end of the line, Hatley's film is suffused with a gentle melancholy tone that lends poignancy. It's deeply interesting to watch Levon collaborating with former Dylan guitarist Larry Campbell, who essentially served as the musical director of the famous Midnight Rambles and led Helm's band on an unfinished Hank Williams song (for The Lost Notebooks of Hank Williams project), and when he picks up a mandolin to serenade his daughter Amy's newborn we get a sense of the tradition moving through generations.
In large part this is a home movie about a guy who liked to hang out, and the characters who'd visit him. Billy Bob Thornton's arrival feels almost comically apt.
This film seems designed to give those of us who didn't know Helm a sense of what it was like to spend informal time with him, puttering around his cluttered kitchen with his invariably red plastic cup (into which he keeps pouring Coca-Cola). You'll know what was ordinary about Helm, as well as what was extraordinary - the man was remarkably, thoroughly musical. And by the end of it, whether you knew him or not, you'll feel his loss.
Ain't in It for My Health: A Film About Levon Helm 88 Cast: Documentary with Levon Helm, Larry Campbell, Libby Titus Director: Jacob Hatley Rating: Not rated Running time: 83 minutes
MovieStyle, Pages 33 on 05/24/2013
Print Headline: Ain't in It for My Health: A Film About Levon Helm
Sponsor Content