The Little Rock Zoo announced in a statement Thursday that Suhana, a 5-year-old Malayan tiger, has given birth to four tiger cubs.
The births happened about 2 a.m. on Nov. 12, Little Rock Zoo spokesman Susan Altrui told Arkansas Online. One cub was a "bit of a runt, so there was some initial concern there; but they're all strong and growing well," Altrui said.
Zoo staff witnessed the cubs' births by watching footage collected from video monitoring equipment that was in Suhana's den, Altrui said. The staff is closely watching Suhana, who is still in her den with her cubs. They won't likely see her for the next couple of weeks, according to Altrui.
In about three to five months, the tiger cubs should start weaning and will likely go outside for the first time in the early spring if the weather permits, the news release states.
'We're just thrilled and couldn't be more excited about this," Altrui said. "Everything is going great."
Suhana, who has lived at the Zoo since 2012, was introduced to a 9-year-old male Malayan tiger named Liku earlier this summer through a program called Species Survival Plan, which works to sustain a species' survival. Malayan tigers are "critically endangered" animals with fewer than 500 species still living in the wild, according to the release.
In celebration of the cubs' births, the Little Rock Zoo is encouraging the public to donate to the Association of Zoos and Aquariums Tiger Conservation Campaign.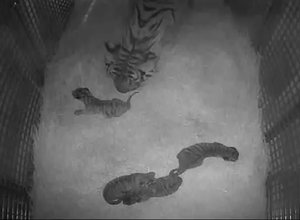 Photo by The Little Rock Zoo
The Little Rock Zoo announced Thursday that a five-year-old Malayan tiger named Suhana gave birth to four cubs on Tuesday, Nov. 12.