WASHINGTON - In a televised speech Tuesday night, President Barack Obama reiterated his desire to take military action against Syria over its purported chemical-weapons attack last month, but he said he had asked members of Congress to postpone a vote on any such action while a diplomatic solution is pursued.
The U.S. and France earlier Tuesday pushed for a tough United Nations resolution to ensure that Syrian President Bashar Assad's regime turns over its chemical-weapons stockpile. But Assad's ally Russia demanded that the West take off the table its threat to use force if Damascus doesn't follow through on its chemical-weapons promise.
Assad's government pledged Tuesday to cooperate fully with the Russian plan, which calls for Syria to put its chemical weapons under international control for eventual destruction.
Syria's Foreign Minister Walid al-Moallem told Lebanon's Al-Mayadeen TV that Syria would place its chemical-weapons locations in the hands of representatives of Russia, "other countries" and the United Nations. He promised that his country also would reveal its long-secret chemical arsenal, stop producing such weapons and sign conventions against them.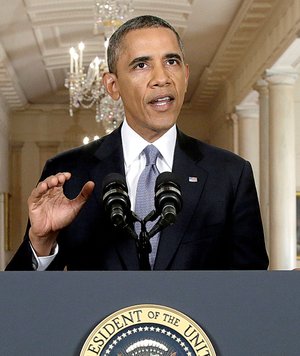 Photo by EVAN VUCCI / AP
In his speech Tuesday night, President Barack Obama said the U.S. "will work together in consultation with Russia and China at the U.N. Security Council" to get rid of Syrian chemical weapons.
"It's too early to tell whether this offer will succeed, and any agreement must verify that the Assad regime keeps its commitment," Obama said Tuesday night, "but this initiative has the potential to remove the threat of chemical weapons without the use of force, particularly because Russia is one of Assad's strongest allies"
Wary that Damascus is seeking only to avoid U.S. military action, Washington and France said earlier Tuesday that they seek strong U.N. language to enforce the Russian plan. France said it would put forward a draft resolution under Chapter 7 of the U.N. charter, making the Russian plan enforceable with military action.
That met swift opposition from Russia.
Russian President Vladimir Putin said the plan can work only if "the American side and those who support the U.S.A., in this sense, reject the use of force."
Russian Foreign Minister Sergey Lavrov told his French counterpart Laurent Fabius that it is unacceptable for the resolution to cite Chapter 7, his ministry said in a statement.
U.S. Secretary of State John Kerry, in turn, said the U.S. rejects a Russian suggestion that the U.N. endorsement come in the form of a nonbinding statement from the Security Council president.
The U.S. has to have a full resolution - one that entails "consequences if games are played and somebody tries to undermine this," he said.
He also said the Syrian government must "live up to what they just said they would do" and then cooperate with Russia "to work out a formula by which those weapons could be transferred to international control and destroyed."
A State Department official said later that Kerry would travel to Switzerland this week to discuss the deal with Lavrov. The official, who was not authorized to discuss the mission publicly and spoke on condition of anonymity, said the two diplomats would meet Thursday in Geneva.
The U.S. and its allies have insisted that Assad be punished for a deadly chemical-weapons attack outside Damascus. The Obama administration, France and others blame the regime for the attack, but Syrian leaders say rebels - not Syrian forces - were behind the attack. The U.S. has said more than 1,400 Syrians died in the attack. Even conservative estimates from international organizations put the toll at several hundred.
International-rights group Human Rights Watch agreed Tuesday that evidence "strongly suggests" that Syrian government forces were responsible for the chemical attack. It based its conclusions on witness accounts, the physical fragments of the weapons used, and the symptoms exhibited by victims and documented by medical staffs.
DIVERSION CONCERNS
Fabius said Tuesday that any disarmament plan must have teeth to ensure that the Russian plan is not "used as a diversion.
French authorities "don't want to fall into a trap" that could allow Assad's regime to skirt accountability or buy time, he said. Syria's credibility in accepting the plan would be determined "by accepting these precise conditions."
Fabius also warned that finding and destroying what is estimated to be "more than 1,000 tons of chemical weapons" would be very difficult and would require international verification amid Syria's civil war.
He said the French draft resolution would demand that Syria open its chemical-weapons program to inspection, place it under international control, and ultimately dismantle it. A violation of that commitment, he said, would carry "very serious consequences." The resolution would condemn the attack and bring those responsible to justice, he said.
British Prime Minister David Cameron said his country would join France and the U.S. in putting forward the proposal.
"If this is a serious proposal, then we should act accordingly, and I think a U.N. Security Council resolution is a good idea," Cameron said.
Obama also cautiously supported the proposal in his speech Tuesday night.
"We will work together in consultation with Russia and China at the U.N. Security Council" to get rid of Syrian chemical weapons and to "ultimately destroy them under international control," Obama said.
However, Obama "wasn't overly optimistic about" prospects for a solution at the U.N., said U.S. Sen. Richard Durbin of Illinois, the second-ranking Democrat in the Senate, earlier Tuesday after his party's rank and file met privately for lunch in the Capitol with the president. He quoted Obama as saying that even if a credible plan can be worked out, it could be difficult to push through the U.N. Security Council.
Russia has blocked U.S. attempts to rally the Security Council behind a military strike.
Russia, meanwhile, was working with Damascus on a detailed plan of action, Lavrov said. Russia will then be ready to finalize the plan with U.N. Secretary-General Ban Ki-moon and the Organization for the Prohibition of Chemical Weapons.
"We agreed to the Russian initiative as it should thwart the U.S. aggression against our country," Syria's al-Moallem said.
The Syrian National Coalition dismissed the Assad government's turnaround as a maneuver to escape punishment for a crime against humanity. The coalition had been hoping for military strikes from abroad to tip the balance in the war of attrition between rebels and Assad's forces.
In a statement Tuesday, the coalition said Moscow's proposal "aims to procrastinate and will lead to more death and destruction of the Syrian people."
"Crimes against humanity cannot be dropped by giving political concessions or by handing over the weapons used in these crimes," the group said.
U.S. WEARY, WARY
Obama, in his 16-minute national address Tuesday night, said he had ordered the military "to maintain its current posture" and said the U.S. is still prepared to go ahead with strikes if the diplomatic solution falls through.
He reiterated that he would not deploy ground-combat troops or wage a prolonged air campaign against Syria.
"This would be a targeted strike to achieve a clear objective: deterring the use of chemical weapons and degrading Assad's capabilities," he said.
Acknowledging the weariness the nation feels after a decade of war in Iraq and Afghanistan, Obama said, "America is not the world's policeman."
And yet, he added, "When with modest effort and risk we can stop children from being gassed to death and thereby make our own children safer over the long-run, I believe we should act. That's what makes America different. That's what makes us exceptional."
"Our ideals and principles, as well as our national security, are at stake in Syria, along with our leadership of a world where we seek to ensure that the worst weapons will never be used," he declared.
If diplomacy fails and the United States fails to act, he said, "the Assad regime will see no reason to stop using chemical weapons" and "other tyrants will have no reason to think twice about acquiring poison gas and using" it. Over time, he added, U.S. troops could face the threat of chemical warfare, and if fighting escapes Syria's border, "these weapons could threaten allies like Turkey, Jordan and Israel."
U.S. Defense Secretary Chuck Hagel also said at a congressional hearing Tuesday that it was not time to let the threat of military action in Syria lapse.
"For this diplomatic option to have a chance at succeeding, the threat of a U.S. military action, the credible, real threat of U.S. military action, must continue," he declared.
Obama met Tuesday with Senate Democrats, asking them to "keep the threat of credible military action available," Democratic Sen. Tom Carper of Delaware said after the meeting.
Obama has said frequently that he has the authority as commander in chief to order a military strike against Assad regardless of any vote in Congress, and he has consistently declined to say whether he would do so if lawmakers refuse to approve the legislation he is seeking.
The response in Congress to support such a strike has been lukewarm at best - as underscored during the day when liberal Sen. Ed Markey, D-Mass., and conservative Rep. Mick Mulvaney, R-S.C., both announced their opposition.
Markey, who was elected to the seat that Kerry vacated when he joined Obama's Cabinet, said the legislation under consideration was too broad, "the effects of a strike are too unpredictable, and … I believe we must give diplomatic measures that could avoid military action a chance to work."
Mulvaney said, "While I am concerned about taking no action, it strikes me that international law cannot be upheld via unilateral attack by the United States."
Yet Maryland U.S. Rep.Steny Hoyer, the second-ranking Democrat in the House, said, "It would be inimical to our country's standing if we do not show a willingness to act in the face of the use of chemical weapons and to act in a limited way to address that use alone."
Earlier, Senate Republican leader Mitch McConnell became the first congressional leader to announce his opposition to legislation giving the president authority for limited strikes. "There are just too many unanswered questions about our long-term strategy in Syria," he said.
By contrast, Speaker John Boehner of Ohio and Majority Leader Eric Cantor of Virginia, the top two Republicans in the House, have endorsed Obama's request.
There were questions in Congress about Russia's true intentions, as well as Syria's willingness to be bound by international agreements.
Boehner said, "Clearly, diplomacy is always a better outcome than military action. But I will say that I'm somewhat skeptical of those that are involved in the diplomatic discussions today."
Nonetheless, former President Jimmy Carter said Tuesday that he believes that the deal with Russia is the best path forward in Syria.
Carter, at an event at The Carter Center in Atlanta, said it would not be a catastrophe if Congress were to vote against Obama's call for military action against Syria while diplomatic efforts are pursued.
"A lot of presidents have submitted things that were extremely important to us, maybe even more important than bombing Syria, and we've been rejected by Congress," Carter said. "It's just something you have to live with in a democracy."
Information for this article was contributed by Lori Hinnant, Ryan Lucas, Jamey Keaten, David Rising, Vladimir Isachenkov, Zeina Karam, Matthew Lee, Christopher Bodeen, Barbara Surk, David Espo, Julie Pace, Donna Cassata, Alan Fram, Stephen Ohlemacher, Lolita Baldor, Bradley Klapper, Nancy Benac, Deb Riechmann, Christina A. Cassidy and Kimberly Dozier of The Associated Press; by Terry Atlas, David Lerman, Henry Meyer, Ilya Arkhipov, Stepan Kravchenko, Stephen Bierman, Henry Sanderson, Selcan Hacaoglu, Amy Teibel, Gregory Viscusi, Lisa Lerer, Kathleen Hunter, Roger Runningen, Indira A.R. Lakshmanan, Nadeem Hamid, Ben Holland, Svenja O'Donnell, Mark Shenk, Margaret Talev and Sangwon Yoon of Bloomberg News; and by Jonathan Weisman,Alan Cowell, Michael D. Shear, Steven Lee Myers, Mark Landler and Scott Sayare of The New York Times.